This analysis was originally written by me on November 11, 2009.


If you look at the DJIA of the last 10 years, you'll see three very important resistance lines at around 11,250, 10,300 and 7500.  Respectively these represent the high of the tech bubble, the recovered level (appropriate level), and the low of the tech bubble.  On the March lows, the DJIA had retraced approximately 50% of its value down to 6627 from a high about around 14078.  The downtrend from that high formed a clear 5 wave pattern, while the current rally since the March lows is shaping up to look like a clear 3 pattern.  With tomorrow being a major report coming out on Consumer Confidence, I think we're at a turning point in the market.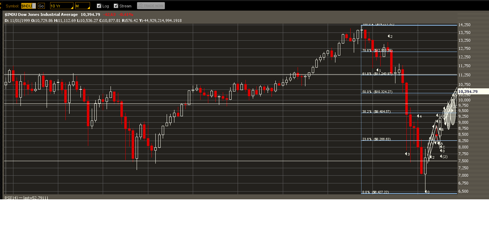 The 5-3 waves in a corrective pattern is indicative of a 5-3-5 zig-zag pattern which will most likely form a double zigzag because it is in a large wave (according to Elliot Wave theory).  The recent week of run-ups in the market has been on decreasing volume which indicates that the big institutional investors have already gotten out and the bull market is petering out.  While the DJIA is hitting brand new highs, the S&P, Wilshire 5000, Russell 2000, and NASDAQ are lagging behind to hit new hits.  The bullish sentiment has now infiltrated the newspapers and is at near 70% bullishness, which is a contrarian indicator.  The G20 is dumping more money into the system decreasing the value of the dollar, which should increase the value of companies selling goods abroad where the economic recovery seems to be happening faster, but this nonetheless still implies that the economy is still weak.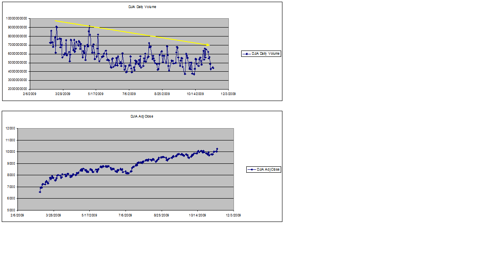 Unemployment came in at 10.2% with real unemployment at 17.5%.  While productivity came in much higher than expected at 9.5%, this is completely expected in a situation where less people are doing more work as so many people have been fired.  Unemployment has started increasing at a decreasing rate, but that still means that unemployment is increasing.  In this situation, people simply can't spend as they are afraid of finding a new job, aren't getting pay raises at their current job, and can barely pay their mortgages as there are so few opportunities out there.  If the economy is still supposed to recover in this situation, it would need to be a jobless recovery and the growth worldwide would need to pull the US out of its recession.  Everyone also expects a commercial real estate bubble in the future as well as the Fed requiring to raise interest rates in order to fight inflation.  Banks are still unwilling to lend to small companies and are still hoarding large amounts of cash.  The idea that our economy is growing is being propped up by government spending and an increase in net exports due to a devaluation of our currency.  In the future, if our currency keeps devaluing, China is going to start getting frustrated as they own $2 trillion worth of our debt and a decrease in the dollar means a decrease in their investment.

While the earnings season 80% of companies beat expectations, I think that these values were propped up due to government stimulus and a weakening dollar.  Also these companies are cutting costs and are able to increase their bottom line, but very few of these companies were able to increase top-line growth which is real growth and will mean that the consumer is back.  The consumer makes up 2/3 of total GDP and is the driving force behind the United States' prosperity.  With unemployment so high, companies still not wanting to hire, and consumers not spending, I think the likelihood of a real recovery is dismal.  The idea that we are going to experience a jobless recovery is also a low probability considering the entire world is experiencing a total financial collapse, and while the US is recovering slower than other countries, China can only create so much demand to pull everyone else out of recession.

For these reasons stated above and the attached charts, I think the DJIA is doomed to continue correcting and we are at a turning point.  "Panics are sudden emotional mass realizations of reality..." and once the current bear market rally realizes that the economy and employment is still slow to recover, is being propped up by government stimulus and false confidence, the DJIA will drop hard, potentially back down to 7500, back to the bottom of the 1997-2003 levels.

So, if you think I know what I'm talking about (which I'm not sure I really do), then sell a little bit today and increase your cash.  Lock in your gains now because by the time everyone else sees the writing on the wall, it'll be too late.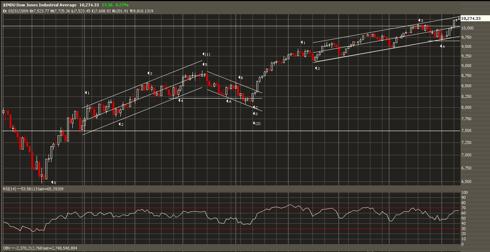 November 18, 2009: So it seems that the consumer confidence report which came in lower than expected at 66.0 (expectation: 70.6) was not enough for a mass realization of reality.  The next potential tipping point for the market will be Black Friday sales.  I just can't imagine that the American consumer is going to be able to spend when they 1) don't have jobs 2) have no ability to borrow 3) no longer have the ability to get equity out of their homes due to current real estate prices.

In addition to the above analysis, the VIX is looking to complete a broadening formation which is indicative of an emotional market that is getting out of control.  What should happen is a spike in the VIX that breaks the upper trendline.  This will probably happen when the market finally realizes that it's time to correct and that the bear market rally of March 2009 is over.





I don't think it's asking too much for everyone to realize how bad it still is.