MRNA Will Change The World
Please Note: Blog posts are not selected, edited or screened by Seeking Alpha editors.
Summary
The Software of Life.
The Industry.
The Future.
DNA - one of the essential molecules for life. It acts like a recipe holding the instructions telling our bodies how to develop and function. DNA stores the information for protein synthesis and mRNA (messenger RNA) carries out the instructions encoded in DNA to create proteins, which are essential for our biological function, such as our immune system. 
Our immune system is responsible for detecting pathogens and producing antibodies to neutralize the foreign invader. Our immune system has two levels of immunity: non-specific (innate) immunity and specific immunity. Innate immunity is the first line of defense. This includes your skin and your mucus membranes. The specific immunity is the last line of defense and this includes the well-known white blood cells called lymphocytes. The two most common  lymphocytes are T and B Cells. B cells have one property that is essential: they can mature and differentiate into plasma cells that produce a protein called an antibody. Antibodies are specifically targeted to a particular antigen. Antigens can be thought of as the fingerprint for a cell. Foreign cells are made up of proteins and have their own unique fingerprint (antigens) and they are easily distinguishable from our bodies self antigens.
However, B cells alone are not very good at making antibodies and rely on T cells to provide a signal that they should begin the process of maturation. When a properly informed B cell recognizes the antigen, it is coded to respond, divide and produce many plasma cells. The plasma cells then secrete large numbers of antibodies, which fight specific antigens circulating in the blood.
With all that in mind, what if we were able to use the power of mRNA to tell our bodies to produce properly informed B cells that recognize the antigens of a pathogen and create the neutralizing antibodies to fight off the infectious disease? That is the core science for companies like Moderna, BioNTech, and CureVac. 
With the emergence of COVID-19, these companies have been mentioned in the mainstream media for the past 6 months. However, in the Venture Capital Biotech community, these companies were very well known and were unicorns (privately held start-ups valued over $1 billion) until their recent IPOs. 
Moderna's IPO back in 2018 was the biggest, for a pre-revenue biotech, of all time. What was the reason for all the hype?  Well, they were working on creating a drug platform that would disrupt the entire biotech industry. The platform: carefully designed molecules called messenger RNA that prompt the body to make its own medicine.  
"Why are we so passionate about messenger RNA?" Moderna President Stephen Hoge asked the attentive audience. "It starts with the question of life," he explained. "And in fact, all life that we know flows through messenger RNA. ... In our language, mRNA is the software of life."
Cells use mRNA to translate the static genes of DNA into dynamic proteins, involved in every bodily function, Hoge explained. Biotech companies make some of these proteins as drugs in large vats of genetically engineered cells. It's a time-consuming and costly process.
Moderna offered a different proposition: What if instead, mRNA was given therapeutically? In theory, it could prompt proteins to be made in your body. It would put the drug factory inside you.
After billions of dollars have been invested in research and development, companies like Moderna, BioNTech, and CureVac are now transitioning from clinical into their commercial phase which will mean tremendous upside for these companies. 
For reference, a commercial stage biotech company can be valued between 11 to around 4 times sales, depending on their respective growth prospects and maturity, but the average for the Biotech industry is 5.65 as of Q2 2020. 
Reference:
| | | | |
| --- | --- | --- | --- |
| As of 08/13/2020 | TTM Revenue | Market Cap | P/S |
| ($ in billions) | | | |
| Glaxosmithkline | $ 35.00 | $ 211.00 | 6.03 |
| Biogen | $ 12.00 | $ 46.00 | 3.83 |
| Regeneron | $ 8.00 | $ 65.51 | 8.19 |
| Amgen | $ 24.00 | $ 141.00 | 5.875 |
| Gilead | $ 22.17 | $ 86.00 | 3.88 |
| Zoetis | $ 6.33 | $ 75.00 | 11.85 |
| Average | $ 17.92 | $ 104.09 | 6.61 |
BioNTech and Moderna are close to the finish line in developing a COVID-19 Vaccine, with expectations of an (EUA) emergency use authorization being granted sometime in late October. As of September 4th, 2020 Moderna has enrolled 71% of the 30,000 cohort required for Phase 3 and is on track in finishing enrollment this month. 
These companies have reported out positive phase 1 data and interim phase 2 data which has sparked multiple supply agreements around the world. Below is a table of the confirmed deals with country, doses and Avg. $/per dose
                        Moderna Supply Agreements within the next 6 months
Country
Doses
Avg. $/per dose
US
500mm
$15.65
Canada
56mm
N/A
Switzerland
4.5mm
$35
EU
160mm
N/A
Japan
40mm
N/A
Total Confirmed Doses in mm
760.5
Est. Average $/per dose
$ 17.30
Revenue in Billions from confirmed supply agreements
$13.20
Moderna has stated that they are on track to produce 500 million to 1 billion doses a year, so based on the total confirmed doses, they still have around 250 million doses of capacity left, but to be conservative let's assume that they can only fulfill the agreements they have in place. 
| | |
| --- | --- |
| Revenue in Billions from confirmed supply agreements | $13.20 |
| Avg. Biotech Industry P/S | 6 |
| Potential MKT CAP in Billions  | $79.20 |
| MKT CAP in Billions today | $22.71 |
| Stock Price today | $ 57.56 |
| Shares outstanding | 394,544,823 |
| Potential Stock Price in 6 months | $200.74 |
The short-term prospects are very attractive, but of course, this is contingent on Moderna getting FDA approval for their COVID Vaccine, which historically is around 33% chance. However, the CEO, Stephane Bancel has pegged his chances of getting FDA approval around 80%-90%. Not bad odds at all. The data provided by Moderna and other mRNA based vaccines such as the one's being created by Pfizer and BioNTech have been quite impressive to date. As more positive data becomes available, we should see these companies continue to rise in value significantly in the near-term. This does not mean that the road to success will be a smooth one. 
If you have a short term horizon (1 year or less) and don't have a true understanding of the science, you may not be able to handle the wild swings. For example, on July 17th, 2020 Moderna reached an all time high at $95.21 a share. Today, it is sitting at $57.56. This represents almost a 40% loss in value within 2 months. Why did it lose so much value? From articles regarding patent issues, a downgrade from one analyst rating, to stories about insider sales, it is no surprise that some investors get easily spooked, but how are the institutional investors reacting? Quite the opposite actually. 
Fidelity Management and Research Co. LLC has increased their stake and bought 12.7 million shares on 6/30 and now owns 9.5% of the company which represents around $2.4 billion. Vanguard Group owns 6.35% and BlackRock owns 4.19% of the company. These companies have been investors in the early days and are still holding large positions because of the long term value to come. 
Moderna's COVID vaccine is the most talked about now and the furthest along, but their pipeline potential is astronomical. For example, their CMV Vaccine could bring in another $2-$5 billion in annual sales according to the company. 
Sample of Pipeline: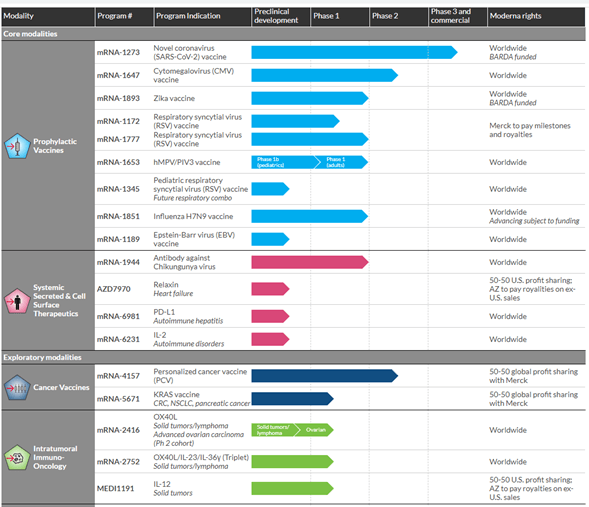 The future of mRNA vaccines is quite fascinating and has the potential to save the world from the COVID pandemic. We will see how Q4 plays out for companies like Moderna and BioNTech. Hopefully they are successful and we start taking steps to be better prepared for any pandemic. 
Sources:
https://www.ncbi.nlm.nih.gov/pmc/articles/PMC6446947/
https://www.wired.co.uk/article/coronavirus-vaccine-mrna
https://www.historyofvaccines.org/content/articles/human-immune-system-and-infectious-disease
mRNA Will Revolutionise the Biopharmaceutical Industry
https://www.ncbi.nlm.nih.gov/books/NBK21603/#:~:text=Messenger%20RNA%20(MRNA)%20carries%20the,specifies%20a%20particular%20amino%20acid.&text=These%20complex%20structures%2C%20which%20physically,amino%20acids%20into%20protein%20chains.
Analyst's Disclosure: I am/we are long MRNA.
Seeking Alpha's Disclosure: Past performance is no guarantee of future results. No recommendation or advice is being given as to whether any investment is suitable for a particular investor. Any views or opinions expressed above may not reflect those of Seeking Alpha as a whole. Seeking Alpha is not a licensed securities dealer, broker or US investment adviser or investment bank. Our analysts are third party authors that include both professional investors and individual investors who may not be licensed or certified by any institute or regulatory body.