I traded futures 20+ years ago, for about a year.   I saw stuff like this happen often enough, and didn't understand it until I had it explained to me.  It's one reason I stopped.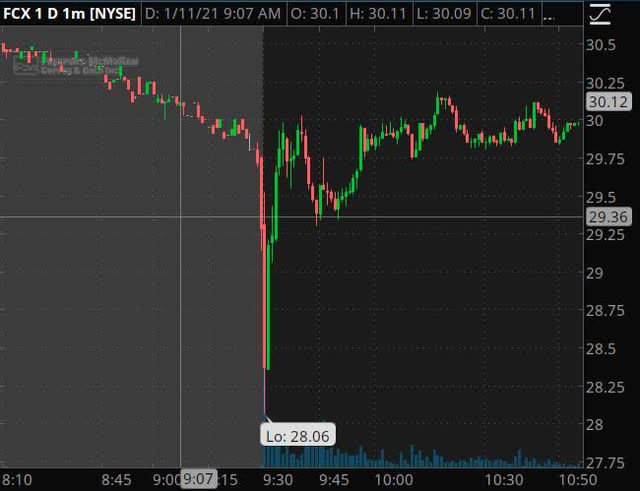 Chart: Thinkorswim
You can see very light volume trading in the premarket, with the price drifting downward... FCX has had a parabolic run up, and the momentum traders pile in, with nice tight stops to prevent losses... usually down just a point or 2.  The market makers know where these stops are.  They pull their bids, sell a few shares at a loss leader price, trip all the stops, and buy buy buy on the way back up.   Textbook.
I am short FCX Feb 29 put from last week, and I found about this because the stop run tripped my alert at 29.  By the time I got logged in, it was all over.  A bunch of momentum traders are licking their wounds, the market makers are thrilled, and I'm still short my 29 put, which is slightly under water right now, but still ultimately profitable.  
I thought this was interesting, haven't seen it happen in a long time.