Outline generated from MyndBook note map 2011.09 Investing Ideas - Sep 2011
---
Ideas from Others
Fidelity Growth Company
Blackrock EAFE Index Fund
P/E of 11 & 3% yield -- consists of large multinationals - beaten down due to concerns about viability of Euro and European Union
Fidelity Contra Fund
Fund is concentrated in US large cap stocks that should be able to withstand any slow down in the economy.
Mutual Funds
Candidate Stocks
SSgA Global Equity Fund
Tracks MSCI MSCI All Country World Index - 2.6% yield and P/E of 12.
S&P500
Looks like US markets have put in a bottom in August, so it is a good time to buy stocks and sell put options.
Options (2 out of 3 profitable; 1 unclosed)
India Earnings Fund (NYSEARCA:EPI)
Freeport McMaron (NYSE:FCX)
Copper & Gold miner - stock price dropped due to strike in Indonesia mine.
ING Clarion Global Real Estate Income Fund (MUTF:XIGRX)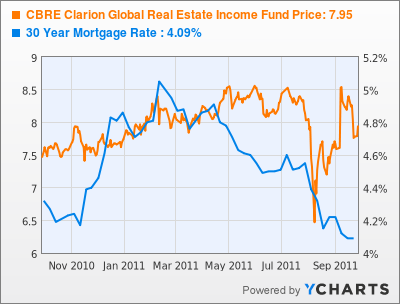 CBRE Clarion Global Real Estate Income Fund Price Stock Chart by YCharts
Disclosure: I am long SPY, FCX, EPI.
Additional disclosure: My Sep 2011 stock and option trades are shown at:myndbook.com/go.php?to=142_271