AlphaRank Merger Monitor – March 2021
Please Note: Blog posts are not selected, edited or screened by Seeking Alpha editors.
Seeking Alpha Analyst Since 2020
Julian is the CEO and Chief Investment Officer of Accelerate. Prior to founding Accelerate in February 2018, Julian was the Chief Investment Officer of Ross Smith Asset Management where he managed a number of alternative investment strategies for nearly a decade. He founded and managed a top performing Canadian alternative fund in 2017. Julian also managed a 6-time award winning market neutral hedge fund and founded an award-winning event-driven arbitrage fund. Prior to Ross Smith Asset Management, he was an Analyst at BMO Capital Markets. He attended the University of Manitoba where he graduated with a Bachelors of Science (Engineering) and a Bachelors of Commerce (Finance). Julian is a Chartered Financial Analyst (CFA) charterholder. He is the author of the book Reminiscences of a Hedge Fund Operator and host of the Absolute Return Podcast.
March 31, 2021 – There is seemingly always some drama in hedge fund land.In January, it was the short squeeze caused by the Wallstreetbets meme stock surge.
This month it was the reverse, in which Archegos Capital not only blew itself up but caused billions of dollars in losses for prime brokers Nomura and Credit Suisse, by using extreme amounts of leverage trying to manufacture short squeezes. Utilizing leverage, rumoured to be greater than 10:1 on stock bets, Archegos Capital attempted to push up heavily shorted stocks such as ViacomCBS via swap contracts. The scheme came to a swift end when the squeeze reversed, dealing devastating losses to Archegos and its service providers. Nonetheless, this was a relatively isolated event with minimal discernable knock-on effects.
Whether it was due to volatility related to the Archegos blow-up, or due to rising interest rates, the Accelerate AlphaRank Merger Arbitrage Effective Yield reached 10% this month, prior to declining to 8% at month's end. The current 8% merger yield level is not abnormal in the context of a well-functioning market.
There were $63.9 billion of deals spread out across thirteen public U.S. mergers and acquisitions during the month. The U.S. deal universe stayed at 69 mergers outstanding, as new transactions matched those that closed.
March was notable for two sizable M&A transactions:
Canadian Pacific Railway's $29 billion acquisition of Kansas City Southern, representing the largest deal of 2021 thus far.
Rogers Communications' $26 billion merger with Shaw Communications, the largest Canadian M&A deal in over a decade.
Both of these M&A deals offer considerable merger yields of 8.8% and 18.1%, respectively, due to regulatory concerns given their size.
The two major takeover battles that erupted last month were resolved:
CoreLogic cut short a potential bidding war as potential interloper CoStar Group withdrew its bid and disappeared after the company's unsolicited bid was rejected less than three weeks after its unveiling.
Coherent's auction process concluded as interloper II-VI ended up winning the asset by outbidding initial friendly acquiror Lumentum Holdings.
Aside from those that terminated in the above competitive auction processes, there were no failed M&A deals in March.
We continue to believe that we are in an environment conducive to increased M&A – well performing equity markets, low interest rates and manageable volatility. The Accelerate Arbitrage Fund (TSX: ARB) has been selectively adding to its merger arbitrage portfolio.
The below AlphaRank Merger Monitor represents Accelerate's proprietary analytics database on all announced liquid U.S. mergers. The AlphaRank Merger Arbitrage Effective Yield represents the average annualized return of all outstanding merger arbitrage spreads and is typically viewed as an alternative to fixed income yield.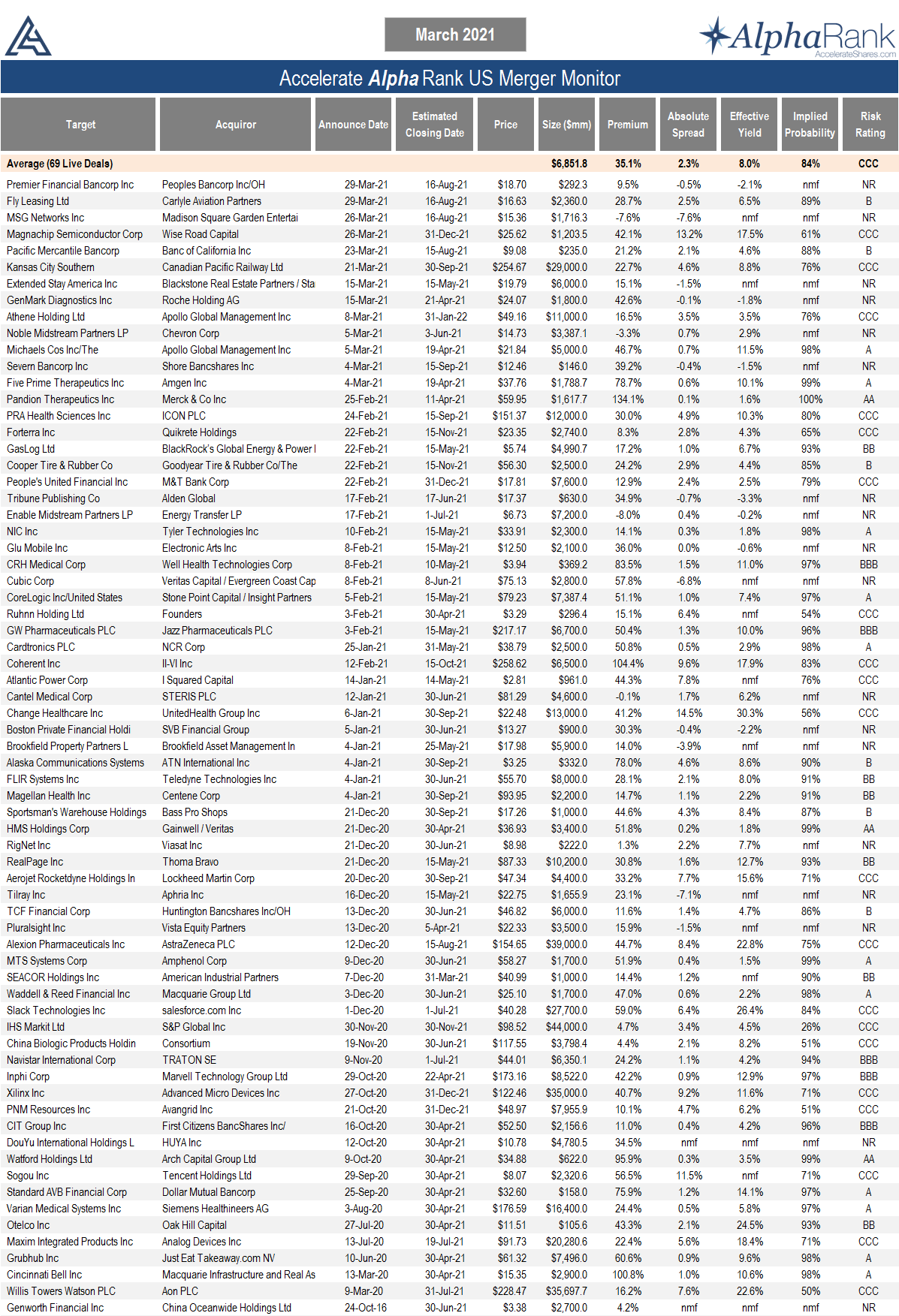 Each individual merger is assigned a risk rating:
AA – a merger arbitrage rated 'AA' has the highest rating assigned by AlphaRank. The merger has the highest probability of closing.
A – a merger arbitrage rated 'A' differs from the highest-rated mergers only by a small degree. The merger has a very high probability of closing.
BBB – a merger arbitrage rated 'BBB' is of investment grade and has a high probability of closing.
BB – a merger arbitrage rated 'BB' is somewhat speculative in nature and has a greater than 90% probability of closing.
B – a merger arbitrage rated 'B' is speculative in nature and has a greater than 85% probability of closing.
CCC – a merger arbitrage rated 'CCC' is very speculative in nature. The merger is subject to certain conditions that may not be satisfied.
NR – a merger rated NR is trading either at a premium to the implied consideration or a discount to the unaffected price.
The AlphaRank merger analytics database is utilized in running the Accelerate Arbitrage Fund (TSX: ARB), which may have positions in some of the securities mentioned.
---
* AlphaRank is exclusively produced by Accelerate Financial Technologies Inc. ("Accelerate"). Visit AccelerateShares.com for more information. Disclaimer: This research does not constitute investment, legal or tax advice. Data provided in this research should not be viewed as a recommendation or solicitation of an offer to buy or sell any securities or investment strategies. The information in this research is based on current market conditions and may fluctuate and change in the future. No representation or warranty, expressed or implied, is made on behalf of Accelerate as to the accuracy or completeness of the information contained herein. Accelerate does not accept any liability for any direct, indirect or consequential loss or damage suffered by any person as a result of relying on all or any part of this research and any liability is expressly disclaimed. Accelerate may have positions in securities mentioned. Past performance is not indicative of future results.
Seeking Alpha's Disclosure: Past performance is no guarantee of future results. No recommendation or advice is being given as to whether any investment is suitable for a particular investor. Any views or opinions expressed above may not reflect those of Seeking Alpha as a whole. Seeking Alpha is not a licensed securities dealer, broker or US investment adviser or investment bank. Our analysts are third party authors that include both professional investors and individual investors who may not be licensed or certified by any institute or regulatory body.