Summary - Why buy shares of Polydex now?
POLXF EPS improved by 97% year over year in the first 9 months of 2019; growth will continue in 2020.
The stock has not reflected this EPS improvement with the price essentially flat for the past 3 years.
At the current price of $1.14 it's trading at less than its $1.77 Cash and Real Estate book value value.
POLXF is a solid company with a long operating history and great free cash flow generation.
An upcoming $250,000 milestone payment and sales to new end markets is the catalyst.
Overview of Thesis
After a few years of declining results shares of POLXF are down 58% from their December 2015 peak of $2.82. The stock has been left for dead trading at less than its $1.77 book value consisting of cash, working capital and owned Real Estate. The company's recent results have been solid; EPS for the first 9 months of 2019 were up 97% from $0.06 to $0.11. Management's latest commentary calls for continued strength in earnings and if this happens POLXF should rally significantly. Right now I project they will earn $0.15 per share in C2019, if I'm right, the stock is trading at a PE of 7.6x that estimate and an EV/EBITDA of 2.9x. There is a huge margin of safety here since POLXF has $0.38 in net cash, that's a third of its market cap. This cash balance should jump to $0.48 per share after they report 4Q 2019 as delayed 3Q shipments are sent out and inventory returns to normal levels (from the current $1.4 to the $1mln range). My book value estimate of $1.77 takes into account working capital and $3mln worth of office and factory owned by the company. With over 40 years in business, POLXF has in recent history generated significant free cash flow averaging $570,000 a year for the past six years. This is significant for a company with a market cap of only $3.9mln. Several onetime factors from machine breakdowns, production quality issues and currency fluctuations have caused a down turn in earnings from a peak of $0.26 per share in Calendar 2015 to the most recent $0.07 per share in Calendar 2018. But with these problems behind them POLXF has earned $0.11 and generated $315,000 in Free Cash Flow for the first 9 months of 2019. Most importantly new end markets should allow this level of EPS and FCF to continue and grow further in 2020.
Description:
Polydex Manufactures and sells Dextran which is essentially a sugar based product in the most simplistic way of explaining it. The company sells its products to Pharmaceutical companies and Life Science companies. Dextran has many uses. For example Iron Dextran is injected into most pigs at birth for treatment of Anemia. Polydex was founded more than 40 years ago and has been providing Dextran for world consumption for that long. The barriers to entry are high since know how, regulatory approval and deep customer relationships are necessary for one to start and/or succeed in this business. It's a good recurring revenue business model since the products are a healthcare/veterinary consumable products and the company does have patents for some of its products and processes. POLXF is the only Canadian Manufacturer and according to management, the only North American producer of a certain quality level. As mentioned above times have been tough for POLXF in the last year but I believe this is about to change. Here's why.
1. POLXF EPS improved by 97% in the first 9 months of 2019 and growth will continue in 2020
On December 16 2019, POLXF reported Calendar 3Q:C19 results https://12b5bc50-3994-5408-9744-c37668fc304a.filesusr.com/ugd/dbd2b1_77bfd123292540649b5b20fea3110e31.pdf. Results for the 9 month period were very good. EPS increased by 97% from $0.06 to $0.11 and made good on the forward looking statement the CEO made at the beginning of the year which was:
"The order book remains strong leading into the new year with increased orders from existing customers and the potential for interest from new customers."
As you can see form my model below I predict the company will earn $0.15 for the full year 2019 with 4th quarter coming in ahead of last year continuing the improved EPS trend we have seen of late. For next year C2020 (which they call Fiscal 2021), I predict a revenue increase of 7.6% and earnings increasing 17% to $0.17 from $0.15 which for a stock trading at $1.14 is pretty significant especially when you take into account cash and real estate which I discuss later on. My optimism for C2020 stems from commentary in the most recent earnings releases linked above stating:
"Interest in new non-regulated products also remain strong and customer audits continue."
After talking to the company I am guessing that they are working on new forms of dextran to new customers and that if these customer audits are successful and they do choose POLXF as a supplier of dextran it will be significant. It will be the first new application or new differentiated customer they have won in a long time. I think if all goes well my 5.6% in revenue for C2020 could be conservative and the margins could be higher. The key for POLXF is that it used to just be a beaten up cheap stock, now they have a growing business again with new customers using dextran for new applications. Here is the full earnings model.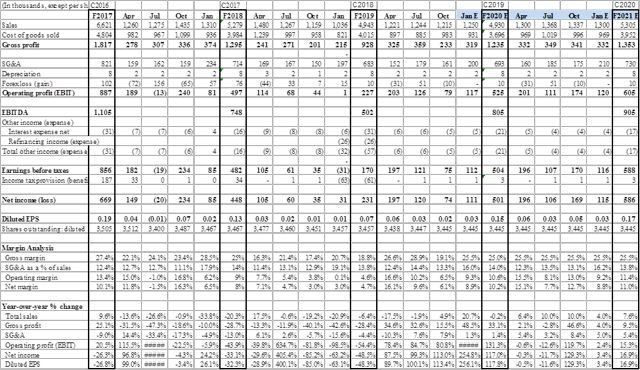 2. The stock price has not reflected this EPS improvement with the price essentially flat for the past 3 years
If you go conservative and put a 10x PE multiple on my $0.17 earnings estimate you end up with a fair price of $1.70. Surprisingly my most conservative multiple, without taking cash and real estate into account gets me a fair value that is 50% higher than the current stock price. Here are some other scenarios which make the current POLXF valuation look even more ridiculous.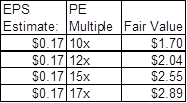 We can go even further and do what many buy and sell side analysts do when evaluating a company and coming up with a fair value and that is to add back net cash to the price. It makes sense… rationale being if the company paid out the cash in the form of a special dividend then what would the value look like? In POLXF's case they have net cash of $0.38 (we get into much more detail about this in point number 3). Under this scenario we get the following potential valuations:If you apply a near market multiple (that of the S&P500 or Russell 2000) of say 17x you get to a fair value for shares of POLXF of $2.89. One would probably have to discount that multiple since POLXF is arguably not worthy of inclusion in the S&P 500 so discount it to 15x or even 12x and you get a price of $2.55 or $2.04, respectively. Before POLXF's results started to decline the stock was trading at over $2 for some time and at one point reached a high $2.82 on 12/15/15… so a $2 plus stock price is not out of the question since we have seen it before. That represents almost than 100% upside from here.

As previously noted the bad results in C2017 and C2018 have led to a decline in value of the stock to the tune of 60% (from a December 2015 high of $2.82). Results have declined mostly due to the problems at the company from equipment breakdowns, production quality problems, increased competition to adverse effects of currency (USD$/CAD$). In 2Q:C17 currency affected EPS to the tune of $0.05. Also according to management competition temporarily increased as a European competitor went with fire sale techniques in order to further penetrate the U.S. Market.Again, I would not go with the 17x plus multiple like the S&P500 but I don't see why a 12x or 15x PE multiple isn't out of the question and adding back cash in this scenario we get a fair value of $2.35 or $2.86, respectively… a far cry from the current $1.14 we are at today!
Given the decline in results for the past 2 years and the fact that the stock has lost 60% of its value I would say expectations are very low right now. This sell off has improved the risk/reward (my guess: downside of $0.20 to $0.30 with upside potential of $1-$2) and if results do in fact continue to improve with new business, which I am fairly confident will happen, investors will start to get excited about the stock again and there will be net buyers of the shares instead of the recent net sellers we have seen over the past several quarters. In calendar 2015 (F2016) the company earned $0.26 and if, with the new business, they get anywhere near that number in the future, the stock is going up a lot… especially now that they have all this cash. Back in 2016 they only had net cash of $0.14 per share now its $0.38 (after this next quarter I believe it will be closer $0.48 as inventory goes from $1.4mln to $1mln) almost a third of the current market cap, which again we delve into further below in point number 3.
When a company has cash on the balance sheet and has a history of generating cash flow, I like to look at EV/EBITDA. This valuation metric adds the strength of the balance sheet to the valuation method and shows how much you would be paying if you bought the whole company. Based on my earnings model above I have POLXF generating $605,000 in Free Cash Flow in Calendar 2020 (Free Cash Flow defined as EBIT + Depreciation – Capex). They have averaged about $502,000 over the past 6 years with a recent peak of $810,000 in C2016 and $315,000 for the 9mo of 2019 reported so far. In the table below you can see that at the current $1.14 share price, the stock is trading at 2.9x its Enterprise Value which I like to think of it as if you took out a loan from a bank bought the whole company, banked the cash already on the balance sheet, paid off the debt on the balance sheet, you would pay your local bank loan back in 3 years and live off the future profits scot-free!… and this doesn't even take into account the $3mln plus in Real Estate the company owns outright which we discuss below.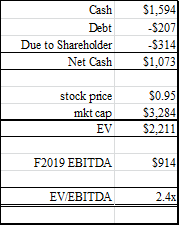 3. At the current price it's trading at less than its $1.77 liquidation value
Reason 3 for buying the stock and (this is one of my favorites) is a margin of safety. As of the end of 3Q:C19 POLXF had net cash of roughly $1.2mln or $0.38 per share. That makes up one third of the stock price and/or the market cap. I fully believe that as business continues to improve over the next few quarters, as they ship the delayed product they referenced in the press release above, the cash balance will move up to $0.48 per share after 4Q:C19 (as an elevated $1.4mln in inventory goes back to the normal $1mln) providing an even larger margin of safety. It gets better. If you look at just cash and net working capital in this case I am defining it as Current Assets – Total Liabilities in the table below you get $0.79 per share providing an even better margin of safety.
Finally in terms of hard assets like cash, POLXF owns their office and production facilities in Toronto Canada. On the balance sheet land and building are valued at $4.3mln minus $1.6mln in deprecation for a value of $2.7mln however the company has owned this land and the building for decades and property in downtown Toronto has no doubt increased over the last two decades with inflation. According to management it is probably worth $3-$4mln, but let's use the low end of $3mln to be safe. As a side note, I give the equipment and machinery a value of $0, this is just pure land and buildings. With a Market Cap of $3.9 million dollars, the Real Estate and Cash is worth almost the value of the whole business without even taking into account the working capital. Here is a table of the scenarios; first just net cash, second net cash plus working capital and then third, cash working capital and Real Estate for a full book value. In addition POLXF has $1.8mln in Net Loss Carryforwards which means they won't be paying taxes anytime soon and at that size, that is an asset to any potential acquirer.

If you take the cash and working capital subtract all the debts and add back the real estate you get a value of $1.77 and that values the business at nothing! My question, as I continue to buy stock to this day is how can you value the business at nothing when they have a history of generating strong free cash flow? Cash Flow is my favorite metric which we break down next in point number 4.
4. POLXF is a solid company with a long operating history and great free cash flow generation
The main reason I own POLXF is for its free cash flow generation. Below is a table of the cash generated over the past 6 years. They have averaged about $502,000 over the past 6 years with a recent peak of $810,000 in C2016 and $315,000 for the 9mo of 2019 reported so far and if this continues the company's entire market cap will be in cash in a few years from now. POLXF has a history of generating great free cash flow. I referenced that above when in C2015 they had net cash of negative ($0.06) now they are positive $0.38. The reason for that as you can see here in this table is that this business is a cash cow.

5. An upcoming $250,000 milestone payment and sales of a new product and new end markets is the catalyst
Polydex has an agreement with Sparhawk Laboratories http://www.sparhawklabs.com/home.html to sell all its Iron Dextran solution in North America to Sparhawk. In addition to this agreement Polydex and Sparhawk also agreed to work on a new product together (which I believe is a more concentrated version of Dextran) whereby Polydex provided raw materials and technological advice for a payment of $250,000 which POLXF received in 3Q F2016. The agreement also states that once Sparhawk gets this product approved by the FDA, Sparhawk will pay Polydex another $250,000. This product is at the FDA in trials and that payment could be seen in a year or two I think. While it doesn't sound like a lot it is $0.07 per share in cash to POLXF and it will be sales of a new product to Sparhawk meaning more revenue and earnings to POLXF. At some point in the near future we will see $250,000 flow through the P&L in any given quarter and show a big boost to EPS. I project it would add $0.07 in EPS to the quarter it is reported in, so a normal $0.05 quarter would actually be a $0.12 which would definitely surprise the market.
Here is a link to the 10k that discusses the relationship (page 4). https://docs.wixstatic.com/ugd/dbd2b1_474db64b668a4cf79ed752f44465f0b7.pdf
In last year's 4Q earnings press release I referred to in the opening paragraph of this write up the CEO said… they have "potential for interest from new customers." I believe this has to do with the new Dextran related products the company is developing or Dextran that they already produce but for use in other applications. In the second quarter of Calendar 2018 in the earnings release here: the CEO said
https://docs.wixstatic.com/ugd/dbd2b1_1403669d39e545dab21eeaa8e26f36d6.pdf
"We are also very optimistic about our research into a new production process that, once introduced, could reduce costs, and our further research into a new product that is starting to generate positive test results."
Prior to this, in the first quarter of 2018 the CEO said in a press release here:
https://docs.wixstatic.com/ugd/dbd2b1_3f58ad22dbe64532ba8fe4366410a2d9.pdf
Management continues to seek new opportunities through sales efforts and research into emerging unique applications for the Company's dextran-based products.
And then again prior to that here he also said:
https://docs.wixstatic.com/ugd/986879_c84aa622dc8343aba8075450f5266be6.pdf
"We have been working on the development of a new form of dextran and its product registration for potential use in several different applications," said George Usher, President and CEO of the Company. "We continue to upgrade our systems on a priority basis where needed, with the prospect of increasing sales"
In talking to the company I believe these lines have to do with water/utility companies and mining/agriculture companies. It sounds like they have been working on this for some time and should able to broaden their end markets i.e. not just medical and veterinary products but to say for example power plants or large utility companies it would open significant doors for the company and boost the sale of their existing products. I believe the company is at that point now where contracts are being reviewed and the new customers are doing audits of POLXF's facilities. As I showed above in the earnings model this will lead to 5%-10% in revenue and improved earnings.
Risks & Uncertainties
POLXF does have preferred shares outstanding which give the CEO George Usher, son of the Founder Thomas Usher, voting control. These shares do NOT have any dollar value and cannot be converted so they do not affect the valuation in any way. However this is probably one of the reasons the stock is trading below liquidation value other than the fact that it is just and under everyone's radar. I feel like if it weren't for the CEO control, an activist or strategic acquirer would have acted already and made an attempt to buy the company or close the valuation gap.
There are also loans to and from to the founder's estate which makes the balance sheet look a little less clean but in the 10K (linked above) you will see that the loan is backed by shares of the company that the estate already owns. I believe the company is looking to clean this up which I think would help a little but it is well explained in the 10K and pretty cut and dry in terms of what the situation is. Polydex is based in Canada (stock is listed in the U.S.) but doing business Globally through USD$ they have to deal with currency fluctuations which are not ideal but cannot be helped. Sometimes it helps the earnings so it's not the end of the world but does create some quarterly noise in earnings.
Bottom Line
If POLXF continues to execute as it has in the recent past, pre- business interruptions, cash will continue to grow and the stock will have to go up. There is a chance that the CEO, who as noted above, is the son of the Founder, decides to sell the business; Sparhawk Labs http://www.sparhawklabs.com/ would be a great fit given the current exclusive supply agreement the two companies have. Or the company does something interesting like sell the current building and pays out a dividend or buys back stock but who knows. I talk to him often and I keep pushing him to either buyback stock, do a sale lease back on the building but most importantly, to just sell the company given the current value gap! At the end of the day I see a niche business with high barriers to entry that requires FDA approvals, Drug Master Files, Customer and FDA audits operating in a "consumables" business (Dextran in all its forms are bought consumed and bought again). As one of the only North American Producers with a 40 plus year history of operations generating cash, trading below its liquidation value, the risk/reward at this price is terrific.
Disclosure: I am/we are long POLXF.