The Environment Is Important, But We Need To Be Intelligent About It And The Stocks Therein
Please Note: Blog posts are not selected, edited or screened by Seeking Alpha editors.
Seeking Alpha Analyst Since 2020
I have an MBA from Columbia University, graduating with highest honors. I have an undergraduate degree in Business Administration, with an emphasis in Finance.
Although I was in the investment industry for over 20 years, lately I run my own firm. While in the investment industry I was a Director of Research, a COO, CFO and a CEO.
I have been associated with many start-ups in my career and even was a graduate instructor for an entrepreneur class at Columbia University. Entrepreneurship is my true, biggest passion.
In my spare time, I pursued an interest in sports writing at Bleacher Report. I am an avid sports reader/watcher.
Summary
Over 70% of the United State's precious metals come from China.
Chinese government's environmental regulations are not as stringent as those in the United States.
Precious metals are used for cell phones, electric cars, military defense and a lot more.
If the United States does not develop mines, meaningfully, we will have to continue to rely on those that have worse regulations.
Northern Dynasty went through one of the most stringent permitting process and continues to do so. If it is permitted, it should enjoy great gains in price if stock manipulation does not persist.
I was raised in the United States, in a small town next to Malakoff Diggins State Historic Park. The historic park is probably not well known by most but should be for its environmental origins. The Malakoff mine pit was the impetus for one of the nation's first environmental protection measures.
Throughout my childhood, I developed a distaste for those harming the environment, having to stare at formerly beautiful mountains defamed by mining monstrosities.
A few weeks ago, I looked at the outside temperature and saw 120 degrees. One hundred and twenty degrees, at a place that rarely used to get above ninety degrees. I thought those high temperatures were only possible at places like the Mojave Desert. Certainly not in the Pacific Northwest, near the ocean. I have no doubt whatsoever that global warming exists, and we need to do something about that. We have a lot of environmental issues we need to address in this world in fact.
That tiny town I grew up in also had rampant racism. It had one of the largest communities of KKK members West of the Mississippi. As a Cuban raised, Venezuela born immigrant, this was not good.
Although I was born a naturalized citizen of the United States (because my mom was born in the United States), I encountered racism frequently in my small town. Often, I was cornered by bullies calling me Spick and Mexican (for those unaware Cuba and Mexico are two different countries—sarcasm intended).
I grew up having to often defend myself, not only from fellow kids but also from school administrators who tried to hold me back despite my high-test scores. Hey Ms. Elko, just so you know, I ended up going to an Ivy League school and graduated top of my class—no thanks to you.
My extended family encountered horrific racism too. My uncle had both his legs broken on purpose in a football game, just so he did not set the record for rushing yards at a famous American high school.
I mention my upbringing because I want readers to understand my perspective. I am strongly for the environment and strongly against racism.
Many people have great intentions but often cannot see the proverbial forest for the trees. I believe this applies to some environmentalists.
We are one planet. If the United States had the best environmental policies in the world but the rest of the countries had the worst, the world (including the United States) would be a bad place. All countries affect each other.
The United States' isolationism stance during the beginning of World War II did not work and we were brought into the world. Now, the world is more global than ever.
Imagine a world where every country but the United States used human trafficked slaves to mine our precious metals, including copper. These countries then destroyed 5% of their lands a year and spewed toxic chemicals into the rivers and ultimately into the world's oceans. While in the United States, we bought our cell phones and electric cars made of copper and other precious metals. The States had no mines because the environmental regulations were too stringent for investment. Instead, all metals were imported these countries and their horrific ways of mining. Is the United States making a good environmental decision in this fictitious example? Of course not.
Clearly this is a very exaggerated example, but it proves a point; people have to draw lines on how they go about environmentalism.
Some countries have worst environmental policies than others. The Center for American Progress described China's environmental policy like that of the United States before 1970. There are a litany of environmental issues with China that go far beyond what is done in the United States, described well here. This is not to speak badly about the Chinese people but about the Chinese government's policies. Racism is wrong.
The NRDC states that China is "the world's largest fossil fuel consumer" and that China has "rapid growth led to skyrocketing energy".
I think most experts would agree that China has far less stringent environmental policies than the United States and yet China represents over 70% of U.S. imports (findings) of rare earth minerals used for electric cars, cell phones and more. Bluntly, the United States is highly dependent on China for important minerals, as is the rest of the world.
Unlike China's process, the United States has a stringent and long process for permitting oil companies and mineral mines. The process is managed by the Army Corp of Engineers (ACOE), but involves the Environmental Protection Agency (EPA), Department of Water, other agencies and those who are both for and against such projects.
Any project goes through rigorous scientific review for its impact—known as the Environmental Impact Statement (EIS). At the end of this long process, a mine or oil project can be denied, accepted, or accepted with condition. The final report is called the Final EIS or FEIS for short.
Juxtaposed this long process with the process that currently takes place in China and you know why NRDC and The Center for American Progress are trying to help China evolve their standards.
Despite all of this, NRDC and many other environmentalists fight virtually ALL mines trying to get established in the United States. The bigger the potential mine, the more NRDC fights against them getting permitted.
A vote against a mine getting permitted in the United States, is a vote for using mines elsewhere—most notably China. This cannot be argued. This is a fact. NRDC and other environmental groups seemingly support relying on China imports. In addition, these organizations support China directly. Here are just a few articles from NRDC commending China:
One wonders if NRDC has relations with the Chinese government to go against the mining industries in the United States. They share a common goal. In other ways, seemingly benign organizations have been infiltrated by the Chinese government, or at the very least been influenced (here).
A profile on a very popular social media stock site, states that it is an NRDC executive. The profile posted that there would be political controversy released weeks before actual events were released publicly. Specifically, a tweet was made on the 13th of September on a popular social media site, many days before tapes were released of executives at Northern Dynasty speaking about relationships with politicians. The fact that is profile knew of events before they were made public points to the legitimacy of the account. The sophistication with which the tapes were created --- using undercover people posing as Chinese investors suggests that the profile is someone who operates with capital and sophistication. Such as an executive at NRDC.
(on NRDC's site executives, "were videotaped meeting with EIA investigators who reportedly posed as Chinese investorsfrom a Hong Kong investment firm with links to a company owned by the Chinese government." )
The same NRDC profile  from the social media site stated,
"we will continue to short this company until they go bankrupt!".
"This is a horrible investment, both for your pockets and the environment….We will hurt this company until they go away!"
"How can a company function if it has no funds or a funding partner? No major mining company will touch this toxic mine…"
"Another day, another loss. Next week the truth will come about this toxic mine and president Trump will share his very own opinion of this horrible Mine. Stay tuned, or shall I say, Stand Tuned and prepare to witness total destruction."
Of course, these last statements are and were incorrect as major mining companies have invested in the company and we suspect many will invest in the company if it receives a positive Record of Decision (ROD aka federal permitting).
The words of this NRDC named profile seem like an attempt to talk about stock manipulation and short and distort tactics.
What are the laws around stock manipulation? They can be found in Section 9 of The Securities Exchange Act of 1934. Which is restated here. Those regulations state that it is unlawful for any person, directly or indirectly, by the use of the any means, to:
Create a false or misleading appearance of active trading OR a false or misleading appearance with respect to the market for any such security (A) to affect any transaction in such security, which involves the change in beneficial ownership thereof, or (B) to enter an order for orders for the purchase of such security with the knowledge that an order or orders of substantially the same size, at substantially the same time, and at substantially the same price, for the sale of any such security, has been or will be entered by or for the same different parties, or (C) to enter any order of orders for the sale of any such security with the knowledge that an order or orders of substantially the same size, at substantially the same time, and at substantially the same price, for the purchase of such security, has been or will be entered by or for the same or different parties.
The pictures below are of Bids and Asks for the stock ticker NAK, found through Level II data. The "Ask" is what a person is asking as a price for their shares of stock. The "Bid" is what people are bidding for such shares. Bids are on the left and Asks are on the right.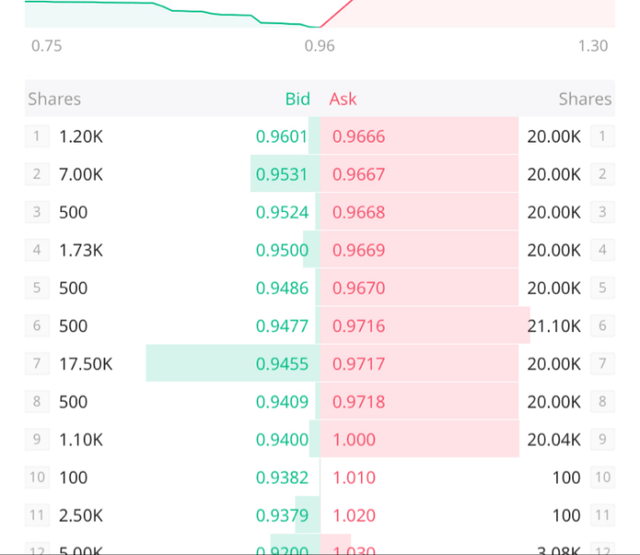 The red represents the ask while the green represents the bid. These trades seem like a clear attempt by the person or entity to put up false walls. These "Ask" walls of 20,000 shares at different prices make an investor believe that the price will not go up meaningfully because there are too many people willing to sell at nearly the same price.
Here is another form of stock manipulation: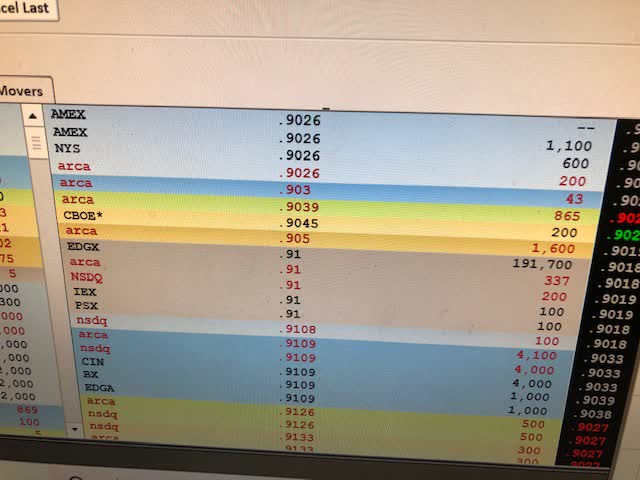 The 191,700 shares, in the "ask" price was removed as soon as the price got close, to not actually be a wall but the pretense of a wall. This kind of stock trading (of Northern Dynasty's stock) has been happening for months.
Sometimes, these manipulators keep the wall (rather than removing it) as the prices gets close. They allow the wall of "asks" to dwindle down a little, then they replenish it to create the appearance of an endless wall of sellers at that price. This is stock manipulation at its highest and ugliest form.
It is impossible to tell at this point who is doing these acts of manipulation, but it is disheartening to think it could possibly be a potential NRDC executive who has the gumption to tweet about it.
A great summary of these tactics used by stock manipulators can be read about here. Jim Cramer talks about how pervasive this strategy is here.
These specific tactics were used when the stock price had declined recently from the $2s to the $1.40s and $1.50s range. During that time, the stock price would seemingly not move for long periods of time because of the enormous ask walls and other tactics used. Again this happened after the president recently tweeted good news for the stock, bringing the price up to $1.40s only to have these manipulative techniques seemingly push the stock back down to $0.90s.
Short and distort tactics have been used as well. Short and distort tactics are illegal and common. "Short and distort" is a type of securities fraud in which Internet investors short sell a stock and then spread negative rumors about the company in an attempt to drive down stock prices.
A Politico article with the headline, "Trump action to block Pebble Mine expected" was clearly wrong. In the article, three sources are mentioned by stating the permit will be denied. The article can be found here. The crux of this article was then repeated by several others in media, including Bloomberg, NY Times, Anchorage Daily News and more than 10 others. Yet, only a few weeks later POTUS Tweeted this message: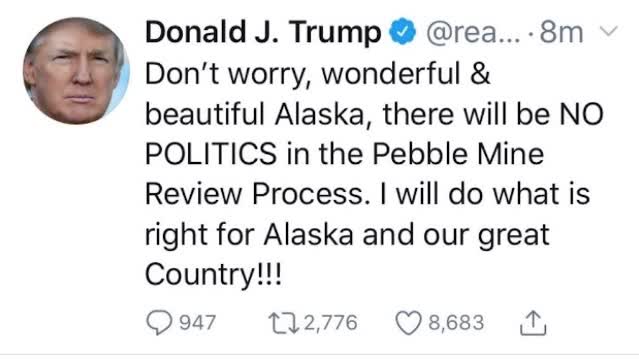 Interestingly, no retraction from the media outlets were made. I guess the story to defame the company was much more interesting than the story to restore its reputation. Too bad for the investors who lost millions—some of which was their retirement.
Worth noting, I did not vote for the current president in the last elections (I vote for Democrats and Republicans depending on who I believe is more qualified).
The evidence of stock manipulation and short and distort tactics being used against American mining companies is fairly obvious.
NOVAGOLD (another mining company with a mine in Alaska) filed a lawsuit against J Capital Research for damages sustained from manipulative short and distort report. You can read about it here. J Capital Research also has targeted Donlin mine's neighbor, Pebble/Northern Dynasty. You can read about it here.
Two similar mines that have the potential for the United States to develop their independence from China. Why is J Capital Research targeting two U.S. mining companies? Perhaps because J Capital Research has a close association with the China and the Chinese government. The website states on the About page:
"founders are Anne Stevenson-Yang and Tim Murray. Anne lived in China for 25 years and Tim for 18, working principally in media and tech. They founded J Capital in 2010. J Capital has particular expertise in the Chinese market".
A Chinese hedge fund has attacked two mining companies located in the United States, who are both trying to get permitted and combined represent one of the largest mine deposits the world has ever seen, while China exports over 70% of the United State's precious metals. Can you see a motivation for the Chinese government to hurt the American mining companies and their stockholders?
NRDC also is against these mines and so shares a common interest with the Chinese government. Whether there is a tie or not cannot be determined but reach your own conclusions based on the facts.
These undercover operatives were supposedly Chinese. According to Northern Dynasty, one of only two parties who would know, and likely the company with evidence, the tapes secretly recorded were recorded by "two unknown individuals posing as representatives of a Hong Kong-based investment firm with links to a Chinese State-Owned Enterprise (SOE)", as reported here.
Where is the SEC on all of this? How much proof does the SEC need to make a case of stock manipulation? How about defamation laws?
A president should not get involved in the environment permitting process, no more than a president should get involved in the judicial process (e.g. Roe vs. Wade, etc.). Facts should speak for themselves and a decision should be made without bias. This includes environmental decisions and especially since the environment process has been around for decades and has been untouched through many presidents (until the preemptive veto on Pebble, some years ago).
Here is the fundamental problem with the stance to stop mining projects in the United States and particularly ones that have passed the high United States regulatory barriers. A vote against the United States' process is a vote for using a worse process—namely a vote for the Chinese government's process.
It is great to be an environmentalist and I believe I am one. But to be one should be one in affect not in word and to think through the process. Shady, underhanded tactics should not be used. The process should be moral and above board.
This brings me to my final point. The undercover tapes that recorded conversations of Northern Dynasty and Pebble executives were much ado about nothing. It was embarrassing that executives talked about relationships with governors and senators, but Northern Dynasty is going through the federal permitting process that is managed by the Army Corp of Engineers (ACOE) not through these politicians.
In those same tapes, Northern Dynasty and Pebble executives repeatedly stated how above board ACOE had been and how Northern Dynasty had to change their plans and give in repeatedly to accommodate the requests of the ACOE, who was in turn listening to the EPA and all the detractors. Indeed, that was the big story about the tapes not a relationship with a governor or senators. Northern Dynasty was following the right process and if they were not, you would have heard about wrongdoing regarding ACOE in the tapes--instead you heard the opposite.
Judge for yourself. Listen to Tape 4 regarding the ACOE process (found here). The opposition to the mine only confirmed that Northern Dynasty did nothing wrong during the federal permitting process (FEIS).
The narrative that an expansion of a mine is malicious in its intent is naïve. An expansion of any mine must go through a separate permitting process that would not be run by Northern Dynasty, since Northern Dynasty is an exploration company and not a mining company. So again, much ado about nothing.
Analyst's Disclosure: I/we have no positions in any stocks mentioned, but may initiate a long position in NAK over the next 72 hours.
Northern Dynasty is plagued by political controversy but please read with an open mind and comment with facts and openness. I did not vote for President Trump in the last elections. I may or may not vote for him in these elections. This issue for me, is not about politics, it is about doing the right thing. My perspective regarding the stock is a reflection of my upbringing and the opportunity itself.
Seeking Alpha's Disclosure: Past performance is no guarantee of future results. No recommendation or advice is being given as to whether any investment is suitable for a particular investor. Any views or opinions expressed above may not reflect those of Seeking Alpha as a whole. Seeking Alpha is not a licensed securities dealer, broker or US investment adviser or investment bank. Our analysts are third party authors that include both professional investors and individual investors who may not be licensed or certified by any institute or regulatory body.