Hi everyone,
I have recently been doing the rounds on the social networking and I've noticed a common phenomenon – some websites that allow commercial users to post freely advertising their sites are in danger of these commercial accounts becoming more populous than real users on some sites.  
 
Social networking is an interesting advancement in communication – I mean we did have free Geocities sites and email all the way back seemingly in the dark ages. Everything is so streamlined now though, so easy, so free! Free in terms of what you can do too – and this is definitely why we see so many companies signing up to the sites as members (whether they are allowed to, or it is just not policed).
 
Sites that allow commercial users to sign up and freely advertise (or at least don't police it) might not mind the short term results of more users, more postings, and more hits, what they don't realise is that this will cost them in the long run. As the ratio shifts from more end users to more commercial clients I believe that end users will leave and seek out social networking sites which don't allow commercial advertising to be done as easily (read: Facebook).
 
So, bringing this back to the finance context, you might be saying, what's this rant all about? Well I believe social networking is an industry that is here to stay, and if that is the case surely we will see some companies list to the share markets one day. When they do – we want to know which ones are going to be the winners. At the moment, MySpace is owned by News Corporation (NASDAQ:NWS) but is only a small part of this large corporation. Facebook announced in September 2009 they went cash flow postive for the first time. Who knows if Facebook will get listed anytime soon though – but surely there will be new competitors to the market and hopefully some of them will get listed!
 
To leave you with a final point, many emerging market nations are indeed emerging and we will surely see this side of the internet industry continue to grow for some time to come. Here's a chart for you guys – you can't debate this uptrend.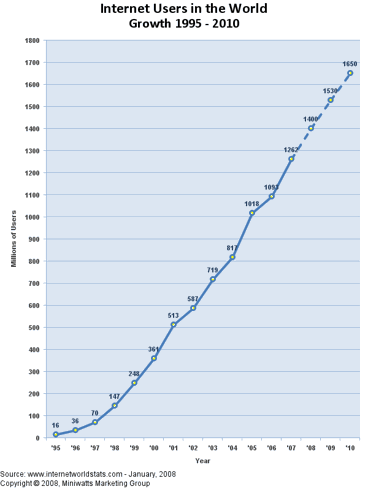 We look forward to an exciting future (and hopefully some opportunities!) in this industry.

Thank you for reading.

Kind regards,
Jonathan

gambitrader.com
Disclosure:
No positions.