The state of Illinois took a giant step forward in expanding its use of renewable energy.  On December 22, 2010 the Governor announced long term agreements in which Ameren Illinois and Commonwealth Edison will obtain larger amounts of their electricity from wind and solar projects.

Projections by the Center for Renewable Energy suggest that wind farms in Illinois would generate a total economic benefit of $3.2 billion over 25 years.  As of April 2010, Illinois was ranked 6th on the list of states with the greatest amount of installed wind capacity.  The top ten states (as of the 1st quarter 2010) for wind project installations are:
 
Texas
Iowa
California
Oregon
Washington
Illinois
Minnesota
New York
Colorado
North Dakota
Using the Revere Hierarchy we are able to look at possible opportunities (long term) within these growing sectors.  Within the
Renewable Energy and Distributed Generation sector
we discovered strong growth amongst the 41 focused companies. Strong contenders showing positive growth numbers are:
Digging deeper within subsectors we discovered a pocket of strength within the
Wind Energy sector  
we found 4 focused companies. Potential for growth within this sector is still in the "proving stages" and while growth may appear to be on the rise -
Broadwind Energy Inc. (BWEN
) of Illinois has potential for strong growth but remains on our radar for now. 
Illinois isn't the only state that is boosting its clean energy development, according to the
Database of State Incentives for Renewables & Efficiency
, 29 states plus the District of Columbia and Puerto Rico have renewable portfolio standards in place.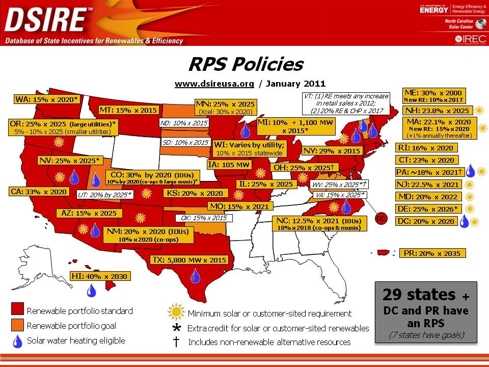 Disclosure:
I have no positions in any stocks mentioned, and no plans to initiate any positions within the next 72 hours.