Myths To Tackle While Investing In Stocks
Please Note: Blog posts are not selected, edited or screened by Seeking Alpha editors.
Seeking Alpha Analyst Since 2020
S. Vishwa is a web market analyst with 7+ years of market experience, joined a Fintech company to help people learn and earn more.
Summary
Nowadays, trading and investing in stocks is a trending topic, especially among millennial, but we need to understand that there are so many myths and incorrect information are also spreading.
It could mislead an individual or a beginner investor to make wrong decisions, resulting in a massive loss of hard earned money and trust.
In this blog, we will start by understanding few common myths and how to tackle them while investing in stocks.
India is a country of diverse cultures. A large number of traditions, customs, languages, etc. Could be seen in the 7th largest country of the world. Not only within the borders of India, but Indians could be seen everywhere, in every country, every profession, every field. Whether it's doctors, engineers, entrepreneurs, or anything, Indians are everywhere.
But one area where Indians are genuinely lacking behind in the field of the stock market. Yes, Indians have hoisted flags everywhere but certainly not in the trading world. The reason behind this is that a very small percent of Indians indulge in trading activities, yes, it's just 2%.
There could be various reasons for this small proportion, like lack of awareness among the prudent investors, fears of the risk, etc. But the most common reason for fewer attractions among Indians for trading is the various myths about investing.
There are a hell of lot of myths out there that pull the potential investors back and stop them for making investments in the stock market. These myths reduce their chances to propel in the trading world. Let's just have quick insights of what these myths are and how we could tackle them. Let's begin!!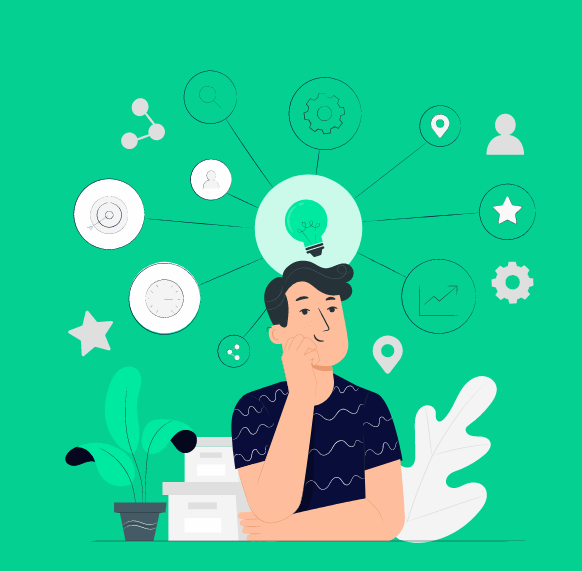 Resource
1. Trading is like gambling
The greatly found myth while investing in the stock market is that it is comparable to gambling and money earned from the stock market is solely based on the luck factor. But the thing to note here is that nothing could be far from the truth. You should understand the fact that a stock is not a lottery ticket, but a part ownership in a business that owns and regulates assets to make a profit. As the company makes profits over time, its business value rises and evolves with time, and as you also own a fraction of that business in the form of shares, your ownership rises proportionally.
What is required to be understood is that short term price volatility is barely a temporary phenomenon, nothing else. As long as the underlying fundamentals of the company are intact, each fall in the price of the share is not a disaster but a great opportunity rather buy a huge business at a reasonable price. By gaining some experience, it is possible to learn the art of buying cheaper shares.
2. Stock market can make you wealthy overnight
In common people have a perception that it is possible and easy as well to get rich shortly if you start investing in the stock market. People who believe that the stock market is a place to make quick money, do not possess a detailed understanding of the basics of the stock market. The price of the stock of a company appreciates only in the case when the business behind the stock performs well over a few courses of time. It does not matter how good a business is, it always takes some time for it to prosper and make money for the company as well as its shareholders.
The person who is starting to invest should be patient and also willing to stay invested in order to generate money. If we take the example of Warren Buffett, most of his fortune that one sees today was made after he crossed the age of 50. It took him hard work for so many years before he became what he is today.
3. Investing is just for professionals
According to this myth, the professionals in the trading world can do better than the individuals themselves. It means that professionals always help you with the better stocks whose chances of prospering in the future is higher. Well, that is not the case, professionals do make proper stock analysis before advising you to invest in the market, but, this study and analysis of the professionals do not guarantee success.
Yes, you could also do the same kind of research at your home and start investing on your own, but only when you have enough time and you are determined also. Otherwise, it's always better to seek expert advice, if you are willing to pay them.
4. Lot of money is required to start with the process of investing
A well-known myth that you might have come across several times is that you require a certain amount of money to make it big in the investing world. Well, it's true that it takes money to make money, but it does not at all mean that it takes a lot of money to make money. If you know about the success stories of some of the most profitable and successful investors, almost all of them started with very little money. For example, Warren Buffett began to invest with just a few dollars he saved while doing the job of delivering newspapers to the public.
Similarly, an Indian example could also be taken. Rajesh Jhunjhunwala, yes the guy began his career in this field with a puny of Rd. 5000. Such examples are proof enough that it is only a myth that you could not start with small amounts. If there is will you can achieve any height of success.
5. Mutual funds are better
There are a lot of investors who do not possess the time to invest and track the stock market on a regular basis. Such investors are supervised to invest in stocks via mutual funds. It is also understood that since mutual funds are organized by professional fund managers with a hell of lot of experience, they can effortlessly pick stocks that will outperform the market. Thinking that investors believe mutual funds are always a better option to invest, and of course, it is a myth.
But that is not the case, Performance of a mutual fund is always assessed by how successfully it is prepared to beat the benchmark index and how long is it able to do so. Therefore, mutual funds are not always successful, you have to be very careful while selecting a fund. Otherwise, it could prove noxious for you. Therefore, mutual funds are not your decision, you should always seek advice from your financial adviser.
Summing up
As it was discussed earlier, a large number of India. Financial enthusiasts do not try their hands into the field of the stock market because of such silly myths that prevail in the Indian corridors.
But, if there is a proper understanding of the market and the potential investors are crystal clear about the process and the fake myths of the market, they can do wonders in the share market, even better than some of the big foreign names.
So, if you are the next prudent investor, then keep in mind that investing is not gambling, it's not just for the riches out there, and professional advisers are not necessary. Just have faith in yourself and your analysis or study of the market, only then you will be a great millionaire investor.
Happy (and smart) investing !!
Analyst's Disclosure: I/we have no positions in any stocks mentioned, and no plans to initiate any positions within the next 72 hours.
I wrote this article for information purposes only, and it expresses my own opinions. Therefore, the readers/investors are hereby advised to apply their discretion while making investment-related decisions.
Seeking Alpha's Disclosure: Past performance is no guarantee of future results. No recommendation or advice is being given as to whether any investment is suitable for a particular investor. Any views or opinions expressed above may not reflect those of Seeking Alpha as a whole. Seeking Alpha is not a licensed securities dealer, broker or US investment adviser or investment bank. Our analysts are third party authors that include both professional investors and individual investors who may not be licensed or certified by any institute or regulatory body.