Call option volume for PMC-Sierra (NASDAQ:PMCS) was significantly up today.  In PMC's recent earnings call they noted they were working on selling their products to IBM (NYSE:IBM), maybe they're making progress.

PMC-Sierra develops semiconductors primarily in the networking arena, but also develops and markets devices for microprocessor, voice over IP, Fiber to the Home, Wireless, servers and storage devices.

PMC's top competitors are Applied Micro Circuits (NASDAQ:AMCC), Broadcom (BRCM) and Freescale Semiconductor (private).

PMC's stock price is up over 100% from its low in December, but of late has been in a downslide, dropping through two previous support levels and approaching a third previous support level.  The stock price is also flirting with its 200 day moving average.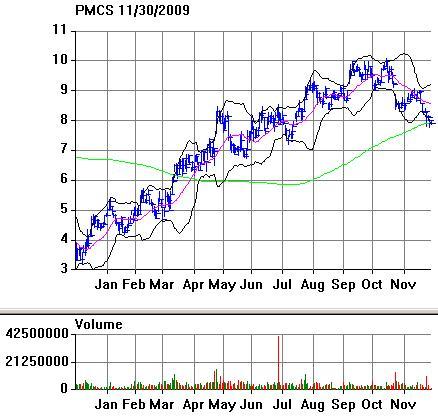 It appears with today's high out-of-the-money call option volume that someone is bullish on PMC-Sierra.  The call options with significant volume are a few months out Feb. and May with a strike price of $10.





Disclosure: No position in PMCS, IBM, AMCC or BRCM