Huntsman's (NYSE:HUN) call option volume has spiked today and its' stock price is also up about 6% as well.
Huntsman is in the chemical business providing a whole host of chemically oriented products.  Huntsman also licenses its products.
Huntsman has some much larger and established competitors in Dow Chemical (DOW) and DuPoint (DD), but has faired well nonetheless.
Huntsman has a significant amount of cash, over $1 billion, and is in the process of acquiring assets from Tronox's bankruptcy.  Huntsman P/E is very low at 4.
Huntsman's stock price is up about 400% from is low in Feb./Mar., but is well off of its two-year high around $23.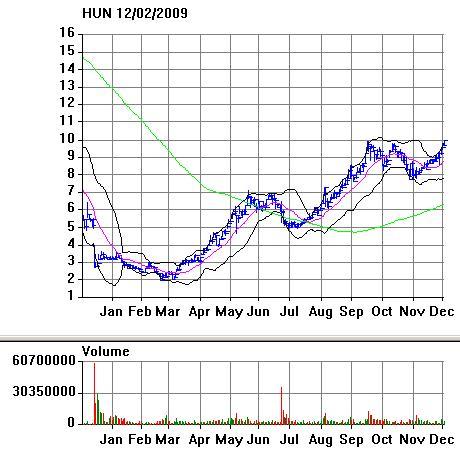 Significant volume in Huntsman's call options is being experienced in the December, January and February out-of-the-money options.  This call option volume looks very bullish.  Something appears to be up with Huntsman, maybe they're finalizing the acquisition of Tronox's assets.  In their recent conference call, they mentioned their Asia business has been performing very well and is primed to continue to perform very well.  Maybe Huntsman has something cooking up in Asia.
An attractive covered call for Huntsman is available for December with %if unchanged potential return of 3.4% and a %if assigned potential return of 9.5%.  The call option of interest is the December 11 with ticker symbol HUNLK.
To enter the covered call investing position an investor would purchase the stocks in multiples of 100 shares for their trading portfolio and sell one call option for each 100 shares of stock purchased for their personal stock portfolio.
Disclosure:
No position in HUN, DOW or DD