Call option volumes for Bare Escentuals (BARE) were significantly elevated yesterday.
Bare Escentuals develops and markets beauty products for women.  Bare Escentuals markets its products through boutiques, spas, salons, infomercials, online and distributors.  Bare Escentuals boutiques include ULTA, Sephora and Nordstrom.  Bare Escentuals has been very aggressive in opening 27 new boutiques year-to-date bringing the total number to 124.  Almost 20% of Bare Escentuals revenue is international with significant action in the U.K. and France and modest activity in Asia.
Bare Escentuals positions its products as makeup that is actually good for your skin.  If you are going to put something on your skin it might as well do more than just enhance natural beauty.


Bare Escentuals competitors include Elizabeth Arden (NASDAQ:RDEN) and Estee Lauder (private).
Bare Escentuals stock price is up around 300% from its low in March, but well off of its two-year high around $30.  Its stock price is currently near the lower Bollinger Band and near its early October previous support level.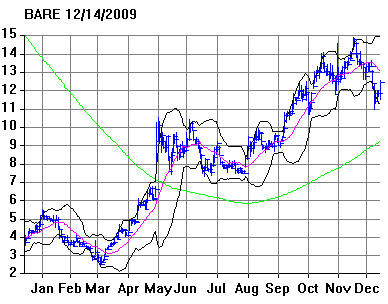 The January 12.50 call option had the most significant volume yesterday.  This call option is at-the-money and a covered call for this call option has a potential return of about 6.5%.
To enter the covered call investing position an investor would purchase the stocks in multiples of 100 shares for their trading portfolio and sell one call option for each 100 shares of stock purchased for their personal stock portfolio.
Disclosure:
No position in BARE or RDEN.