Business Overview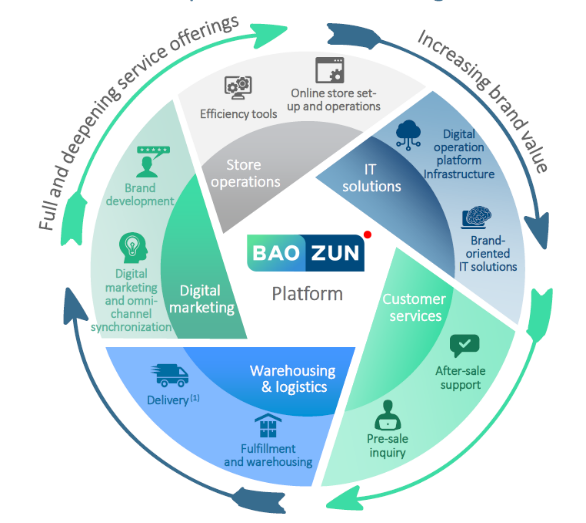 Baozun is the largest brand eCommerce solutions provider in China with a market share of c.25%. Listed  on  the  NASDAQ  in  2015, Baozun has been an  established  brand  e-commerce  service  provider  since  2006. After more than ten years of development, it is now in a position to deliver a variety of omni-channel e-commerce solutions, which include:
IT solutions
Store operations
Digital marketing
Customer services
Warehousing & fulfilment services
The Company provides services to 250 domestic and foreign brand partners, the majority of them being category leaders like Philips, Microsoft, Apple, Nike and Coach that have well established global presence.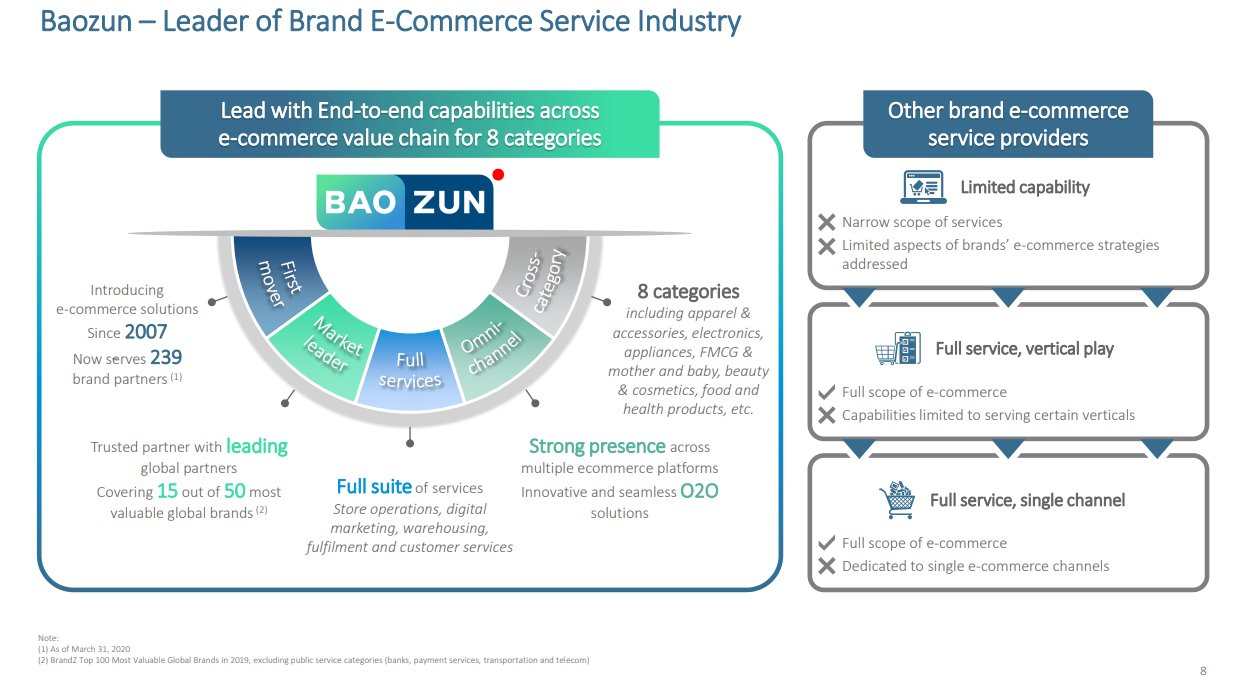 Baozun derives its revenue from two major sources:
Product sales: Revenue from its distribution model, which calls for selling products to consumers directly on behalf of the brand partners.
Services: Baozun provides end-to-end customized e-commerce solutions to brand partners and charges fixed or variable fees based on GMV ("Gross Merchandise Value") or other variable factors as services revenue under non-distribution model, including consignment model and services fee model. 
Of these two growth drivers, the non-distribution model is the major GMV contributor and excludes inventory risk while helping it to achieve higher gross margin. However, the take rate of the product sales model was six-to-eight times that of the services model. Baozun used to put greater reliance on the product sales model to expand market share and derive most of its revenue. In 2018, Baozun began to shift some of its brand partners from the distribution model to the non-distribution model.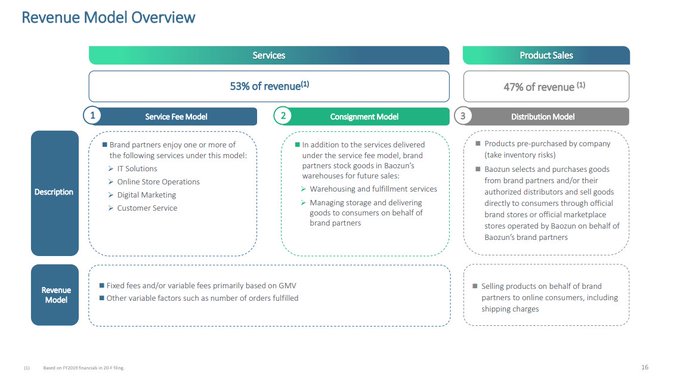 Why do brands need ecommerce services?
1. To achieve a leadership position on the digital front
Most of China's e-commerce participants had embarked on digitization transmission to improve operating efficiency, the user experience and ROI. To gain an advantage in the digitalized era at a reasonable cost, the majority of these brands opt to cooperate with e-commerce service providers. iResearch forecasts that China's e-commerce service market will generate a 27.1% two-year CAGR to RMB347b in 2021F.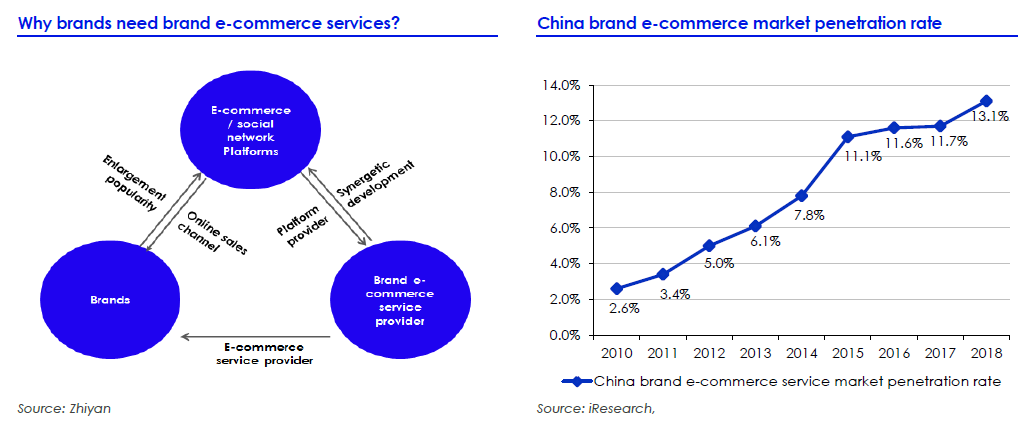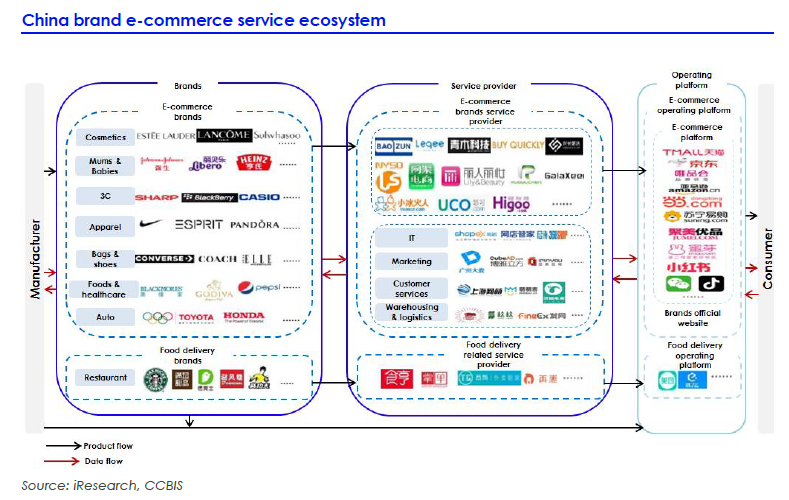 2. To embrace multi-channel and innovative models
Besides providing services on the Tmall platform, brands e-commerce service providers also provide an entrance to new markets through:
Collaborations with other traditional e-commerce platforms and social e-commerce platforms
Tapping into WeChat Mini-program operation services
Exploiting opportunities in the O2O ("online to offline")market
Leveraging advanced marketing and analytic technologies to facilitate online brands to run e-commerce business under innovative ecommerce models including short video e-commerce and live streaming e-commerce
Different from other China brand e-commerce service providers, Baozun's plan is to provide seamless omni-channel operations, not just multi-channel operations. As of 2019, it had established a seamless omni-channel service network empower it to delivery crosschannel services such as cross-channel marketing.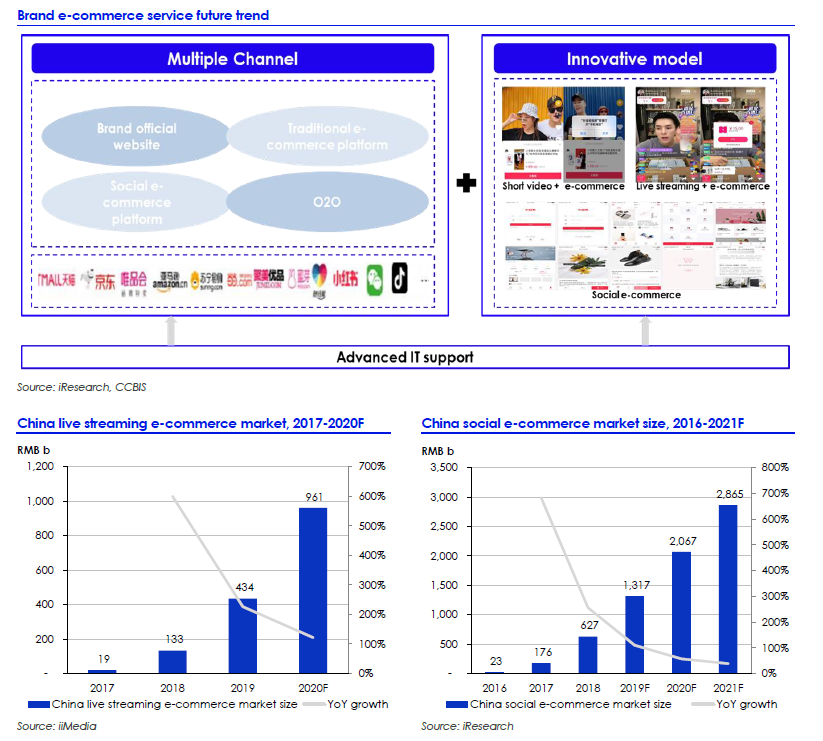 Investment Thesis
I see BZUN as the go-to end-to-end ecommerce solution provider for international brands in China. It stands out as a trusted partner to execute online strategies without material investments and by leveraging the latter's operational capabilities. While its solid leadership in the very fragmented segment unchanged, concerns on macro environment and international relations keep the stock at an attractive valuation.
Key Investment Drivers:
1. China's largest one-stop brand e-commerce service provider
Baozun is China's largest provider in terms of revenue, market share and number of brand partners. As of Q2'20, it had 250brand partners across eight major industries.
Within China's B2C e-commerce market, Tmall was the largest B2C e-commerce platform with a 32% market share and over 190k brands as of Alibaba's 2019 financial year.
To help these customers select a suitable e-commerce service provider, Tmall will select the most appropriate "Tmall ecological partner" (TEP) among all of the ecommerce service providers on its platform. It does this every six months. According to the 2H19 TEP ranking list, there were only nine six-star TEPs including Baozun, who is the clear leader in terms of number of Tmall customers (300+). Most of its rivals offer brand e-commerce solutions to a limited range of categories, some even target a single specific industry and as of Jan 2020, the numbers of Tmall brand customers at the other five six-star TEPs were all below 100.
Baozun also ranked highest in terms of quality of service in several different categories, including 3C, apparel, bags, sports, auto-related, and mother & baby goods.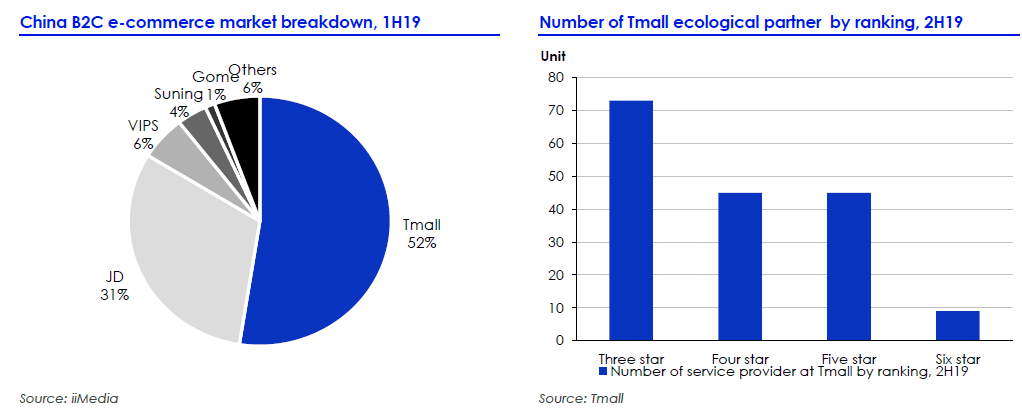 2. Increasing brand partners scale and optimizing brand partner profile
The scale and quality of brand partners are critical factors in Baozun's success. Baozun has 250 brand partners that cover the following eight major industries:
Apparel and accessories
Appliances
Electronics
Home and furnishings
Food and health products
Beauty and cosmetics
FMCGs & mother and baby
Insurance &automobiles
Baozun is switching focus to high-premium brand partners to optimize revenue mix and improve its margins by turning to higher-margin cosmetics brands, FMCG brands and luxury brands. These categories have greater ecommerce service demand and they could contribute to a higher take rate for ecommerce services providers. Particularly cosmetics brands have the greatest demand for ecommerce services, followed by apparel brands and 3C brands. E-commerce services for cosmetics brands could earn commission rates of around 15-20%, while the commission rate for e-commerce services for apparel and 3C brands was around 10-15% and 2-10%.
3. Continue to provide innovative end-to-end e-commerce omni-channel solutions
Along with the trend towards digitalization and new retail, Baozun continues to invest heavily in technology and is now capable of serving brand partners with seamless e-commerce solutions in the omni-channel, which covers China's major traditional e-commerce platforms (Tmall, JD, VIPS), social media and emerging channels such as WeChat Mini-programs, and Xiaohongshu, live streaming e-commerce, and O2O entry points. So far, Baozun's omni-channel solution has proven to enhanced brand loyalty, boost sales, and enlarge market share.
4. Improving revenue mix and margins to support long-term profitability.
I expect Baozun to generate continued and widening margins on the back of:
Business model focused on transformation, specifically into a more service-based approach
Improving revenue mix as the higher premium category that includes luxury brands continues to increase as a percentage of total goods sold
5. Partnership with Alibaba enhances competitiveness in long-term.
As of Mar 2020, Alibaba was Baozun's largest shareholder with a 14.0% stake and 8.6% voting power. At the current stage, Baozun has already benefited from Alibaba's partnership by maintaining relatively high exposure to Tmall merchants and becoming Tmall's marketing and data mining partner. Integration with Alibaba's China e-commerce value chain will become one of Baozun's core competitive advantages.
6. Advanced technology infrastructure key to efficient omni-channel synchronization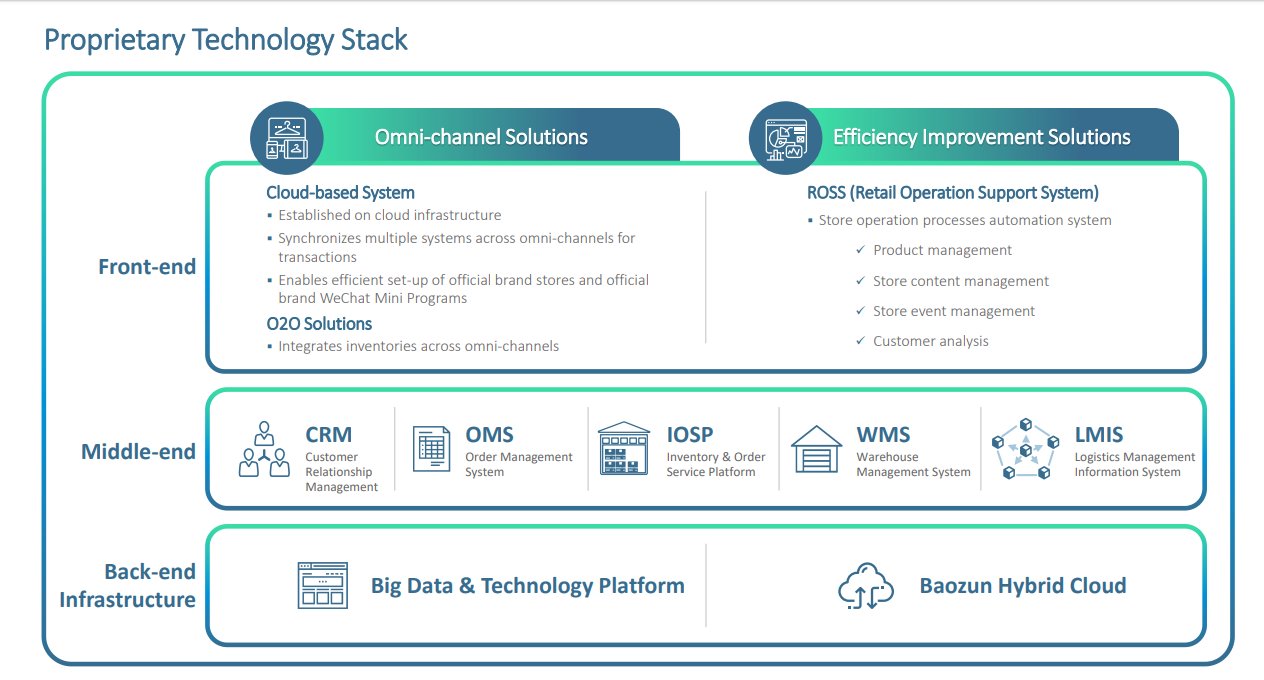 7. Domestic brands - Next growth driver
Management has seen a strong offline-to-online shift in demand from domestic brands, expedited by the COVID-19 situation. More than 50% of new brands are domestic brands now, mainly in FMCG categories, with a take rate of 4-5%.
8. Benefiting from China's booming B2C e-commerce market.
As online shopping goes mainstream, more and more brands have begun to explore the online shopping channel in a bid to expand market share. Forecasts expect B2C ecommerce to grow to RMB7.1t in 2021F with ecommerce services generating a 27.1% two-year CAGR to RMB347b beginning in 2019F.
9. Solid growth in China's online retail market.
China's online retail market is expected to continue to enjoy solid growth momentum in 2019-2021F and reach RMB12.8t in 2021F, representing a two-year CAGR of 10.1%. Given the company's success expanding into lower-tier cities and its improving logistics infrastructure, it is would not difficult to see Baozun increasing its penetration rate in China's online retail market.
10. Booming B2C e-commerce market.
Online shopping has gone mainstream in China, prompting brands to dip into the online channel by opening online flagship stores on popular e-commerce platforms or operating official online sales websites to expand market share. According to iResearch, B2C ecommerce will reach RMB7.1t in 2021F, implying a three-year CAGR of 17.3%.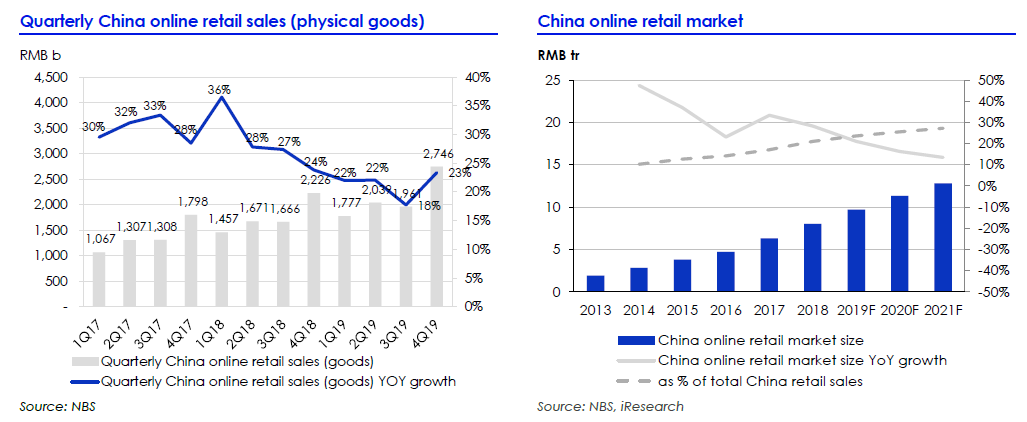 11. Demand for brand e-commerce services on the rise
Acquiring online traffic has become more and more difficult and expensive for online merchants as a result of the declining growth in the mobile internet user base. Along with increasing online traffic acquisition cost focus has switched to improving user engagement, user retention while leveraging AI analytics to recommend the right products to the right consumers. However, online operations are not an easy job, especially for international brands in China unfamiliar with the local e-commerce market, including the tastes of Chinese consumers and China's regulatory regime:
Foreign firms tend to outsource their online operations
Big domestic brands have ecosystems that consist of several sub-brands with varied products categories and differentiated marketing strategies
Small domestic brands favor cooperation with e-commerce service providers given their limited experience with online operations and the required initial outlay to create the necessary platform
Fueled by high demand for online brand operations, penetration by China's brand e-commerce services market has kept up its momentum, growing from 2.6% in 2010 to 13.1% in 2018 according to iResearch.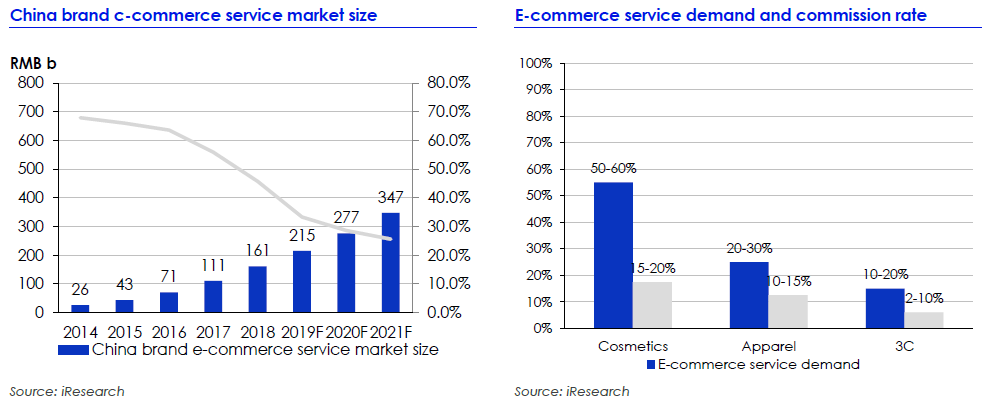 Key Investment Risks
1. Intensifying competition within China's brand e-commerce service market could impact the brand partner's growth
2. Heavy reliance on top brand partners
As of Q2'20, Baozun had 250 brand partners. The top two in terms of revenue contributed 24.3% and 13.6% of 2019 total net revenue. GMV generated from the top-10 brand partners at Baozun accounted for 68.2% of 2019 total net revenue. Should certain brand partners terminate or fail to renew their business contracts with Baozun, both of GMV and revenue at Baozun would be negatively affected. Meanwhile, some of Baozun's brand partners restrict it from providing services to competitors. As a result of non-compete restrictions, Baozun's brand partner base could be adversely affected.
3. Weaker-than-expected contribution from new brand partners
In order to boost both revenue and profitability, Baozun embarked on brand partner network expansion, with a focus on high-premium brand partners, especially in the categories of luxury, fast-moving consumer goods (FMCG) and cosmetics. Lack of experience with these new categories could negatively affect Baozun's growth and profitability.
In general, GMV contribution from new brands takes time to ramp up. This tends to weigh down the blended take rate in the short term.
Financial Outlook
In 2018, Baozun began to shift some of its brand partners from the product sales model to the services model. By 2018, the proportion of the services model revenue contribution at 53.3% had outpaced that of products sales.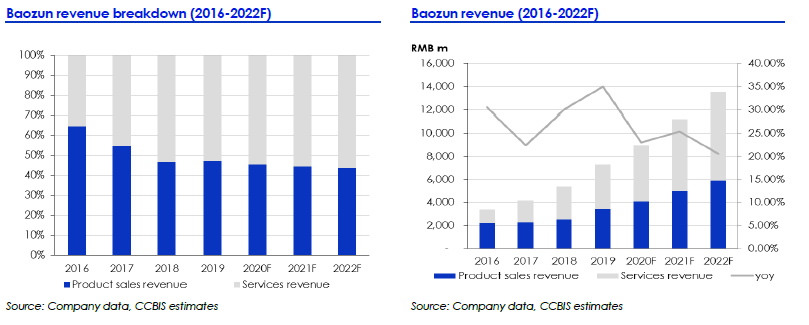 It is not unreasonable to think that Baozun can achive a 20-25% revenue CAGR in 2020-2022F, on the back of:
1. Fast growing GMV: Expected GMV CAGR for 2020-2022F of c.20% driven by:
Rising number of high-premium brand partners
Increasing services channel
2. Steadily improving take rate: Baozun's business model transformation and strong new brands acquisition will be the main drivers of improvement in the take rate. Even though the blended take rate will take some time to ramp up, it is not unreasonable to think it can increase to c.17% in 2022F.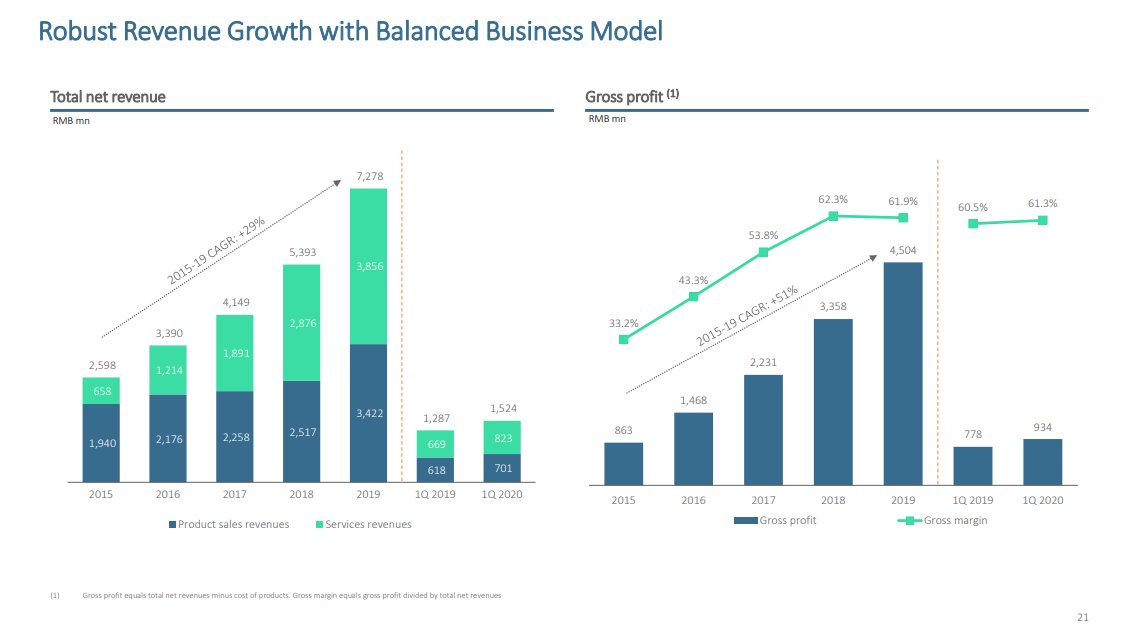 3. Steady improving margin trend and strong operating leverage
Gross margins are set to increase over time underpinned by an increase in the proportion of services revenue contribution. I think Baozun can grow the gross margin to c. 64% by 2022 driven mainly by:
a further increase in the proportion of services revenue contribution as both of the type of services on offer and the number of service channels increase
better monetization of the services model, especially those services on emerging e-commerce channels
an increasing number of high-premium brand partners resulting in an improved revenue mix and margins
In addition, Baozun is can grow its operating margin to c. 9% by 2022 mainly supported by improving operating leverage from economics of scale.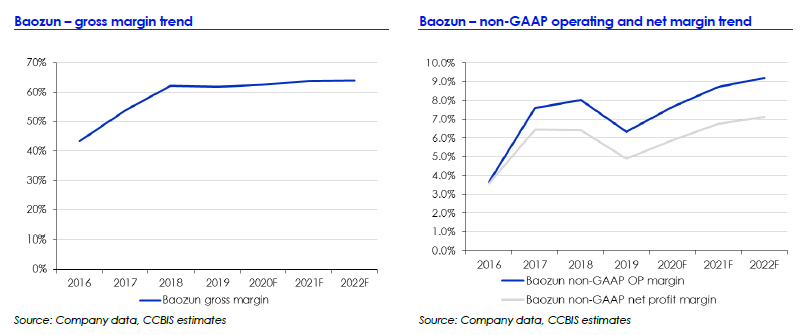 Key Takeaways
Baozun offers an attractive opportunity as a leading solution provider for high quality companies in a growing yet extremely fragmented segment. In addition, it offers exposure to several secular trends in China, such as:
Growth in ecommerce and increasing ecommerce penetration
Growth in Chinese middle class
Increasing demand for western top-end products