Nokia Technical Analysis With Price Targets From Daily To Weekly To 2015
Please Note: Blog posts are not selected, edited or screened by Seeking Alpha editors.
Medium-Term Horizon
Seeking Alpha Analyst Since 2009
Financial Markets Participant
Giving Price targets is hard enough - speculating on price targets and dates is on the surface futile, nevertheless I'd like to share my short to mid-term technical views.
I generally prefer to base my investment decisions on the fundamentals of a company. However, I do find it beneficial exercise to have a look at the charts for the technical picture of an equity. The company which I've been following, (and which I've had the pleasure to work for in the past) is as the title suggest Nokia $NOK. So be prepared for a healthy dose of speculation.
The reasons for consulting Technical Analysis (TA), even though I do take the observations with a grain of salt, are multiple. I do find that it helps me with the following:
- Am I setting realistic targets in the near and longer term compared to historical performance of the stock being evaluated, or am I being irrationally exuberant?
- Am I entering my position at a favorable level or is it preferable to be patient for a better entry point. At what level should I set my order for my entry point?
- It offers a coarse view of what a basic computer algorithm could be 'seeing' as they crunch numbers, calculate support and resistance levels. We are against the algos at the end of the day.
When it comes to TA I like to keep things simple. I monitor for support and resistance levels, topping, reversal or continuation patterns and trend lines.
With that in mind I'd like to share some back of the note speculative charts of what I consider to be realistic and achievable targets on $NOK 's turnaround story along with bold prediction of date estimations for which those targets will be reached.
Nokia Daily Chart
Exhibit 1 - Daily Chart - Target 1 $5.24 in October 2013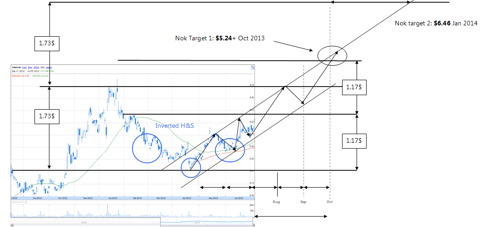 This is the short term view in which I see tremendous upside potential in the coming months. It relies on the recent Inverse Head an shoulders breakout pattern of $1.17 from the bottom to neckline targeting an equal upside within the rising channel under formation.
This of course hinges on the outcome of 18th July quarterly earnings report. Should the above pattern not play out, our technical short term support levels are:
$4.00 now that we have closed decisively above that resistance level, expect it to become support. I will be buying on any dips close to $4
$3.75 if level around $4 does not hold or overall market falls
$3.40 We could see this level if next Q earnings release disappoint or should the market take a dive due to Fed taper-fear, news from Europe, Egypt or any black swan event. I would consider Nok reaching this level a gift as it is offers a solid Risk/Reward potential.
Strong support at $3
The lowest support level is $3 which I doubt we will see again. The daily chart shows an inverted head and shoulders pattern which bottomed at the $3.02. This level was resistance from Sep-Nov which was prior resistance.
Now a very speculative call is that a touch to the 52 week high around the 4.75 will cause a reversal down to $4.17 and up again, would form a 'Cup and handle' move which if continued would have a target of $6.46 (=$4.75 rim of cup + distance to bottom of cup $4.75 - $3.02) in time for January 2014. ($4.75 if you decide not to count the intraday spike to 4.9 which is the 52w high)
Nokia weekly chart
Exhibit 2 - Weekly Chart - Target $5.8 in November 2013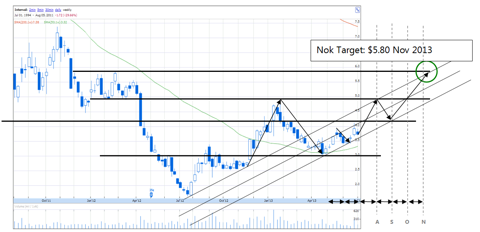 The weekly chart speculates that an upward trending channel whose resistance will be what used to be the support in the prior months.
Key resistance level seems to be $5.80 from the range bound activity in Q1 last year. $NOK could trade sideways in that range again $5 - $5.8 until another catalyst (a quarterly announcement) gives further direction higher or lower. Having said that the quarterly announcement would be in Oct 18th which is when we can expect further direction with the fundamental news coming out.
This estimate also falls inline with what was estimated before for $NOK on the daily.
Nokia longer term technical outlook.
Exhibit 3 - Multi-year week view Target $9 1H 2015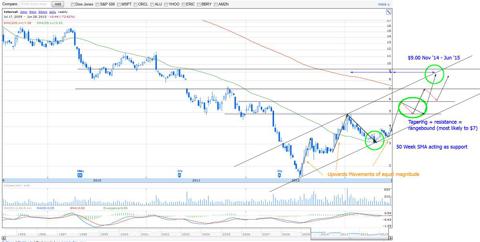 The multi-year chart shows the start of what is the turnaround for nokia. the key resistance level to close above is the 52 week high of $4.90 - That will signal a recovery and a turnaround. Since the low of $1.63 last august Nok is making a series of higher highs and higher lows, technically this points a bullish picture. Breaking above $4.9 is key to maintaining the bullish momentum, this would need positive catalysts mainly driven by increase in average selling price and number of devices sold (Lumia, Asha) and continued profit margin in NSN (or should we just call it Nokia Networks)
Given these conditions and previous support/resistance levels, continuing at the current pace of recovery, i.e. implying no acceleration which one can expect from Nok as the Lumia and Asha lines shift from early adopters to achieving critical mass, then I reach a conservative target of $9 towards the end of 2014 and first half of 2015.
While I don't personally see Nok reaching $12 soon, I do foresee a steady recovery and a turnaround story in the making which would value Nok at $50B in 2015.
Catalysts for growth:
Charts alone of course can be read in many ways and there is no right or wrong way to read a chart, different people can see different things in the very same charts and will hence reach different conclusions.
I am Long on Nokia because I foresee catalysts for strong Growth. I'll try to avoid rehashing all the excellent points that the nokians on the SA community raise in articles, stocktalks and comments ranging from the quality of the Lumia hardware, detailed fundamental analysis, sum of the parts valuations, revenue streams from patents, marketing improvement etc.
NSN:
Now wholly owned by Nokia, NSN stands to benefit in the near term from emerging market adoption of 4G LTE networks. The restructuring efforts seem to have paid off, and Nokia is about to reap the rewards of that effort without sharing them with Siemens after having acquired NSN for $2.2B.
Devices and Services
The devices and services division stands to benefit from the increased adoption in Windows Phone for which Nokia shall maintain the leadership position it has established and hence stand as core beneficiary.
I expect Windows Phone to make inroads in the enterprise. This is because we are at the verge of another upgrade cycle driven by a variety of different reasons:
Windows XP Support expiring in 2014
Enterprises typically follow a delayed approach to upgrading OS, which usually results in skipping the first version of an OS. Vista (Win NT 6.0) was mostly skipped in the upgrade cycle for Windows 7 (Win NT 6.1) - Likewise Windows 8 (Win NT 6.2) will again be skipped in favor of Windows 8.1 or Blue (Win NT 6.3)
Newer version of windows to address concerns (starting from where is my start button) that have alienated users from upgrading
Not only that but there is new hardware coming out from Intel that will drive the latest consumer hardware refresh with the latest Windows OS.
Nokia stands to benefit, as the next refresh can include Mobile devices. The android - security - scares and its increased association with cheap Chinese and no-name brands are really beginning to tarnish the Android name and the 60% percent of users currently using Android may begin looking for alternative platforms. Windows Phone thus stands to benefit as a more trustworthy platform both in the eyes of the enterprise and consumers alike.
Nokia being the leading windows phone manufacturer, would take the lions share of a shift towards Windows Phone. In fact Nokia is the shift to Windows Phone as it currently stands.
Microsoft is presenting a viable platform that enterprises can rely on being around for the long term, whereas BBRY hasn't been inspiring much confidence as of late.
Given a few issues in windows phone are fixed (where is my VPN? Can I have a notification center?) then we can expect the new OS to be adopted in droves. I do think that this will result in 2014 being a great year for Windows Phone.
In the mean time, there is that 'thing' of being a laggard in the app side for Windows phone but it is - getting - there
On the Asha front, Nokia is innovating once again with the Asha 501 pushing the boundaries of what an affordable device can do with a less powerful processor and at a the sub $100 price point. According to IDC emerging markets is what will drive global smartphone growth, by growing at 45.4% this year alone and total shipments expected to breach the 1 Billion smartphone devices next year. Asha has a great opportunity to capture that market. Also lower end Lumia devices can compete for a slice of that market.
Upcoming exciting innovations to look forward to coming from Devices and Services eminently include release of 1080p phones featuring the latest processors to also have devices at the front of the spec-war. While in the next couple of years we can expect Pelican Imaging camera enabled phones, integration with 3D printers and who knows what other treat! Nokia has become an exciting company again.
I have not mentioned some of the Services as I don't expect them to be the drivers or catalysts of growth (Nokia Music, Here Maps even Royalties) - But they do complement the whole offering.
Conclusion
From a technical point of view, we are witnessing a turnaround story in the making. The restructuring efforts are paying off and we have a leaner and meaner Nokia delivering top notch new devices for all price points every few months.
The leading competitors beginning to show signs of strain, by missing their targets
Nokia stands to profit both by the bargain buy of NSN and the wave of adoption coming to Windows phone 8 on the upcoming corporate and consumer refresh cycle.
This is all reflected in my overall positive outlook for Nokia shared in the charts.
Discussion
Probably the best feature in SA is the lively discussion of the community, which greatly enhances an article and offers greater insights.
I'm very interested on your outlooks. Do these price targets seem realistic to you? Why? Why not?
What great positive negative catalysts do you see in the coming months?
Disclosure: I am long NOK.
Additional disclosure: Please do your own personal due diligence when making investment choices. I am not an authorized investment adviser and I am only presenting my own opinions. I have not received any compensation for writing this article.
Seeking Alpha's Disclosure: Past performance is no guarantee of future results. No recommendation or advice is being given as to whether any investment is suitable for a particular investor. Any views or opinions expressed above may not reflect those of Seeking Alpha as a whole. Seeking Alpha is not a licensed securities dealer, broker or US investment adviser or investment bank. Our analysts are third party authors that include both professional investors and individual investors who may not be licensed or certified by any institute or regulatory body.