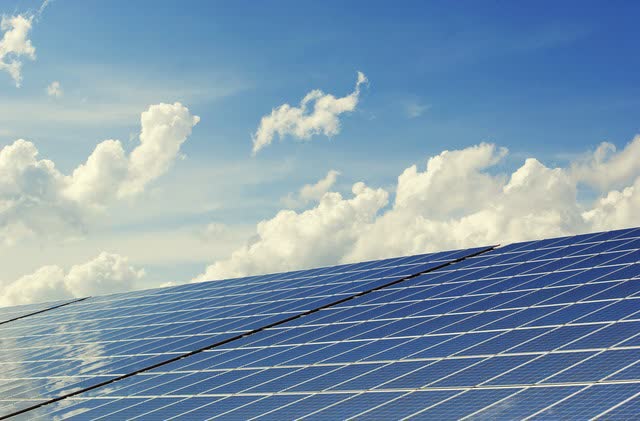 The solar energy industry has begun to make an impact on the stock market, creating new markets and investment opportunities. Solar and energy expert Rusty Tweed explains how the stock market is being changed by the growth in this dynamic sector
The Economics of Solar Power
While fossil fuels are still the leading source of energy generation across most of the world, solar is quickly catching up. Solar energy is growing steadily, by more than 49 percent each year over the past decade.
In order to make renewable energy more attractive to businesses, federal, state, and local governments have offered tax credits for wind and solar energy. These credits help to offset the relatively high cost of adopting renewable energy sources.
Government subsidies and increased production have brought the cost of solar energy down. In some markets, renewable energy is generated more cheaply than with fossil fuels. Wind farms are frequently found in commercial applications, but solar is available for both homes and businesses.
As the demand for solar power grows, the cost should go down. Solar infrastructure has been completed in many communities, such as in California, but wider adoption of solar generation facilities needs to be made before solar energy can impact all areas of the country.
Solar Energy and the Stock Market
Renewable energy is becoming more competitive around the world. However, renewable energy stocks have not always been winners in the market due to cost pressure.
Utilities like NextEra Energy, which owns Florida Power and Light, have experienced significant gains over the past several years. Growth in the renewables sector has driven the increase in stock prices. Experts say that the annual total return for these stocks could be as high as 10 to 12 percent.
Solar May Be a Better Investment than Fossil Fuels
The increasing impact of solar energy on the stock market has meant that renewable energy stocks have begun to outperform fossil fuels on a five- and 10-year basis. In the United States, Germany, and France, renewable energy stocks earned up to 200 percent over five years, versus 97.2 percent on fossil fuel stocks.
Solar Stocks to Watch
Some of the biggest public companies involved in solar energy today are NextEra Energy as mentioned above, Xcel and SunPower Corp.
NextEra is a major energy provider in Florida. It is the largest electric utility holding company in terms of market capitalization. It is the world's largest generator of wind and solar energy. The company also owns natural gas, nuclear, and oil plants. It has 14,000 employees in both the United States and Canada. Florida Light and Power, one of its subsidiaries, serves 10 million people across half of the state of Florida. It is the third-largest electric utility in the United States.
NextEra has expanded its solar capacity by 6.5 million panels in the last three years. By the year 2030, NextEra plans to have 30 million panels installed.
Xcel is a large Midwestern utility company that has made many investments in solar and wind power. The company has an ambitious plan to become 100 percent carbon-free by the year 2050 and to produce 80 percent less carbon emissions by 2030. The company has 3.3 million electric customers across 8 states. Increased solar and wind capacity will bring the company closer to its goal. One of its large projects in Minnesota is the 600-kW solar generation project at the Minneapolis Convention Center.
SunPower Corp is the manufacturer of several lines of crystalline silicon photovoltaic cells. The company also produces an all-back-contact solar cell which was invented at Stanford University. The cells are rated at a conversion efficiency of over 22 percent, placing them at among the world's most efficient solar panels.
Understanding How Solar Impacts the Markets
Economic and environmental concerns have driven the adoption of solar energy. As the market share of fossil fuels dwindles due to shifts in the power industry and the rise of electric cars, the world will turn to solar and other renewable energy sources to take up the slack. This could be an excellent time to invest in solar energy stocks, given their recent growth patterns and solid returns on investment.
Rusty Tweed believes in the power that solar energy will have to transform the stock market, and he believes that smart investors should look closely at its benefits. When investors understand the transformative potential of solar energy and its beneficial effect on the environment, they will be more likely to support these projects and to put their money in climate-friendly businesses. Having a good grasp on how renewable energy is poised to affect the market as a whole will benefit every investor.