Investing In The Wave Of Boomer Retirements: Opportunities Their Retiree Lifestyles Offer
Dec. 19, 2020 11:02 AM ET
Please Note: Blog posts are not selected, edited or screened by Seeking Alpha editors.
Summary
One of the more significant generational switches into retirement is currently ongoing, as millions of Baby Boomers continue to extricate themselves from the labor force and into retirement.
And while this demographic of individuals, born between 1946 and 1964 – cease to be active labor force participants, they're planning the next phase of their lives.
Two milestones in that next phase include finding appropriate retirement and senior care living space, and downsizing from existing homes and making the physical transition to those new living quarters.
Both those themes offer excellent investment opportunitiesto investors looking to add exposure to them to their portfolios.
Investing the Boomer Theme
According to a Pew Research Center report, approximately 28.6 million U.S. Boomers walked out of the workforce, and into retirement, in Q3-2020. That figure is 3.2 million higher than the 25.4 Boomers that rode into the sunset of retirement during the same quarter last year (2019). The report highlights that since 2011, until now, an average of about 2 million Boomers retired. COVID-19 has exacerbated the deluge of Boomer retirees.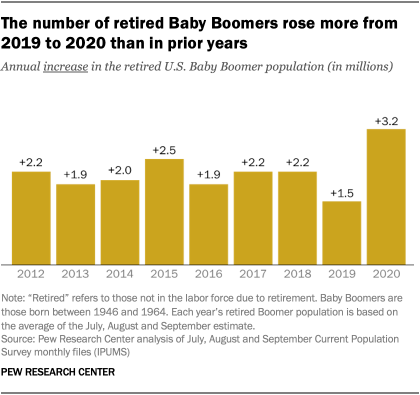 As they chart their course through retirement minefields, Boomers continue to face their own investment challenges. However, this also offers most other investors some great opportunities to capitalize on their (Boomers') decision to exit from the workforce and into retirement.
The Opportunities Explored
Let's look at two such investment themes – Retirement living and the logistics around downsizing and moving into a retirement home.
The Ensign Group, Inc. (ENSG)
The investment thesis: Boomers are aging, and most of the population in that demographic requires special nursing care. ENSG is in the ideal position to tap into that demand. The company offers health care services in the post-acute care continuum and other ancillary services. It also provides short and long-term nursing care services for patients with chronic conditions, prolonged illness, and the elderly.
Given that the company's services will only increase in demand, carrying through from Boomers to subsequently aging population groups, it makes sense to add it to a Boomer-centric portfolio.
Financials
The company reported (Oct 28, 2020) extremely positive Q3-2020 financial results, producing a 97.4% year-over-year increase in its GAAP diluted EPS ($0.77 per share). On an adjusted-basis, diluted quarterly EPS was $0.78 - that metric was 95.0% higher than the previous year's quarter. Quarterly consolidated revenue increased by 17.0%, to $599.3 million, with same-store revenue increasing by 7.8% versus the prior year quarter.
And, investors looking to invest in a cash-strong company need not fear misplaced trust in ENSG's management. During the quarter, the company generated net cash from operating activities to the tune of $282.2 million – a 158.7% increase y/y. ENSG also had $175.4 m of cash/equivalents on its balance sheet at the end of the quarter, a 196.35% improvement over the $59.18 million it had four quarters ago at the end of Dec 2019.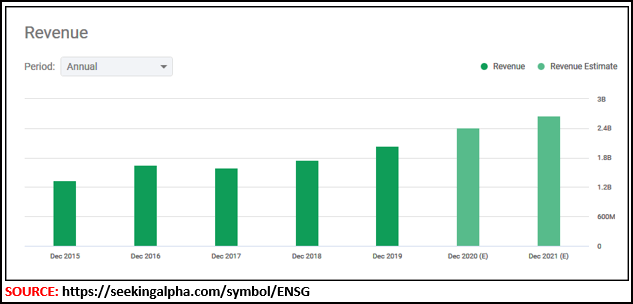 In 2019, the company produced slightly over $2 billion in revenues. Analysts estimate the company to generate $2.42 billion in 2020 revenues, and $2.66 billion the following year. With Transitional & Skilled Services ($570.3m) accounting for 95% of quarterly revenue, which was up by 17% y/y, the company looks set to continue rewarding its shareholders in the future.
Technicals
Most technical indicators, especially related to the longer-term viability of the stock, indicate a Buy rating.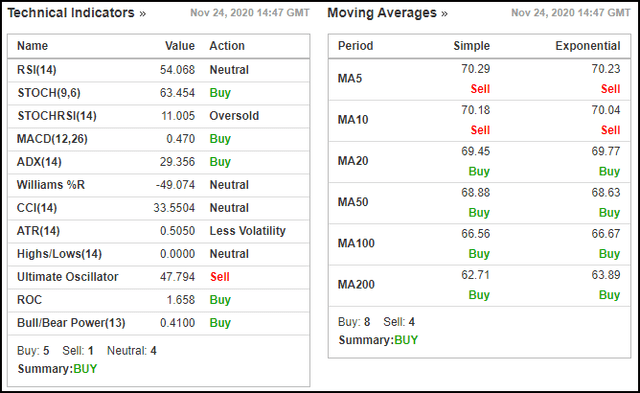 AMERCO (UHAL)
The investment thesis: Most Boomers (as will members of a subsequently aging generation that follows) downsize. They'll either move into retirement residences, managed care homes, or choose to live independently, but in smaller homes. Typically, the move may either be self-directed (Boomers rent trailers and trucks and haul their belongings themselves) or implemented with the help of friends and family members (relatives, children, grandkids).
They need rental trucks and trailers, self-storage units, packing and moving supplies, and towing accessories. UHAL taps into that need by providing everything that do-it-your-self Baby Boomers require to help them downsize and relocate. And, even if they hire a low-cost moving contractor to assist with the transition, chances are that company will rely on some of UHAL's products and services.
Financials
For its Q2-2020 (ended Sep 30, 2020), the company reported EPS of $13.58 (net earnings $266.4 million). That compared with an EPS of $7.97 (net earnings $156.3 million) for the same period last year. That's an over 70% improvement in earnings. On a 6-month basis (ending Sep 30, 2020), shareholders benefited from an EPS of $18.06 (net earnings $354.1 million) compared to the same period last year of $14.73 per share (net earnings of $288.7 million). That's 22.6% earnings improvement.
Self-moving equipment rental revenues rose by 16%, self-storage revenues were up by 10%, and occupied units rose by 15%. Self-moving and self-storage products and service sales were up by 35%. The company's net rentable capacity also increased by 11% over the last year, by more than 4.4 million square feet.
Analysts expect UHAL to deliver $3.58B in revenue for the year (March 2021) – down by approximately 10% from the prior year (Mar 2020). However, the revenue outlook for March 2022 is positive, with revenue targeted at 3.68B – a 2.79% improvement year-over-year, with 2023 estimated revenue ($3.86) higher by nearly 5%.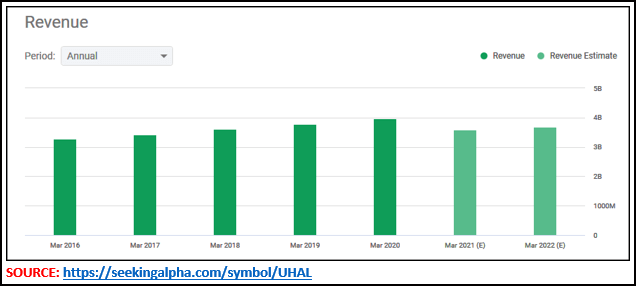 Though not a dividend-payer, dividend investors in this name will take heart from the fact that on December 4, 2019, the company declared a special cash dividend on its common stock of $0.50 per share. This bodes well for the future as well, and makes a strong case for adding UHAL to a Boomer-centric portfolio.
Technicals
Based on an overwhelming number of technical indicators for UHAL, this name is a buy for any Boomer-centric portfolio.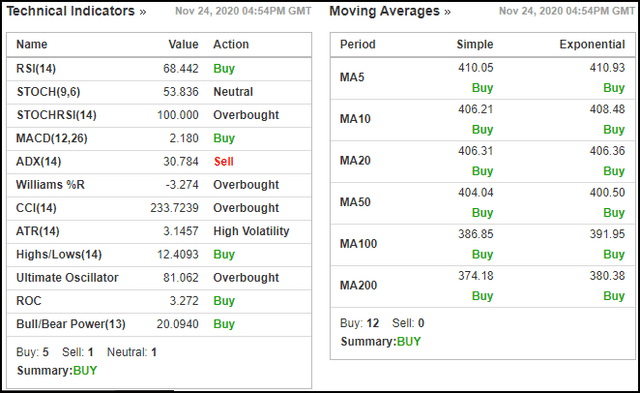 What's Good for Boomers is Great for Investors
Clearly, as the Baby Boomer generation enters retirement, many of them earlier than expected, they're going to be spending a lot of money bringing positive impact to businesses that serve them. Boomer investing tips, retirement living, assisted living and technology allresonate with the boomer population. And, if investors play their cards right, there's no reason why those themes can't reward an investment portfolio.
Analyst's Disclosure: I/we have no positions in any stocks mentioned, and no plans to initiate any positions within the next 72 hours.
Seeking Alpha's Disclosure: Past performance is no guarantee of future results. No recommendation or advice is being given as to whether any investment is suitable for a particular investor. Any views or opinions expressed above may not reflect those of Seeking Alpha as a whole. Seeking Alpha is not a licensed securities dealer, broker or US investment adviser or investment bank. Our analysts are third party authors that include both professional investors and individual investors who may not be licensed or certified by any institute or regulatory body.