From MarketSpaceTrading.com
Stocks covered in this article:
Name
Symbol
Last
Change
% Change
Mkt Cap
United States Oil Fund LP
NYSE:USO
34.82
-1.31
-3.63
1.66B
Hi Traders,
Oil has gone from being a hot commodity to a victim of global financial instability worries. The United States Oil Fund LP ETF (NYSE:USO) which tracks the price of light sweet crude has dropped from it's recent 52-week high of $42.19 down to $34.82 at Friday's close.
While this is a significant drop in a little over a month, it does seem a bit overdone. The fundamentals that influence the price of oil have not drastically changed in the past month and the world has not completely caved in yet. That being said, I don't think that there is any significant fundamentals that could push oil much lower in the near term. 
Concerns over the future growth of the Eurozone economy can be considered as bearish for oil, but Europe has not been the primary growth market for oil. Asian demand growth has far outpaced Europe and North America for the better part of the decade and this trend is not likely to change any time soon.
As usual, I don't rely exclusively on fundamental or technical analysis to make trades. A healthy combination of using fundamentals for establishing long-term trend direction and technical analysis is key for trade execution. Here's what the charts are telling me now:
United States Oil Fund LP ETF (
NYSE:USO
) 30-minute chart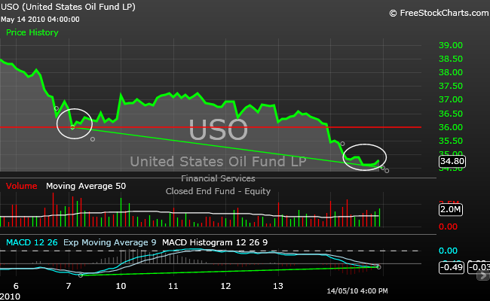 Last week's short-term bounce from around the $36 level faded off closing lower for the week at $34.80 by Friday's close. The chart above clearly shows a MACD divergence which means that there should be a bounce in store for next week. If this bounce holds, it could very well be the short-term bottom for USO for the next couple of months. If USO dips lower, it is not likely to be below $34 and will probably further reinforce this support level, making for a good swing trade.
The trading range for USO has been between $34 and $32 since December. This range is likely to remain intact for some time and while I'm bullish on oil, I don't see new highs right away. Let's see how USO looks around $40.
What's nice about the MACD divergence swing trading on USO is that it has been able to pick bottoms and tops in USO quite successfully over the past months. The chart below is another 30-minute chart going back to early April. It shows a few short-term bounce trades with similar setups.
United States Oil Fund LP ETF (
NYSE:USO
) 30-minute chart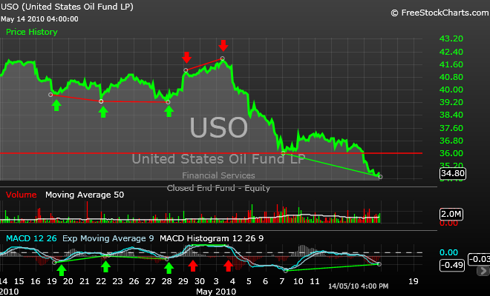 A low-risk setup like this one is good to catch a short-term bounce. This is the first signal of a short-term bottom in oil over the coming days and USO should definitely be on your radar.
I'm looking to play this a couple of ways. Right now, buying some June Calls at a $36 strike price and selling some June $34 strike Put options seem to be the trade for Monday. I would sell to close the Call options if I see intra-day weakness in USO and buy back in at a lower price.
Of course, anything is possible in today's market and I am keeping my eyes of every tick of my positions.
I'll give updates on this trade throughout the week, so stay tuned for more.
Thanks for subscribing!
All the best,
Jordi Perez
Disclosure:
Long USO
Disclosure:
Long USO