Stocks & Sectors Update: $CRWG, $LOCM, $BOSC, $ALYI and Near-Term Trade Alerts on $MITK
Please Note: Blog posts are not selected, edited or screened by Seeking Alpha editors.
Stocks & Sectors highlights undiscovered micro-cap companies - typically low-priced companies with market caps of 500 million or less in three key sectors we believe are headed for substantial growth over the next decade: (1) Healthcare; (2) Internet and IT; and (3) energy and environmentally clean technology. Micro-cap companies typically lack Wall Street analyst coverage, and are inefficiently priced and/or often thinly trading the proverbial "tree in the forest."
TRADE ALERTS
We are issuing a trade alert on Mitek Systems, Inc (MITK: OTCBB), as the stock – currently at $6.46 - could hit $10+ in the next 30 to 45 days, especially if it confirms our hunch and hits a 52-week high on significant volume in the next couple of trading sessions. The Company announced yesterday that net sales for the second quarter were $2,868,000, compared with $1,517,000 in the same quarter last year - an increase of $1,351,000 or 89 percent.  Gross margin for the second quarter of fiscal 2011 was 91 percent, compared with 88 percent for the same quarter last year. Net income for the second quarter of fiscal 2011 was $570,000, or $0.02 per diluted share, compared with net income of $7,000 or $0.00 per diluted share, for the same fiscal quarter last year.
Additionally the Company announced that it has closed a private placement of an aggregate of 2,857,143 shares of common stock at $5.25 per share to accredited investors - yielding gross proceeds of $15,000,000.  The private placement was led by select institutional investors including Weintraub Capital Management and Philadelphia Financial. William Blair & Company, LLC acted as the exclusive placement agent for the offering. Mitek Systems plans to use the net proceeds of the offering to fund working capital as a part of its growth strategy.  As a result of this transaction, Mitek plans to file for listing of its shares on the NASDAQ Capital Market.
The Company had previously announced that its channel partners signed 26 new agreements with banks, credit unions and other financial institutions -- including two more of the nation's top ten retail banks. The intent was to deploy its leading mobile remote deposit capture (RDC) application, Mobile Deposit®, during its second quarter, which ended March 31.
MITK closed yesterday at $6.05 - up $.40 for the day on volume of 1,189,490 or 880% normal. The stock is up 4% since we added it to our watch list on 03/07/11. MITK could pop into the teens on strong company fundamentals and near term industry catalysts like Linkedin's upcoming IPO.
FEATURED COMPANY
CrowdGather, Inc (CRWG: OTCBB)
We are currently working on a follow up piece on CRWG that we expect to publish in the next few days. CrowdGather has been aggressively adding to its forum portfolio as evidenced by its recent shopping spree. To get insight on the Company's future potential acquisition strategy and why CEO, Sanjay Sabnani has been buying stock recently, we suggest listening to our recent interview.
Please read our disclaimer:
http://www.stocksnsectors.com/crowdgather-disclaimer/
(EMBED VIDEO)
http://www.youtube.com/watch?v=JQsQtdVR3A8
UPDATES
Local.com Corp (LOCM: Nasdaq) The company announced that it had revenue of $16.8 million, ahead of the Street at $16.3 million, but with a loss of 7 cents a share, while the Street had expected the company to break even. Revenue was down 10% from a year ago. For Q2, Local.com sees revenue of $17 million and a loss of 12 cents a share; the Street has been anticipating $19.2 million and a profit of 7 cents. The company's CEO stated on its quarterly conference call that it continued to diversify revenue sources, while maintaining focus on local offerings, including through the acquisition of Octane360 and more recently, the iTwango deal-of-the-day technology platform acquisition that closed in January 2011.
Last week's pullback on disappointing earnings may present an opportunity for long-term investors.

LOCM's web analytics compare favorably to Groupon, Inc., and it is currently trading at a total enterprise value of $75 million - as compared to Groupon, Inc. 8 billion.
From a public market standpoint, the stock is dirt cheap. For example, TZOO - with $112 million in sales - is at $70.00, while LOCM - with $90 million in sales - is only at $4.40. LOCM has no debt and 23 million in cash - or about 25% of its market-cap of 93 million.
LOCM is currently one of the few avenues whereby public investors can participate in the local search boom. Upcoming IPO activity with the local search related companies will serve as a catalyst to propel the company's shares higher. The stock closed yesterday at $3.56 - down 31.4% from where we added the stock on 1/10/11.
B.O.S. Better Online Solutions (BOSC: Nasdaq) The company reported its financial results for the fourth quarter and for the year ending December 31, 2010. Below are some highlights of annual 2010 results from continuing operations:
       Revenues grew by 18% to $30.2 million - up from $25.5 million in the same period last year.
       Operating income amounted to $1.3 million - compared to an operating loss of $4.7 million in the same period last year.
       EBITDA amounted to $2.1 million - compared to a negative EBITDA of $3.1 million in the same period last year.
       Net profit amounted to $171,000 - compared to a net loss of $6 million in the same period last year.
       Net profit (excluding amortization and impairment of intangible assets and stock based compensation) was $1.0 million - compared to a net loss of $4.5 million in the same period last year.
       Positive cash flows from operating activities amounted to $1.5 million - compared to $21,000 in the same.
The Company is forecasting ongoing growth trends and improved results, while projecting an EBITDA of at least $2.30 million for 2011. With approximately 4 million shares outstanding in BOSC the stock remains incredibly undervalued despite the recent pop in the stock. BOSC closed at $3.14 - down $.01 and up 88% since we added the stock to our watch list on 12/6/10
Alternet Systems, Inc. (ALYI:OTBBB)--Announced that its mobile commerce subsidiary, Utiba Americas, won the public bid for the mobile wallet project of the Central Bank of Ecuador. Ecuador, like many Latin American countries, has seen the penetration of mobile phone services explode in the past decade, reaching a staggering 103% of the population in 2011.
ALYI remains focused on the rapidly expanding mobile financial services and mobile value-added marketplace, which encompasses Mobile Commerce and Mobile Security. The practical uses of commerce include bill payment (utilities), retail purchases (taxi cab fares, groceries), government welfare receipts, domestic and international remittances, and the growing field of microfinance. 
On Feb 2, 2011 ALYI concluded its first acquisition of intellectual property for its mobile security subsidiary International Mobile Solutions (IMS).  IMS was founded in 2009 as a subsidiary of ALYI, and was initially created to ensure the security of mobile financial transactions offered by another ALYI subsidiary, Utiba Americas, IMS has since broadened its horizons and scope of intended services to cater to three market segments - law enforcement, corporate and consumer - with the intent of addressing security concerns often present when deploying mobile commerce and transaction services, which Alternet offers through its other operating subsidiary, Utiba Americas.  The stock closed yesterday at $.10 - down 44% since we added the stock to our watch list on 2/15/2011. Mobile and digital security services are growing explosively, and ALYI is the type of stock that could be propelled substantially higher along with the group.
We are currently investigating and have contacted these companies about possibly doing an interview and/or presenting to our audience. Our goal is to investigate and discover leading micro-cap stocks before they make major price advances, and who are currently developing or looking to develop a community of long-term, like-minded investors.

 
To get profiles on undiscovered companies before they take off, subscribe now to our free newsletter at http://www.stocksnsectors.com/beta/wp-login.php?action=register
stocksnsectors.com is not registered as a securities broker-dealer or an investment advisor with either with the SEC or any state securities regulatory authority. We are neither licensed nor qualified to provide investment advice.
The company itself or our website - http://www.stocksnsectors.com - make no recommendation that purchases of securities of companies profiled on this website or in this email are suitable or advisable for any person or that an investment in such securities will be profitable.
For our disclosure and disclaimer details visit: http://www.stocksnsectors.com/disclaimer/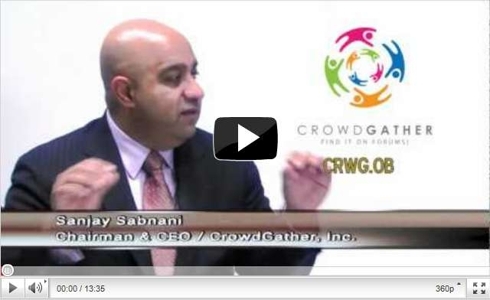 Seeking Alpha's Disclosure: Past performance is no guarantee of future results. No recommendation or advice is being given as to whether any investment is suitable for a particular investor. Any views or opinions expressed above may not reflect those of Seeking Alpha as a whole. Seeking Alpha is not a licensed securities dealer, broker or US investment adviser or investment bank. Our analysts are third party authors that include both professional investors and individual investors who may not be licensed or certified by any institute or regulatory body.