21st Century Stocks & Sectors page highlights undiscovered micro-cap companies - typically low-priced companies with market caps of 500 million or less in three key sectors we believe are headed for substantial growth over the next decade: (1) Healthcare; (2) Internet and IT; and (3) energy and environmentally clean technology. Micro-cap companies typically lack Wall Street analyst coverage, and are inefficiently priced and/or often thinly trading the proverbial "tree in the forest."
Updates
Mitek Systems, Inc (MITK: Nasdaq)--the leader in mobile-imaging applications using smartphone and tablet cameras for check deposits, bill payments and ACH enrollments, announced on July 27, 2011 that it was the first company to launch a mobile cloud service which will enable developers in Banking, Insurance and Healthcare to create camera-based Smartphone and Tablet Apps that extract data from documents, enhance the input experience on Mobile Devices. On August 1, 2011, announced that they will report its third-quarter 2011 financial results after the close of financial markets on Monday, August 8.  On August 2, 2011, Janney Montgomery Scott, Inc, initiated coverage on MITK with a buy rating and $18 target and did not specify a timeline.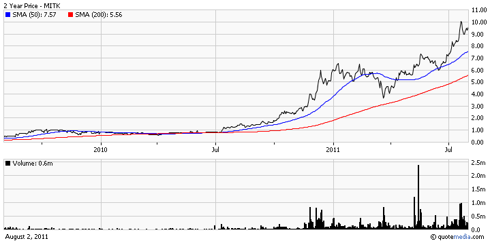 At the current price levels investors should proceed with caution. MITK is up 49.76% from our May 10, 2011 trading call, and has recently touched our $10 target. The stock on a technical basis looks extended, as evidenced by the fact that it is currently trading at 173% of its 200 day moving. In the current volatile market environment stocks that trade at 175-200% of their moving averages are risky and as a minimum it would be prudent to place a tight stop loss order to protect profits.  
Location Based Technologies, Inc (LBAS: OTCBB)--Similarly we would express caution on LBAS in the near term. LBAS is a designer, developer, and seller of personal, pet, and vehicle locator devices and services in the United States. The stock is up 19.1% since we added it to our watch list on August 1, 2011, and up almost 200% following last week's financing. LBAS is a speculative, feast or famine type stock, with minimal revenue and enormous near term revenue potential. We are excited about LBAS's potential for revenue ramp up in the next few quarters, but at the current stock price the stock is currently trading at 275% of its 200 day moving average, and the $.20 financing conducted by Craig-Hallum Capital Group LLC and Think Equity LLC last week. We would express caution in light of the volatile current market environment, and at a minimum it would be prudent to place a tight stop loss order to protect profits. We would really get excited if the stock pulled back to the $.27-30 area and would get aggressive on that range.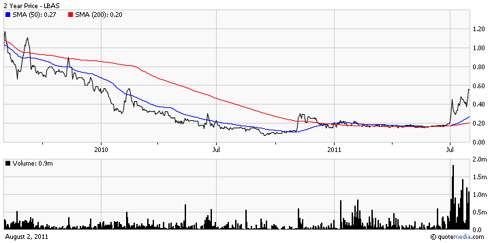 TechPrecision Corporation (TPCS: OTCBB)--through its wholly-owned subsidiary Ranor, Inc., manufactures metal fabricated and machined precision components and equipment. These products are used in a variety of markets including: alternative energy, medical, nuclear, defense, industrial, and aerospace. TechPrecision's goal is to be an end-to-end service provider to its customers by furnishing customized and integrated `turn-key` solutions for completed products requiring custom fabrication and machining, assembly, inspection and testing.  Although Techprecision is not a pure play on our primary sectors of interest, TPCS is taking advantage of rising global demand for Solar, Clean Tech, and Medical industries, by selling specialized machine tools to companies in the those sectors.  The company's largest customer, GT Solar, Inc (SOLR: Nasdaq) recently received, a $75,000,000 increase in its unsecured working capital line from Credit Suisse AG, from $25-$100,000,000. In addition in the last several months SOLR received over $1.2 Billion in new orders, and just yesterday received a $55 million order, one day prior to reporting earnings. SOLR is scheduled to report earnings tomorrow morning at 8am. A positive report would bode well for the alternative energy sector, and could serve as a catalyst to ignite TPCS, since SOLR will provide TPCS with a lot of work. A close above $1.75 on increasing volume would be confirmation of the continued uptrend and potential for new highs over the next 1-3 months. On a longer term basis, both Wonderlich Securities, and Singular Research maintain buy ratings on TPCS, with price targets of $3.50 and $4.0 respectively over the next 12-18 months. The stock closed yesterday at $1.68 down 9.2% since we added it to our watch list on June 13, 2011.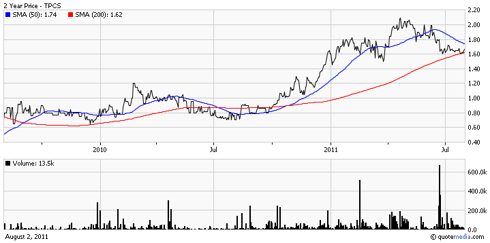 To get profiles on undiscovered companies before they take off, subscribe now to our free newsletter at http://www.stocksnsectors.com/wp-login.php?action=register
www.stocksnsectors.com is not registered as a securities broker-dealer or an investment advisor with either with the SEC or any state securities regulatory authority. We are neither licensed nor qualified to provide investment advice.
The company itself or our website - http://www.stocksnsectors.com - make no recommendation that purchases of securities of companies profiled on this website or in this email are suitable or advisable for any person or that an investment in such securities will be profitable.
For our disclosure and disclaimer details visit: http://www.stocksnsectors.com/disclaimer