21st Century Stocks & Sectors page highlights undiscovered micro-cap companies - typically low-priced companies with market caps of 500 million or less in three key sectors we believe are headed for substantial growth over the next decade: (1) Healthcare; (2) Internet and IT; and (3) energy and environmentally clean technology. Micro-cap companies typically lack Wall Street analyst coverage, and are inefficiently priced and/or often thinly trading the proverbial "tree in the forest."
Update: Location Base Technologies, Inc (LBAS: OTCBB)
Location Based Technologies (LBAS: OTCBB), designs and develops leading-edge personal locator GPS devices and services that incorporate patented, proprietary technologies designed to enhance and enrich the way businesses and families interact globally. LBAS shares are up 110% from our August 1, 2011, trading call, following the company's announcements that they had closed a private placement of 50,000,000 shares of its common stock at $.20, and that it began volume production of its PocketFinder® devices via its manufacturing relationship with Jabil Circuit, Inc. (NYSE:JBL).
Based on Friday's closing price of $.99, the stock is extremely extended, and is trading at 430% premium to its 200 day moving average of $.23. When a low priced stock reaches $1 per share trading price it is typically a psychological level so it may make some sense to take some chips off the table, or at the very least increase trailing stop orders to the $.90-$.92 range
Trade Alert:
TechPrecision, Corp(TPCS: OTCBB),  reporting 1st quarter results tonight
TechPrecision, Corp (TPCS: OTCBB), a leader in end-to-end fabrication solutions of precision machine components, and is taking advantage of rising global demand for Solar, Clean Tech, and Medical industries, by selling specialized machine tools to companies in the those sectors, is scheduled to report its fiscal first quarter of fiscal 2012, the period ended June 30, 2011, on today, August 15, 2011 after the market closes.
To participate in the live conference call, please dial 1-877-941-2068 five to 10 minutes prior to the scheduled conference call time. International callers should dial 1-480-629-9712. When prompted by the operator, mention Conference Passcode 4459313.
In fiscal 2011, TechPrecision launched a Chinese subsidiary (WCMC), accelerated investments to scale WCMC operations and capabilities in China, and shipped its initial units that qualified WCMC to deliver higher volumes of production in fiscal 2012. The Company expecting a major ramp up in revenues from China, starting in the current quarter and we fully expect the company to raise its guidance substantially.
In addition the Company's largest customer, GT Advanced Technologies, Inc (GTAT: Nasdaq), recently received several large orders from Asia, and just reported a strong quarter beating analyst estimates, after raising estimates substantially in May.  GTAT accounts for 54% of TPCS sales, which would apply major upside in revenues and earnings over the next several quarters.
With record backlogs and significant demand for solar components coming in from GTAT, we continue to reiterate our short and intermediate term trade call on TPCS. A close above $1.65 on increasing volume would be confirmation of the continued uptrend and potential for new highs over the next 1-3 months. On a longer term basis, both Wonderlich Securities, and Singular Research maintain buy ratings on TPCS, with price targets of $3.50 and $4.0 respectively over the next 12-18 months. The stock closed Friday at $1.50 down 18.92% since we added it to our watch list on June 13, 2011.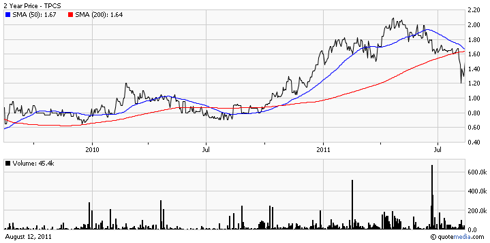 To get profiles on undiscovered companies before they take off, subscribe now to our free newsletter at http://www.stocksnsectors.com/wp-login.php?action=register
www.stocksnsectors.com is not registered as a securities broker-dealer or an investment advisor with either with the SEC or any state securities regulatory authority. We are neither licensed nor qualified to provide investment advice.
The company itself or our website - http://www.stocksnsectors.com - make no recommendation that purchases of securities of companies profiled on this website or in this email are suitable or advisable for any person or that an investment in such securities will be profitable.
For our disclosure and disclaimer details visit: http://www.stocksnsectors.com/disclaimer