Going into last Monday, it looked like BitCoin was going into a complete crash. However, I said repeatedly that the 300 support level on the daily chart would hold. My case was further supported by the contrarian indicator of Paul Krugman's boastful demise of BitCoin, and the "Bear Whale" panic seller from last Monday morning who's 30,000 dump out marked capitulation selling at the low.
Here we are a week later with BitCoin forming bullish consolidation and closing above the 20 DMA to signal a daily chart breakout. All of these were things I called for over the past week based on the charts.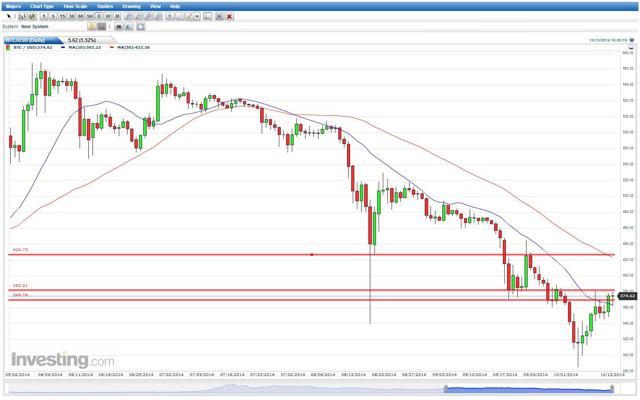 The 369 area was resistance, and now price is starting to close above it. The next areas of resistance are 382, 425, and the 50 day moving average. BitCoin is forming bullish patterns off of the lows but I would much prefer some slow and methodical consolidation that captures resistance levels with a wide base of participation behind it.
We can say that we have a low in the charts at this point. However, to really say that we have a change in trend, I am looking for the 20 DMA to trade above the 50 DMA with price above both moving averages. That is about as clear cut of a signal as you can get, but it will take a few weeks to complete that pattern.
However, this is a great entry point for those not yet in it with a stop at a close back below the 20 DMA on the daily chart.
Napoleon T. Butic is the owner and CEO of Trout Payment Systems. He spent over a decade in the hedge fund industry and has been utilizing technical analysis to trade his personal account since 2009.
Trout Payment Systems is a Houston based merchant services firm focused on helping businesses accept credit cards in Houston, and is one of the first firms in the city to help businesses accept BitCoin.