Overview
CoStar Group is one of the leading providers of information, analytic and marketing services to the commercial real estate and related business community. CSGP operates within their U.S. and International segments. The company's services are distributed to its clients under subscription-based license agreements that automatically renews yearly. The company has been consistent in growth and service development throughout its 25 years of existence.
Company Core Services
The company prides itself with methodologies that are unprecedented in the industry using comprehensive and accurate measures of commercial real estate prices and are determined through a repeat sale index (CCRSI). CSGP follows a property's physical appearance more than its price for tracking, it is based on property sectors, regions, transactions size and quality, and by market size, which the company reports monthly. This vital information is what makes CSGP stand out in their industry as their core business model and revenue driver. Their Database is used to gauge real estate value and trend. With the positive overall price movement in the index, sellers of commercial properties can say if market is more cooperative in 2012. For example, currently, properties do not wait too long before being sold since the average time on market for sold properties decreased by almost 2% since end of Q1 2012. Bargaining of pricing between initial asking price and final sales price narrowed more than 2.5% since 2012. It is a sign that real estate value is healthy. If there is a decline in the figures of properties withdrawn from "for sale" status, it is a good indication of improving investor sentiment. Because of this analysis and data provided by CSGP, real estate investors, seller and buyers would know how to evaluate their properties or when would be the best time to sell, buy and where.
The company's generated annualized net new sales for the 4th quarter of 2011 were $8.7 million, an increase of 86% year-over-year. Annual and multi-year subscriptions, which are the core business, had an approximate of 94% of revenue. Renewal rate for all clients is 93% and 98% renewal rate among long time clients, with an approximately 93,396 paying subscribers demonstrates high quality products. $248 million in equity was raised to help finance the acquisition of LoopNet. CSGP's balance sheet is extremely strong that ended with $573 million in cash and investments last 2011. The company's fourth quarter year-over-year growth in revenue was 13.7%, with increased revenue in the last eleven consecutive quarters.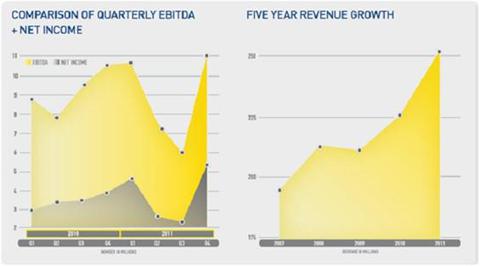 Expansion and Development
The company's future looks very solid with their plans on expansion and development of existing products and services. CSGP is focused to expand and develop sales and marketing the company too. The management aims to integrate new modules, or tools, and services that are being developed and expect to introduce to customers such as;
Lease COMP, which is a database of comparable lease transactions.
Virtual Premise - This is a mobile platform for delivery of real estate management service.
PPR - a multi-family data and analytics service
PPR's CompassFLEX - This is a customizable analytic tool for evaluation of various credit scenarios.
CSGP's expansion initiatives, which are expected to drive massive growth, also include continued development and innovations such as their CoStarGo and enhancements to core information services that includes suite of online services. The company recently launched a new sales and marketing campaign cross-selling CoStar services to LoopNet customers and LoopNet services to CoStar customers, including additional marketing of CoStarGo. The company is expecting additional cost and expense with sales and marketing campaign during the third and fourth quarters of 2012, as well as anticipates such initiatives will position the company for revenue growth in 2013 and beyond. The development of a lease discounted cash flow ("LDCF") forecasting and valuation solution effectively integrates combined abilities of CoStar's property and market-level information and PPR's analytics and forecasting expertise with Resolve Technology's and Virtual Premise's commercial real estate investment and management software expertise. The company will launch a premium offering that promises huge revenue under CoStar Fusion.
On the International segment and operations side, the company will have an expanded service. CoStar will introduce an international platform of service offerings by the end of 2012. They also upgraded their back-end research operations, fulfillment and CRM systems to support U.K. services. The company believes future product development or expansion of services could increase profitability. Consequently, management expects current service offerings to remain profitable, driving overall earnings throughout 2012 and providing substantial cash flow.
Like all business, risks related to lower than expected job growth, government fiscal challenges, and uncertainty over U.S. and global economic issues may hinder the ability and willingness of clients to purchase services. However, CSGP's clients continue to be unchallenged and unaffected by economic conditions in the U.S. and and globally. In the event of cancellations, reductions of services and failures to pay increase, CSGP means to alleviatethis by increasing sales to new or existing customers, increasing diversification beyond the U.S. economy through international expansions benefits investors in the long term.
Ratio
CSGP almost beat its 52-week high of 85.77, when stock is currently valued at 83.68. Current P/E is 83.68, with P/S of 8.32. The company reported revenue of $85.22M in quarter ending June of 2012, compared to $62.13M same quarter ending a year ago