Gold is struggling. After talking a run at $1,800 in 2012, the metal has lost its luster and hemorrhaging at below both its 50-day and 200-day MA. The chart shows a Bearish Death Cross.
The recent retracement back to above $1,600 was short-lived and a false rally suggested by a near immediate decline back below. Gold is currently sitting at a sideways channel and looking to hold at key support of around $1,550. Failure could see $1,500 revisited.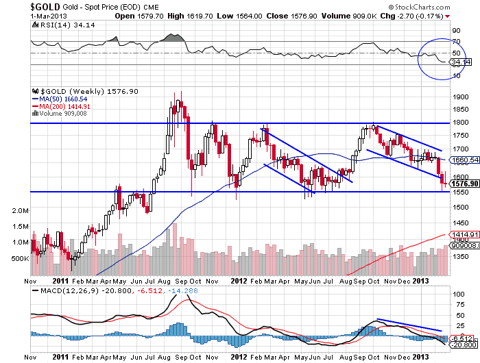 (Source: Stockcharts.com)
I would not be a buyer now. Consider that gold has done nothing despite the risk with Sequestration, the eurozone recession, and the potential asset bubble in China.
Cheers
Disclosure: I have no positions in any stocks mentioned, and no plans to initiate any positions within the next 72 hours.