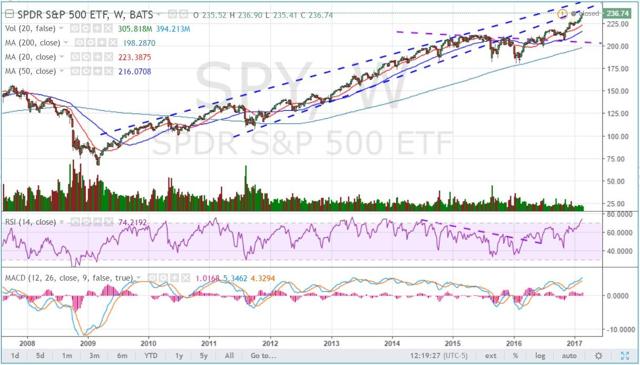 I know that nothing goes up in a straight line forever, but the SPY ETF looks poised to test 240 soon, or at least get close to it. The upward blue line in the weekly chart acted as a support from September 2011 to August 2015 when it was broken. This line is about to be tested as a resistance. It was previously tested as a resistance in October and November 2015 and it might again be tested next week. 240 is a round and psychological whole number.
Data analysis: By looking at the SPY ETF and its daily closing prices since February 1993, we can see that there have "only" been 27 times that SPY has had positive daily returns for 7 consecutive days in a row. The last time that this occurred was on February 15th, 2017. This is why the uptrend is so steep in February in the chart above.
For reference, since February 1993, there have been consecutive positive daily returns:
27 times for 7 consecutive days
14 times for 8 consecutive days
4 times for 9 consecutive days
2 times for 10 to 12 consecutive days, and
1 time for 13 to 14 consecutive days.
What will happen next? Focusing only on "7 days of positive daily returns," we have the following historical chart updated to yesterday's closing price (February 24 2017):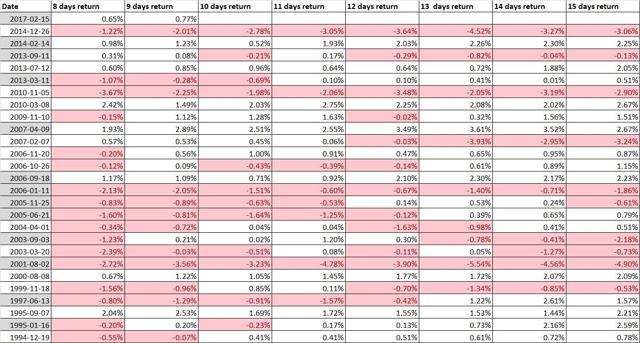 We have had positive returns over the last 8 to 9 days that ended yesterday and today respectively. However, this specific blog is trying to predict the returns over the next 10 to 15 days. If you observe the table above, we have mostly had positive returns right after positive "8 days return" and positive "9 days return" in the past. For example, refer to the rows for 2014-02-14 or 1995-09-07.
It is very clear that I don't want to be short in SPY yet. Also, because the average and median of returns increases from the "10 days return" to the "15 days return". See the following table:
If you are already long, it might be worth taking profits as SPY reaches 240 because there is too much risk. See the Reward-Risk ratio in the table above and see how it decreases all the way from 0.81 in the "9 days return" to 0.42 in the "15 days return". This ratio was calculated with Max and Min historical data from the first table above. My recommendation is to stay away from SPY and be patient. There are many better alternatives for new short or long positions. I personally would rather buy TLT which has a better reward-risk profile. See my former blog about TLT for more information: isaacfigueroap.tumblr.com/
Disclosure: I/we have no positions in any stocks mentioned, but may initiate a short position in SPY over the next 72 hours.