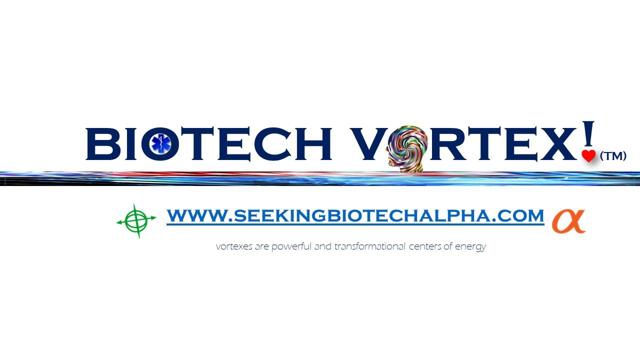 A BIOTECH VORTEX™ is occurring across the entire healthcare sector as companies are now Seeking Biotech Partnerships to gain momentum, and in many situations, accelerate medical progress and success for all partners.
I review many wonderful PowerPoint presentations by very successful biotech and medtech companies every day now. They all have great expectations for their products and company financial forecasts. Although I can easily navigate my way through the financial data/reports, the biotech industry is now more competitive, and more product driven and more results driven more than ever before. The clinical testing reports are not always easy to interpret or clear or definitive, many times they do not meet endpoints and even when they do meet clinical test endpoints success can be questionable. Everyone is trying to get ahead with tech, digital, robotics, AI, superior meds, faster acting meds, meds that work in combination with other successful meds.  Time and money are never enough. As I research new medical devises and new medicines to determine if I see them succeeding over time it is important for me to remember that real people, sick people, desperate people are involved with these tests/clinical studies. They are eager to be cured or just be able to live another day and time is not on their side.   
Biotech & Biotech Partnerships
The biotech sector is also increasingly becoming a partnership process, Seeking Biotech Partnerships could very well be the new biotech mantra for 2019. Many companies are developing new drugs that can in many instances work better in combination with other successful drugs or help other drugs work better against specific medical issues. Alkermes plc (NASDAQ:ALKS) will collaborate with Clovis Oncology (NASDAQ:CLVS) to evaluate the combination of ALKS 4230, an engineered interleukin-2 (IL-2) variant immunotherapy, with Clovis' PARP inhibitor Rubraca (rucaparib) and tyrosine kinase inhibitor lucitanib, in preclinical models across a range of tumor types.
NEW YORK and INDIANAPOLIS, Feb. 19, 2019 /PRNewswire/ -- Pfizer Inc. (NYSE: PFE) and Eli Lilly and Company (NYSE: LLY) today announced positive top-line results from a Phase 3 study evaluating tanezumab in patients with moderate-to-severe chronic low back pain (CLBP). In the study, treatment with tanezumab 10 mg met the primary endpoint, demonstrating a statistically significant improvement in pain at 16 weeks compared to placebo.
Amgen (NASDAQ:AMGN) will collaborate with privately held Abilita Bio to discover new drugs that target complex membrane proteins by leveraging the latter's Enable Membrane Protein (EMP) platform.
KEYTRUDA® (pembrolizumab) in Combination with Inlyta® (axitinib) Reduced Risk of Death by Nearly Half Compared to Sunitinib as First-Line Treatment for Advanced Renal Cell Carcinoma (RCC) Sat February 16, 2019 5:00 PM
The '363 patent covers the crystalline form of CERC‑301, as well as a pharmaceutical composition containing the crystalline form of CERC‑301. It also covers methods of treating conditions responsive to NR2B antagonists. The '363 patent, and its foreign counterpart applications, are co-owned with Merck & Co. (NYSE: MRK). Cerecor (NASDAQ:CERC) has an exclusive, worldwide license from Merck (MRK) to this patent family and two other patent families covering NR2B-specific, NMDA receptor antagonist for the development and commercialization of CERC‑301 (formerly MK‑0657) for all human indications.
Boehringer Ingelheim and Lilly announce the CAROLINA® cardiovascular outcome trial of Tradjenta® met its primary endpoint of non-inferiority compared with glimepiride 02/14/2019
NORTH CHICAGO, Ill. and MENLO PARK, Calif., Feb. 11, 2019 /PRNewswire/ -- AbbVie (NYSE:ABBV), Teneobio, Inc. and its affiliate TeneoOne, Inc. announced today that they have entered a global strategic transaction to develop and commercialize TNB-383B, a BCMA-targeting immunotherapeutic for the potential treatment of multiple myeloma.
AbbVie Announces U.S. FDA Approval of IMBRUVICA® (ibrutinib) Plus Obinutuzumab (GAZYVA®) - First Chemotherapy-Free, Anti-CD20 Combination Regimen Approved for Chronic Lymphocytic Leukemia/Small Lymphocytic Lymphoma (CLL/SLL) in Previously Untreated Patients Mon January 28, 2019 7:00 AM
Obsidian Therapeutics Announces Strategic Collaboration with Celgene to Develop Novel Cell Therapies with Tunable Immunomodulatory Factors, Opening Potential for CAR-T and Other Cellular Medicines in New Settings Fri January 18, 2019 7:00 AM
Biotech & Medtech Partnerships
The biotech sector is seeking medtech partners in an effort to improve the delivery of their meds or work better in combination with newer high tech devises. Abbott and Novo Nordisk Enter Partnership to Provide Integrated Digital Solution to People with Diabetes Using Insulin Wed February 20, 2019 9:00 AM|PR Newswire|About: ABT
FreeStyle Libre system (FreeStyle LibreLinkii mobile app and LibreViewiii cloud-based system). The partnership reflects both companies′ commitment to make diabetes management easier by connecting key technologies such as continuous glucose monitoring (CGM) and connected insulin pens.
Biotech & Medtech & Medical Universities Partnerships 
Both biotech and medtech companies are also increasing their partnerships with biotechnology focused colleges and medical universities/medical centers towards successful co-product development partnerships. This is occurring on a local and global basis.
DUBLIN and CHARLESTON, S.C. - February 14, 2019 - Medtronic plc (NYSE:MDT) and the Medical University of South Carolina (MUSC) today announced a five-year value-based health care partnership intended to transform and improve care for patients in South Carolina. The collaboration will focus on developing solutions that improve the health outcomes and care experiences for patients while also reducing costs.
at the 2018 BIO International Convention, Johnson & Johnson Innovation and Boston University announced a five-year alliance aimed at fundamentally changing the way lung cancer is detected and treated—with the hope of changing those grim statistics. As part of the new alliance, Johnson & Johnson Innovation will fund a Lung Cancer Center at Boston University Medical Center that will be helmed by Avrum Spira, M.D. Avrum Spira, M.D., Professor of Medicine, Pathology and Bioinformatics, Boston University, and Global Head, Lung Cancer Initiative, Johnson & Johnson , Professor of Medicine, Pathology and Bioinformatics, Boston University, and Global Head, Lung Cancer Initiative, Johnson & Johnson.
BEIJING & NEW YORK--(BUSINESS WIRE)--Bristol-Myers Squibb Company (NYSE: BMY) and Tsinghua University, have entered into a collaboration to discover therapeutic agents against novel targets for autoimmune diseases and cancers. The collaboration brings together Bristol-Myers Squibb and Tsinghua University's respective scientific expertise and capabilities with a focus on validating new targets and generating early drug candidates for clinical development. Under the collaboration, The Innovation Center for Immune Therapy of Tsinghua University will conduct research on projects and Bristol-Myers Squibb will have an option to exclusively license therapeutic agents discovered by Tsinghua University.
Biotech & Health Systems Partnerships
Biotech and Health Systems are also partnering, which can bring better medical progress to these health systems in time;  
Ochsner Health System and Pfizer Partner to Develop Innovative Models for Clinical Trials Tue February 19, 2019 10:30 AM
Through this partnership, Pfizer and Ochsner — through its innovation lab, innovationOchsner (iO), in partnership with Ochsner Research — will explore ways to enhance the clinical trial experience and ease participation in clinical research for both patients and healthcare professionals.
THOUSAND OAKS, Calif. and LOS ANGELES, July 19, 2018 /PRNewswire/ -- Amgen (AMGN) and Cedars-Sinai Medical Center today announced a partnership to help support the improvement of healthcare quality in the treatment of multiple therapeutic areas that could include oncology, cardiovascular disease, osteoporosis and migraine. The organizations intend to jointly undertake research projects in one or more of these therapeutic areas. They also plan to focus on projects that could achieve better clinical outcomes, experience and patient satisfaction.
I support any and all medical partnerships that bring life saving and extending medicines to as many as possible and wish all of them much success.  
Respectfully submitted to Seeking Alpha on 2/20/2019
Dan Watson
Disclosure: I am/we are long MRK, AMGN, BMY, LLY, ABT, NVO, JNJ, ABBV, CELG, PFE, MDT, ABMD, ISRG.
Additional disclosure: I am developing seekingbiotechalpha.com/...