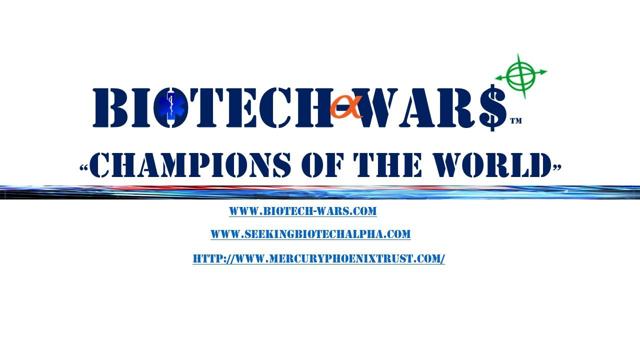 It is my view that Biotech companies and the people who are creating these new medicines are the "Champions of the World". However, in the new USA political world truth and reason are hidden by the fog of the www.Biotech-Wars.com. And, unfortunately the fog is getting thicker as the 2020 election gets closer and it appears that biotech companies remain politicos favorite target. I am also realizing that positive medical news today seems irrelevant from a political perspective as biotech companies remain vilified no matter their product development success. For both 2018 and so far in 2019 new product development success has been phenomenal and still the biotech sector remains under attack from politicos?! And I believe biotech companies will fight the politicos who attack them now. We will see. The positive messaging needs to come from them for now.
Both the news media and the political messaging are increasingly biased one way or the other, it is at the point where you need to gain news from multiple sources in order to get a clearer/more accurate picture of the various situations.
Nevertheless, truth and reason will prevail as Biotech and Medtech companies succeed when they create great product and they must prove that their products can positively improve their patient populations. They either prove success or not, there is no middle ground. They have been making great product of late, irrespective of all the negative politico attacks on their business sector.
Recent Biotech Product Development Advances - 2019
So, what am I doing – I am increasing my long positions in the following companies all with strong dividends and great products = (PFE), (BMY), (MRK), (JNJ), (LLY), (AZN), (ABBV), (AMGN)
European Commission Approves Empliciti (elotuzumab) Plus Pomalidomide and Low-Dose Dexamethasone (EPd) for the Treatment of Patients with Relapsed and Refractory Multiple Myeloma
European Commission Approves SOLIRIS® (eculizumab) For the Treatment of Adults with Neuromyelitis Optica Spectrum Disorder (NMOSD)
Eli Lilly's Latest Approval Adds To An Ever-Growing Market For Taltz
New Amgen Data To Be Presented At ESC Congress 2019 Highlight Additional Evidence For Repatha® (Evolocumab) Effectiveness In Cardiovascular Disease Across Multiple Patient Groups
AstraZeneca and Merck's Lynparza shows treatment benefit in late-stage prostate cancer study
BRILINTA Reduced the Risk of Cardiovascular Events in Patients With Coronary Artery Disease and Type 2 Diabetes in Phase III THEMIS Trial
Detailed Results from Phase III DAPA-HF Trial Showed FARXIGA Significantly Reduced Both the Incidence of Cardiovascular Death and the Worsening of Heart Failure
Bristol-Myers teams up with drug development accelerator 
More Than 100 Bristol-Myers Squibb Employees Embark on Coast 2 Coast 4 Cancer Ride to Help Advance Groundbreaking Cancer Research
Positive Phase III Results Show Xofluza (Baloxavir Marboxil) Reduces Risk of Developing the Flu After Contact With an Infected Person by 86 Percent
Veracyte Announces Publication of New Study Characterizing Gene Alterations in Thyroid Cancer
J&J RSV vaccine nabs accelerated review status in U.S.
J&J's Stelara OK'd in Europe for ulcerative colitis
Janssen Announces U.S. FDA Breakthrough Therapy Designation for Investigational Prophylactic Vaccine for the Prevention of Respiratory Syncytial Virus in Older Adults | Johnson & Johnson
AstraZeneca's Tagrisso OK'd in China for 1st-line NSCLC
European Commission Approves Merck's KEYTRUDA® (pembrolizumab) in Combination with Inlyta® (axitinib) as First-Line Treatment for Patients with Advanced Renal Cell Carcinoma (RCC)
 Janssen Reports Positive Top-line Phase 3 Study Results of Investigational, Long-acting Injectable HIV Treatment Regimen Administered Every Two Months | Johnson & Johnson
 Merck Foundation Launches Five-Year Initiative to Reduce Disparities in HIV Care for Vulnerable and Underserved Southeastern US Communities
The Merck Foundation (the Foundation) has launched HIV Care Connect, a $7 million, five-year initiative to help reduce disparities in access to care and improve health outcomes for persons with HIV living in vulnerable and underserved Southeastern U.S. communities.
Merck Foundation Launches Five-Year Initiative to Reduce Disparities in HIV Care for Vulnerable and Underserved Southeastern US Communities
Queen - We Are the Champions (Live Aid, Wembley Stadium, 1985)
Queen - We Are the Champions (Live Aid, Wembley Stadium, 1985)
The Mercury Phoenix Trust is a UK registered AIDS charity (charity no. 1013768)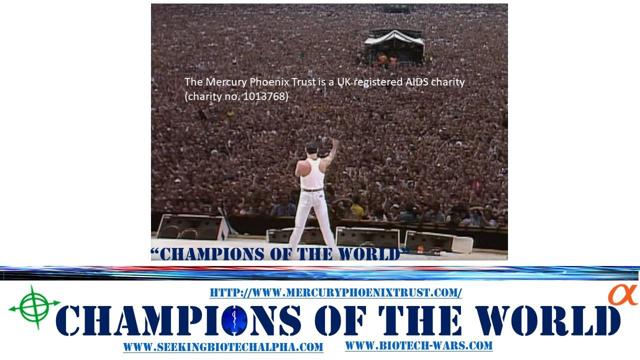 Respectfully submistted to Seeking Alpha on 9/4/2019
Dan Watson