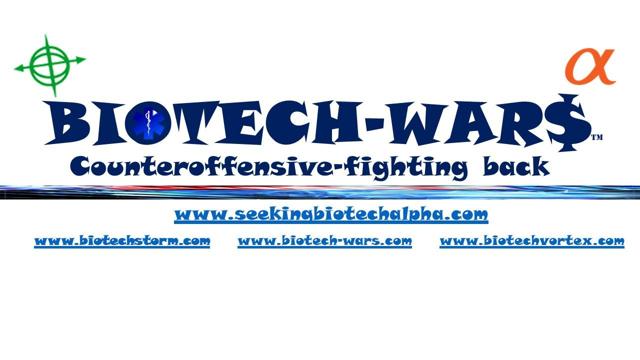 Biotech-Wars™ Counteroffensive-fighting back
The healthcare debate is not winnable for any political candidate as it is highly complicated and involves significant costs no matter which way one goes. Based on the last Democratic political debate I think that the Affordable Care Act program should be re-worked vs. introducing an expensive Medicare for all program. Medicare could be revised to cover the 60-64 age group if this is affordable.
Predictably the www.biotech-wars.com will continue for a long time, especially when you add in all the current opioid litigations. And politicos continue to see the biotech sector as easy targets in an effort to gain votes and win elections.
There is no doubt that Johnson & Johnson remains the biggest target for lawyers and politicos. Below is an assessment of Johnson & Johnson's situation from one of the people I follow on Seeking Alpha - Out of Ignorance the article paints a very bleak picture for (JNJ). Basically, the writer is concluding that Johnson & Johnson will be a legal target for many years and also writes "JNJ can expect bad headlines in abundance as the years unfold". And I do agree with the writer's comment "My prognosis for JNJ shareholders is prolonged discomfort." I think this comment would apply to all biotech investments.
Johnson & Johnson's Dead Serious Opioid Issues
It is time for all biotech companies, and not just for (JNJ), to take counteroffensive measures.
It remains my view that politicos have made a massive mistake vilifying the biotech sector. There could be significant R&D/product development shifts away from America based on the anti-biotech sentiment that currently exists.
Unfortunately, I also see that the Biotech-Wars™ are now expanding towards both Tech-Wars and Class-Wars as politicos see additional voting gains attacking larger highly successful tech companies, especially Google, Facebook, Amazon, and Apple and wealthy Americans. The political vilification of successful American tech companies and wealthy Americans is troubling.
Billionaire investor Carl Icahn to leave New York for Florida
In the face of all of this negative political commentary, biotech companies continue to make remarkable success with new products and new meds. Below are articles from just a few days in September 2019 highlighting noteworthy biotech news and achievements;
FDA Accepts Merck's Biologics License Application (BLA) and Grants Priority Review for V920, the Company's Investigational Vaccine for Ebola Zaire Virus
Seattle Genetics Announces Presentations of New Clinical Data from Multiple Studies of Novel Targeted Therapies at the European Society for Medical Oncology (ESMO) 2019 Congress
Galectin Therapeutics and Providence Cancer Institute nab new patent in U.S.
Biogen Ranked #1 Biotechnology Company on Dow Jones Sustainability World Index
Regeneron Debuts on Prestigious Dow Jones Sustainability World Index of Most Sustainable Companies
CRISPR Therapeutics and ViaCyte Present Positive In Vitro Data Towards a Potential Immune-Evasive Cell Replacement Therapy for Diabetes at EASD 2019
Medtronic Introduces Envision™ Pro Continuous Glucose Monitoring (CGM) System in Europe
GW Pharmaceuticals (NASDAQ:GWPH) Investor Presentation - Slideshow
Sesen Bio (NASDAQ:SESN) Presents At H.C. Wainwright 21st Annual Global Investment Conference - Slideshow
CytoDyn (OTCQB:CYDY) Investor Presentation - Slideshow
Abbott Named the Industry Leader in Sustainability for the Seventh Consecutive Year on the Dow Jones Sustainability Index (DJSI)
Seattle Genetics and Astellas Announce U.S. FDA Grants Priority Review for Enfortumab Vedotin Biologics License Application in Locally Advanced or Metastatic Urothelial Cancer
Varian Announces Multi-room Configuration for ProBeam 360 Proton Therapy System
National Lipid Association's New Position Statement on Use of Icosapent Ethyl in High and Very-High-Risk Patients Recognizes Importance of Addressing Residual Cardiovascular Risk in Patients on Statins
Medtronic and Novo Nordisk Enter Agreement to Provide Integrated Digital Solutions for People with Diabetes
FDA grants Fast Track designation for Farxiga in heart failure
Keytruda/Lenvima combo simultaneously OK'd in U.S., Australia and Canada
FDA Approves KEYTRUDA® (pembrolizumab) plus LENVIMA® (lenvatinib) Combination Treatment for Patients with Certain Types of Endometrial Carcinoma
FDA Grants Breakthrough Therapy Designation for Genentech's Gazyva (Obinutuzumab) in Lupus Nephritis
Amgen Inc. (NASDAQ:AMGN) Management Presents at The Bank of America Merrill Lynch Global Healthcare Conference (Transcript)
Amgen Showcases New Data From Oncology Pipeline And Portfolio At ESMO 2019
 Biogen Advances Spinal Muscular Atrophy (NYSE:SMA) Clinical Research with New Study Evaluating a Higher Dose of SPINRAZA® (nusinersen) and Additional Data in a Broad Range of Patients
bluebird bio Presents Updated Data from Phase 2/3 Clinical Study of Lenti-D™ Gene Therapy for Cerebral Adrenoleukodystrophy (NASDAQ:CALD) at the 13th European Pediatric Neurology Society (EPNS) Congress
Healthy Dividends: Finding Refuge In Bristol-Myers Squibb
In a year that the biotech sector has been totally maligned by politicos, biotech companies will again achieve outstanding medical success as they did in 2018. I remain 100% invested in biotech and medtech companies as of 9/18/2019. And I remain long (JNJ). 
Respectfully submitted to Seeking Alpha on 9/18/2019.
Dan Watson
Disclosure: I am/we are long ABBV, AZN, AMGN, BMY, PFE, MRK, LLY, CELG, MDT, RHHBY, JNJ.