Biotech-Wars – I See A Victory-  I see a Biotech Victory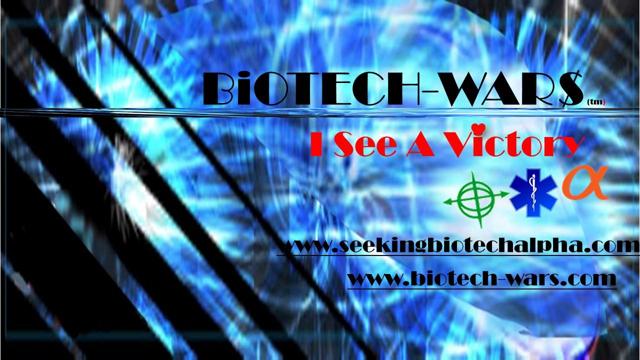 Politicos vs. Biotech
It is still my belief that politicos have made a grave mistake vilifying the biotech sector ad-nauseum. The www.biotech-wars.com predictably will suffer epic battles in the last few months of 2019 and all of 2020 as politicos continue to denigrate the healthcare/biotech/drug industries all the way to the November 2020 elections. Nevertheless, from a product development perspective, the biotech sector is performing extremely well. However, for the market this does not matter as the darkening political clouds loom over the entire sector. But, "I see victory". In fact, I see the power of many biotech victory's every day, below are just a few recent noteworthy success stories and/or encouraging clinical trials just from September and October 2019;
Geron Announces First Patient Dosed in IMerge Phase 3 Clinical Trial in Lower Risk Myelodysplastic Syndromes
Gilead and Galapagos Announce Efficacy and Safety Results of Filgotinib Through 52 Weeks in FINCH 1 and FINCH 3 Studies in Rheumatoid Arthritis
Amgen's Latest Data With KRAS G12C Inhibitor Drug Is Mixed, But Can Still Shine On Prior Evidence
Seattle Genetics Announces Initiation of Phase 3 Clinical Trial of Tucatinib in Combination with Ado-trastuzumab Emtansine (T-DM1, Kadcyla®) for Patients with Advanced or Metastatic HER2-Positive Breast Cancer
Verzenio™ (abemaciclib) Significantly Extends Life by a Median of 9.4 Months for Women with HR+, HER2- Advanced Breast Cancer in MONARCH 2 Study
Lilly's REYVOW™ (lasmiditan), The First and Only Medicine in a New Class of Acute Treatment for Migraine, Receives FDA Approval
Lilly's REYVOW™ (lasmiditan), The First and Only Medicine in a New Class of Acute Treatment for Migraine, Receives FDA Approval | Eli Lilly and Company
Baidu Invests $200 Million in Tech Investment Firm, Eyes IoT and Medical Tech
China Adds 148 Drugs to Its National Insurance List
China Begins Setting Standards for Hospital 5G Networks
Pfizer Presents Positive Phase 3 Data at the 28th Congress of the European Academy of Dermatology and Venereology for Abrocitinib in Moderate to Severe Atopic Dermatitis
Lilly Presents Positive Results for Taltz® (ixekizumab) in Pediatric Patients with Moderate to Severe Plaque Psoriasis at the 28th Annual European Academy of Dermatology and Venereology (EADV) Congress
Keytruda Set to Become World's Top-Selling Drug, Forecast Shows | BioSpace
Congo to use J&J Ebola vaccine to counter current outbreak
U.S. FDA Approves XARELTO® (rivaroxaban) to Help Prevent Blood Clots in Acutely Ill Medical Patients | Johnson & Johnson
https://www.research.va.gov/pubs/docs/va_factsheets/Diabetes.pdf
Lilly Announces Positive Registrational Data for Selpercatinib (LOXO-292) in Heavily Pretreated RET-Altered Thyroid Cancers
Pfizer Presents Interim Analysis Results from Phase 3 BEACON CRC Trial of BRAFTOVI® (Encorafenib), MEKTOVI® (Binimetinib) and Cetuximab for the Treatment of BRAFV600E-Mutant Metastatic Colorectal Cancer
Merck's KEYTRUDA® (pembrolizumab) Now Approved as Monotherapy in China for First-Line Treatment of Certain Patients with Advanced Non-Small Cell Lung Cancer (NSCLC) Whose Tumors Express PD-L1
Neurocrine Biosciences to Present Data Analyses Demonstrating the Long-Term Effectiveness of INGREZZA® (valbenazine) in Patients with Tardive Dyskinesia at the 2019 Annual Psych Congress
Pivotal RESTORE-IMI 2 Phase 3 Study of Merck's RECARBRIO™ (imipenem, cilastatin, and relebactam) in Hospital-Acquired and Ventilator-Associated Bacterial Pneumonia (HABP/VABP) Met Primary Endpoint
Seattle Genetics and Astellas Announce Results from Phase 1 Trial of Investigational Agent Enfortumab Vedotin in Combination with Immune Therapy Pembrolizumab as First-Line Treatment for Advanced Bladder Cancer
AbbVie Receives FDA Approval of MAVYRET® (glecaprevir/pibrentasvir) to Shorten Treatment Duration to Eight Weeks for Treatment-Naïve Patients with Chronic Hepatitis C and Compensated Cirrhosis Across All Genotypes
Gilead Sciences Submits New Drug Application for Filgotinib for the Treatment of Adults With Rheumatoid Arthritis in Japan
LYNPARZA (olaparib) Improved the Time Women Lived Without Disease Progression to 22 Months in the Broad Population and 37 Months in HRD-positive Patients as 1st-line Maintenance Treatment with Bevacizumab for Newly Diagnosed Advanced Ovarian Cancer
FDA Accepts Two Applications for Merck's DIFICID® (fidaxomicin) to Treat Children Aged Six Months Up to 18 years with Clostridium difficile Infections
Amgen Announces New Clinical Data Evaluating Novel Investigational KRAS(G12C) Inhibitor In Patients With Solid Tumors At ESMO 2019
Roche's Tecentriq + Avastin shows positive effect in early-stage liver cancer study
FDA approves first treatment for children with rare diseases that cause inflammation of small blood vessels
Health Canada approves CALQUENCE® (acalabrutinib) for adult patients with previously-treated mantle cell lymphoma (MCL)
Medtronic Receives FDA Breakthrough Device Designation for Developing Stent Graft System to Treat Thoracoabdominal Aortic Aneurysm
My Recommended 2020 Game Plan for all Healthcare
Outlined below are my recommendations to the entire healthcare industry for the 2020 election season, especially for all biotech/drug companies;
Divert all money away from all political candidates for the upcoming 2020 USA elections.
Buy as much TV media time as you can afford from July 2020-October 2020 and fill the airways with every successful medicine in your portfolio and pipelines. This will increase the media costs for all political parties during this period giving them less money to attack the healthcare industry. And hopefully counter some of their negative attacks.
Although politicos will be attacking your industries to gain votes your enemies should remain as follows;

Cancer
Melanoma
Acute Myeloid Leukemia
Carcinoma
Diabetes
Alzheimer's
HIV
MS
Hepatitis C/Hepatitis B
Crone's Disease
Cardiovascular Disease
Anemia
Asthma
Spinal Muscular Atrophy
Lupus
Cystic Fibrosis
Achondroplasia
Phenylketonuria (PKU)
Migraine
Kidney disease
Hemophilia A
Parkinson's disease
Severe Atopic Dermatitis
Rheumatoid Arthritis
Severe Plaque Psoriasis

Make your communications upbeat, simple and clear, and easy to understand in any language, that the biotech industries' battle is against all diseases. Below is one example of what I am thinking a collective message could be to promote the power of a "Biotech Victory".

"biotech means life",
"biotechnologia significa vida"
"biotech signifie la vie
生物技術意味著生命 Shēngwù jìshù yìwèizhe shēngmìng
Biotech bedeutet Leben

PASSION =Make your communications inspiring – I get inspiration from music, below are 2 examples =
"Take what the enemy meant for evil and turn it for good." Elevation Worship Aug. 9, 2019. I believe there is something here to think about regardless of your political and or religious affiliations. (Not trying to preach here although I happen to like Elevation Worship music, I find them very inspiring and they are wonderful in concert.)
See A Victory | Official Lyric Video | Elevation Worship
Good And Loved - Travis Greene & Steffany GretzingerPremiered Sep 6, 2019
"There will be times when your up and times when your down…."
Good And Loved - Travis Greene & Steffany Gretzinger (Official Music Video)
Conclusion
If you're a long-term investor the healthcare/biotech sector has already been significantly discounted by the market. As such from now and throughout all of 2020 will be the best time to add these great companies to your investment mix. We will see.
Respectfully submitted to Seeking Alpha on October 14, 2019
My best to all in 2019
Dan Watson
I am long and 100% invested in (PFE) (LLY) (MRK) (JNJ) (BMY) (CELG) (AZN) (AMGN) (OTCQX:RHHBY) (NVS) (ABBV) (GILD) (MDT) (ABT) (ISRG) (REGN) (BIIB) (AMRN) (VRTX) (SGEN) (ABMD)
Disclosure: I am/we are long ABBV, AZN, AMGN, BMY, PFE, MRK, LLY, CELG, JNJ.