"The inherent vice of capitalism is the unequal sharing of blessings; the inherent virtue of socialism is the equal sharing of miseries." Winston Churchill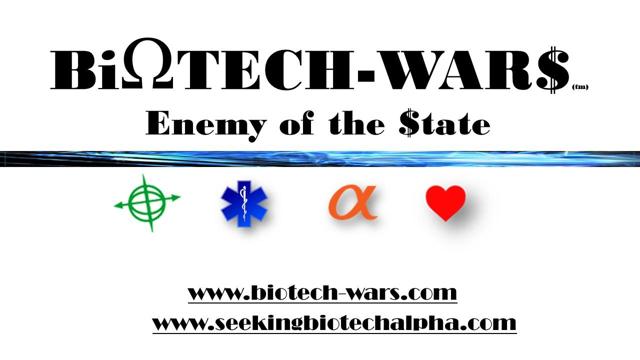 The October 2019 Democratic Debate
So, the www.biotech-wars.com continue in America and most especially during three hours on Tuesday October 15, 2019. The October 15th Democratic debate finally gave me clarity. All large USA corporations will be targeted for prosecution/break-up/fines/oversight and most definitely all companies in the healthcare sector. It was for me the most discouraging debate as Johnson & Johnson (JNJ) (one of my top holdings) was specifically mentioned during the opioid discussion. There was even a mention that criminal actions should be taken against healthcare company leaders involved with the opioid crisis. Based on this Johnson & Johnson should not agree to pay any settlement costs with regard to this issue and save the money for potential legal costs.
The pie-in-the-sky "Medicare for all" program is gaining ground as two of the top three candidates push this un-affordable proposal. It is becoming clearer that candidates-Senator Sanders and Senator Warren, now represent the energy within the Democratic party. For me there was no good news during this debate, no mention of the US economy or the gains US companies have made this year or any success story. Even the trade war between China/USA was barely mentioned/discussed? What became clearer was the following business sectors will be targeted for government scrutiny/penalties/oversight/break-up – Healthcare/Biotechnology, Technology, Banking/Financial, Agriculture, Energy, Retailers, Media and most likely every and any successful large-scale American company. This is an absolutely horrible situation for all USA based companies to hear from the leading Democratic candidates. Based on what I heard I would need to know from the Democratic party leaders = Are large successful USA based companies now an "enemy of the state". The only candidate that actually made any sense was businessman Andrew Yang, and at least he challenged Senator Sanders & Warren with regard to their proposed wealth taxes/penalties. What I do not understand about Senator Warren is that I believe she is fully aware of both the economic, societal and medical advantages of supporting the biotech industry. And at this point in time Cambridge, Mass. is in my view the epicenter of the biotech industry. This will all move to other lead biotech hubs if the biotech sector continues to be vilified in America.  The attacks on all biotech companies will only benefit biotech hubs in Shanghai, China, Basel, Switzerland and Dublin, Ireland all highly supportive biotech centers.
In a recent interview with James Pethokoukis on AEIdeas, Gruber said, "What's quite striking, and we have some examples in the book, are areas which are American born, American perfected, but that America has backed off of and other countries are taking the lead — most strikingly in medical research and biotechnology research. Leading experts predict that within 10 years, we will fall behind China in what has been a U.S. dominated area."
Biotech/Medtech mid-October 2019
Meanwhile, the biotech sector continues to achieve exciting newsworthy success stories/clinical trials/approvals. Highlighted below are just a few from mid-October 2019;
Conclusion
I remain long and 100% invested in (PFE) (LLY) (MRK) (JNJ) (BMY) (CELG) (AZN) (AMGN) (OTCQX:RHHBY) (NVS) (BGNE) (ABBV) (GILD) (MDT) (ABT) (ISRG) (REGN) (BIIB) (AMRN) (VRTX) (SGEN) (ABMD)
Respectfully submitted to Seeking Alpha on October 18, 2019
My best to all in 2019
Dan Watson
Thank you for visiting=
https://seekingbiotechalpha.com/alpha-10
Disclosure: I am/we are long ABBV, AZN, AMGN, BMY, PFE, MRK, LLY, CELG, JNJ.