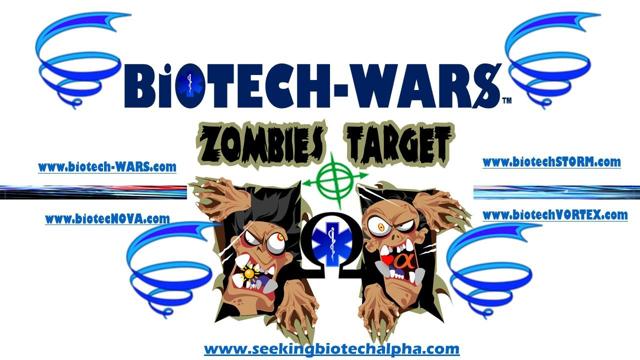 Biotech-WAR$ - ZOMBIES TARGET ALPHA & HOPE
FEAR
The Biotech WAR$™, www.biotech-wars.com are far from over, but are now shifting to a very specific political target = an all-out CLASS WAR against all/any Americans with assets and all successful and profitable businesses. First, no one should be surprised about this as Politicos are doing whatever they can to gain VOTES. But now some Politicos have become "POLITICAL ZOMBIES" and are now fully targeting ALPHA – targeting all wealth with a proposed "WEALTH TAX". All in an effort to level the economic gains achieved over the last 10+ years or so, achieved with much help form the FED with accommodating low lending rates since the banking/housing meltdown in 2008/09, resulting in inflated/increased asset values/prices. The "Political ZOMBIES" claim that there are too many wealthy people in America and there is too much wealth disparity in America as justification for recommending a "Wealth Tax Plan" on all assets. This is currently the main argument for their presidential campaigns and to bring insanity to civilization as we know it? These "Political Zombies" are seriously recommending madness all in an effort to gain votes and "WIN" elections. The "Enemy of the STATES" are now wealthy people, and successful businesses??
Everyone with any assets should get ready to battle all Political Zombies, not just Billionaires as their attacks will start with Billionaires but will quickly shift to Millionaires and then everyone/anyone with any assets. As everyone knows, Zombies are never satisfied they just keep moving towards the next target, in this case the next target to vilify. Although Zombies have insatiable appetites their most effective tactic is that Zombies create irrational fear, Zombies not only create "Irrational FEAR", they thrive on "Irrational FEAR". And these "Political Zombies" are doing a very very good job of creating Irrational FEAR.
Elizabeth Warren targets specific billionaires in new political ad
Billionaire Leon Cooperman responds to Senator Warren's CNBC wealth tax ad
HOPE
What is the purpose of hope? I ask. Hope is a mechanism developed by the human brain to cope with contexts and situations unfavorable to survival. Hope is what the biotech and medtech companies offer in very tangible ways. Yes, they can also deliver ALPHA and profits, but more importantly their products can extend lives, prolong lives, save lives, make lives more fulfilling and make life easier to navigate for many. The opposite of HOPE is FEAR. Political Zombies offer irrational fear and hopelessness.
Below are a few HOPEFUL news events, many are even remarkable, in the Biotech and MedTech sectors in just the first 14 days of November 2019 and they WON'T STOP NOW.  
Amarin Announced FDA Advisory Committee Voted Unanimously (16-0) to Recommend Approval of Vascepa® (icosapent ethyl) Capsules Label Expansion to Reduce Cardiovascular Risk Based on Landmark REDUCE-IT® Outcomes Trial | Amarin Corporation plc
FDA Ad Com thumbs up on CV benefit of Amarin's Vascepa
U.S. FDA Grants BeiGene's BRUKINSA™ (zanubrutinib) Accelerated Approval to Treat Adult Patients with Mantle Cell Lymphoma Who Received at Least One Prior Therapy
Boehringer Ingelheim and Lilly announce outcome of FDA Advisory Committee meeting for empagliflozin 2.5 mg as adjunct to insulin for adults with type 1 diabetes
BioMarin Announces Cumulative Additional Height Gain of 9.0 cm over 54 months versus Natural History in Children with Achondroplasia Treated with Vosoritide in Phase 2 Study
US FDA Accepts Regulatory Submission of New Drug Application for Selumetinib in Neurofibromatosis Type 1 (NF1) and Grants Priority Review
New Positive Data for RINVOQ™ (upadacitinib) on Signs and Symptoms in Patients with Ankylosing Spondylitis Presented at 2019 ACR/ARP Annual Meeting
Vertex Confirms Northern Ireland Offer Accepted for Cystic Fibrosis Medicines
Boehringer Ingelheim and Lilly initiate first ever study to assess Jardiance® in people hospitalized for acute heart failure who have been stabilized
Neurocrine Biosciences Publishes Long-Term INGREZZA® (valbenazine) Data in the Journal of Clinical Psychopharmacology Demonstrating Once-Daily 40 mg and 80 mg Capsules Reduced Involuntary Movements in Adults with Tardive Dyskinesia
Clovis Oncology Announces Reimbursement for Rubraca® (rucaparib) Tablets for Women with Relapsed Ovarian Cancer in Italy
Nucala (mepolizumab) is the first treatment to show a significant reduction in flares for patients with Hypereosinophilic Syndrome (NYSE:HES) | GSK
Genentech's Risdiplam Meets Primary Endpoint in Pivotal SUNFISH Trial in People With Type 2 or 3 Spinal Muscular Atrophy
GENFIT Announces Results of NIS4, an Investigational Non-Invasive NASH Diagnostic, at AASLD 2019
Merck's ERVEBO® [Ebola Zaire Vaccine (rVSVΔG-ZEBOV-GP) live] Granted Conditional Approval in the European Union
Pfizer Announces Results of Phase 3 Study for XELJANZ® (tofacitinib) in Juvenile Idiopathic Arthritis Ahead of Presentation at 2019 American College of Rheumatology/Association of Rheumatology Professionals Annual Meeting
ACR 2019: Lilly Presents Positive New Data from COAST-X, a Phase 3 Study of Taltz® (ixekizumab) in Patients with Non-Radiographic Axial Spondyloarthritis
Alkermes Announces Receipt of $150 Million Milestone Payment from Biogen Related to FDA Approval of VUMERITY™
U.S. Food and Drug Administration Accepts for Priority Review Bristol-Myers Squibb's Application for Opdivo (nivolumab) Plus Yervoy (ipilimumab) Combination for Patients with Previously Treated Advanced Hepatocellular Carcinoma
GW Pharmaceuticals receives positive NICE recommendation for EPIDYOLEX® (cannabidiol) oral solution for the treatment of seizures in patients with two rare, severe forms of childhood-onset epilepsy
REDUCE-IT® USA Results, in Prespecified Subgroup Analyses of Landmark REDUCE-IT Global Study, Showed Robust Cardiovascular Risk Reductions Across a Variety of Study Endpoints, Including Cardiovascular Death and All-Cause Mortality
Allergan Receives FDA Qualified Infectious Disease Product (QIDP) Designation And Fast Track Designation For ATM-AVI (Aztreonam And Avibactam) For Antibiotic-Resistant Gram-Negative Infections
Myriad's Prequel™ Prenatal Screen Demonstrates High Performance Across All Fetal-Fraction Levels in Women Undergoing Noninvasive Prenatal Screening
New Study Shows Promise in Treating More Patients with World's Smallest Pacemaker
FDA Approves REBLOZYL® (luspatercept-aamt) for the Treatment of Anemia in Adults With Beta Thalassemia Who Require Regular Red Blood Cell Transfusions
Exact Sciences Presents Data On Blood-Based Test For Detection Of Hepatocellular Carcinoma, Earns FDA Breakthrough Device Designation
New Data From the Phase III DAPA-HF Trial Showed FARXIGA Reduced the Worsening of Heart Failure or Cardiovascular Death in HFrEF Patients With and Without Chronic Kidney Disease
Genentech's Gazyva (obinutuzumab), in Combination With Standard of Care, More Than Doubles the Percentage of Lupus Nephritis Patients Achieving Complete Renal Response, Compared to Standard of Care Alone
Nektar Therapeutics Presents New Clinical and Preclinical Data from its Immuno-Oncology Pipeline at the 2019 Society for Immunotherapy of Cancer (NYSE:SITC) Annual Meeting
Amarin Announces FDA Notification of Advisory Committee Meeting Planned to be Held in November 2019 in Connection With Vascepa® REDUCE-IT™ sNDA
Mallinckrodt Announces Data Publication on the Treatment Effectiveness of Acthar® Gel (Repository Corticotropin Injection) for Resolution of Multiple Sclerosis Relapse in a U.S. Health Plan Population
Phase 3 Trial of NINLAROTM (ixazomib) as First Line Maintenance Therapy Met Primary Endpoint in Multiple Myeloma Patients not treated with Stem Cell Transplantation
Harmony® Test: The first non-invasive prenatal test approved by Health Canada
Roxadustat Significantly Increased Hemoglobin Levels for Chronic Kidney Disease Patients with Anemia in Phase III OLYMPUS and ROCKIES Trials
Janssen Announces Submission of Supplemental New Drug Application to U.S. FDA Seeking Approval of IMBRUVICA® (ibrutinib) in Combination with Rituximab for Previously Untreated Patients with Chronic Lymphocytic Leukemia
Gilead Presents 96-week Discover Trial Data Supporting Non-inferior Efficacy and Key Safety Differences of Descovy For PrEP™ Compared With Truvada For PrEP®
Regeneron Provides Updates on Phase 3 Libtayo® (cemiplimab) Development Program in Advanced Non-small Cell Lung Cancer
CALQUENCE® Data To Show Improved Progression-Free Survival In Phase III Front-Line Chronic Lymphocytic Leukemia At ASH 2019 Annual Meeting
Takeda's Dengue Vaccine Candidate Demonstrates Protection in Children Ages Four to 16 Years, Regardless of Previous Dengue Exposure
Bristol-Myers Squibb Underscores Precision-Focused Immunology Leadership with New Data on ORENCIA® (abatacept) in Early RA, ACPA-Positive Patients Presented at 2019 ACR/ARP Annual Meeting¹
Alkermes to Present Data From ALKS 4230 Clinical Development Program at the Society for Immunotherapy of Cancer's (SITC) 34th Annual Meeting
Positive results in Phase 3 trial for Toujeo® in children and adolescents with type 1 diabetes
China Conditionally Approves 'Seaweed Drug' for Alzheimer's
Chugai's Hemlibra Launched for Hemophiia A with Inhibitors in Taiwan
Seattle Genetics to Present at Credit Suisse 28th Annual Healthcare Conference
GLTA
Dan Watson
Respectfully submitted to Seeking Alpha on November 14, 2019 and feeling hopeful.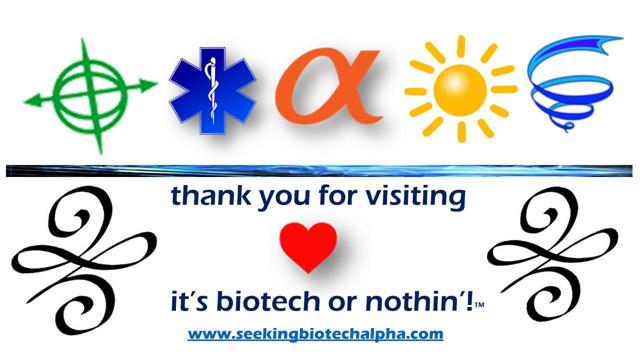 https://seekingbiotechalpha.com/alpha-11
investments of seeking biotech alpha as of 11/14/2019
Disclosure: I am/we are long ABBV, AZN, AMGN, PFE, MRK, LLY, CELG, AMRN, BMY.