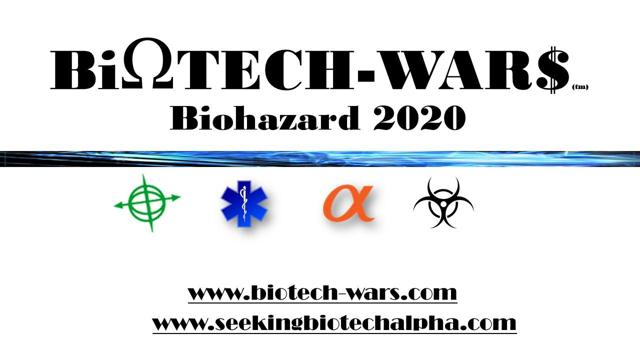 Biotech-WAR$™-Biohazard 2020
This past week I watched analysts on business new TV downplay and withhold commentary on the obvious and remarkable success of the healthcare sector and specifically the biotech sector during the last 3 months of 2019. Only one analyst offered a biotech recommendation – Seattle Genetics (SGEN). The others mentioned that the sector will primarily be under political attack from all sides next year and therefore these analysts were not recommending at this time any positions, not even the (IBB) or the (XBI)??
The only biotech that has been mentioned as a reasonable buy from a few business TV analysts has been Amgen (AMGN). (but a little late to catch the the stock rising this past 3 months). Basically, business TV analysts/guest commentators are way too late recommending any biotech companies as their price/values are high now and the 2020 political winds are coming, or should I say the 2020 political www.biotechSTORM.com is coming. Therefore, it appears that most analysts do not want to recommend the biotech/drug/healthcare category, never mind individual biotech stocks. The most surprising thing here is that for 2 years now most business TV analysts would prefer talking about any Tech company and/or recommending Amazon, Apple, Google, Tesla, Netflix and Facebook or even bitcoins more so than a single biotech stock. It is not in their DNA, to recommend the biotech sector or the companies in it and when you add in the uncertainty/interpretation of clinical tests and the drug pricing issues, the legal issues some companies are facing and the intense competition. The biotech sector is essentially avoided, at least publicly, as a recommended investment sector. But it is the negative USA political environment that seems the biggest factor impacting analysts viewpoint. And all of this has resulted in a negative bias and reduced TV news coverage towards the entire healthcare sector and most definitely biotech/drug companies from the business broadcast news. I guess that If you can't get anyone on TV to make positive comments on biotech companies then the sector must not be well liked or a good investment?? I guess the biotech/medtech successes for the past 10 years are and will remain a secret success story and a bewildering anomaly??
It is my view that this has been the BIOTECH DECADE from 2010-2019 but don't tell anyone shhh....  
Biotech Positive 2020 and beyond
So, why do I remain 100% invested in biotech/medtech companies as of 12/15/2019 and have been since 2010. My reasons are as follows;
The product development success that the entire biotech industry is having is nothing less than remarkable and has been for many years now, irrespective of the lack of positive.accurate news coverage during most of this time.
Larger biotech/drug companies see smaller biotech's as R&D and will remain eager to acquire those that are developing successful/clinically proven new products. Merck's (MRK) acquisition of ArQule and Novartis (NVS) acquisition of The Medicines Company are good examples of this = Merck to Acquire ArQule, Advancing Leadership in Oncology = The Medicines Company Announces that the ORION-10 Study of Inclisiran in ASCVD Patients Showed Durable and Potent Lowering of LDL-C with Twice-Yearly Dosing
The biotech sector is developing products for a worldwide population that is eager to gain access to improved new products for better healthcare.
The biotech industry is succeeding in spite of the forever www.biotech-WARS.com and the lack of publicly announced support.
I see continued success for the biotech/medtech sectors for all of 2020. The power of these new medicines is and will be greater than all the negativism and vilification that politicos will most definitely direct at them in 2020.
NOTHING ELSE = THE BIOTECH DECADE 2010-2019
The month of December 2019 has been a highly successful month for many biotech companies, below are a few highlights. There has been "Nothing Else" but biotech success stories this December 2019 as there have been the entire year of 2019. This has been the BIOTECH DECADE -2010-2019 
 Amarin Receives FDA Approval of VASCEPA® (icosapent ethyl) to Reduce Cardiovascular Risk
ViiV Healthcare files submissions to the FDA and EMA for the first-ever dispersible formulation of dolutegravir (NYSE:DTG) for children living with HIV | GSK
Tandem Diabetes Care Announces FDA Clearance of the t:slim X2 Insulin Pump with Control-IQ Advanced Hybrid Closed-Loop Technology
Pfizer Receives Positive CHMP Opinion for VYNDAQEL® for Use in Patients with Transthyretin Amyloid Cardiomyopathy, a Rare and Fatal Disease
BeiGene Announces Clinical Data on Investigational Anti-PD-1 Antibody Tislelizumab in Combination with Sitravatinib at European Society for Medical Oncology Immuno-Oncology (ESMO I-O) Congress 2019
Erleada: Pending EC decision - European Medicines Agency
Boehringer Ingelheim and Lilly provide update on Jardiance® phase III exercise ability studies in chronic heart failure
CHMP Issues Positive Opinion Recommending DARZALEX® (Daratumumab) in Combination with Bortezomib, Thalidomide and Dexamethasone in Frontline Multiple Myeloma
PerkinElmer Launches First FDA-Approved Assay Kit to Screen for Duchenne Muscular Dystrophy in Newborns
Exelixis Announces Positive Results From IMspire150, the Phase 3 Trial of Atezolizumab Plus Cotellic and Vemurafenib in People With Previously Untreated BRAF V600 Mutation-Positive Advanced Melanoma
CHMP Issues Positive Opinion to Expand CYRAMZA® (ramucirumab) Label to Include Results from RELAY Study in Patients with Metastatic EGFR-Mutated Non-Small Cell Lung Cancer
Beovu: Pending EC decision - European Medicines Agency
FDA Approves XELJANZ® XR (tofacitinib) Extended-Release Tablets for the Treatment of Ulcerative Colitis
Sarepta Therapeutics Announces FDA Approval of VYONDYS 53™ (golodirsen) Injection for the Treatment of Duchenne Muscular Dystrophy (DMD) in Patients Amenable to Skipping Exon 53
Genentech Announces Phase III Study Results for Tecentriq Plus Cotellic and Zelboraf in People With Previously Untreated BRAF V600 Mutation-positive Advanced Melanoma
Genentech's Fixed-dose Subcutaneous Combination of Perjeta and Herceptin Comparable to Intravenous Formulations in People With HER2-positive Breast Cancer
European Commission Approves EVENITY® (romosozumab) For The Treatment Of Severe Osteoporosis In Postmenopausal Women At High Risk Of Fracture
Data from Exploratory Analysis Show Merck's KEYTRUDA® (pembrolizumab) Improved Overall Survival as Monotherapy for the First-Line Treatment of Metastatic Non-Small Cell Lung Cancer Regardless of KRAS Mutational Status
Imfinzi approved in China for the treatment of unresectable, Stage III non-small cell lung cancer based on the Phase III PACIFIC trial
Novartis completes certification of initial sites in Ontario for first approved Canadian CAR-T therapy, Kymriah® (tisagenlecleucel)
Kite Submits Biologics License Application to U.S. Food and Drug Administration for Company's Second CAR T Cell Therapy
Lilly Opens First Ever Randomized Phase 3 Clinical Trial in Treatment-Naïve RET Fusion-Positive Non-Small Cell Lung Cancer
[Fam]-Trastuzumab Deruxtecan Achieved a Tumor Response of 60.9% in Pivotal Phase II HER2-positive Metastatic Breast Cancer Trial
Kite and Kiniksa Pharmaceuticals Announce Clinical Collaboration Evaluating Investigational Combination of Yescarta® and Mavrilimumab in Relapsed or Refractory Large B-Cell Lymphoma
Sanofi : Positive results presented from pivotal Phase 3 trial of sutimlimab in people with cold agglutinin disease
Sage Therapeutics to advance Huntington's candidate SAGE-718; shares up 2%
FDA Accepts Supplemental Biologics License Application for Xolair (omalizumab) for the Treatment of Nasal Polyps
Editas Medicine Announces In Vivo Proof-of-Concept Data for EDIT-301, in Development for the Treatment of Sickle Cell Disease and Beta-Thalassemia
Amgen Data From Phase 3 CANDOR Study Combining KYPROLIS® (carfilzomib) And DARZALEX® (daratumumab) To Be Presented During Late-Breaking Session At American Society Of Hematology Annual Meeting
Bristol-Myers Squibb Presents Overall Survival and Safety Data From Pivotal CC-486 Study QUAZAR AML-001
EC OKs expanded label for Vertex's Kalydeco
XBiotech Announces Agreement to Sell True Human Antibody Bermekimab Targeting IL-1a to Janssen
Nektar Therapeutics Announces Presentation of New Preclinical Data for its IL-15 Agonist, NKTR-255, at the American Society of Hematology (NYSE:ASH) 2019 Annual Meeting
Kite and the CIBMTR® Present Positive Findings From Real-World Use of Yescarta® (Axicabtagene Ciloleucel) in Relapsed or Refractory Large B-Cell Lymphoma
Novartis Kymriah® demonstrates consistent efficacy and safety outcomes in US patients when used in real-world setting
bluebird bio Presents New Data Demonstrating Long-Term Transfusion Independence and Safety for LentiGlobin™ Gene Therapy for β-thalassemia (betibeglogene autotemcel) at 61st ASH Annual Meeting and Exposition
Reblozyl® (luspatercept-aamt) Studies Evaluating Treatment of Anemia in Rare Blood Diseases Presented at American Society of Hematology (ASH) Annual Meeting
bluebird bio and Bristol-Myers Squibb Present Updated Data from Ongoing Phase 1 Study of BCMA-Targeted CAR T Cell Therapy bb21217 in Relapsed/Refractory Multiple Myeloma at 61st ASH Annual Meeting and Exposition
BeiGene Announces Clinical Data on BRUKINSA™ (Zanubrutinib) at the 61st American Society of Hematology (ASH) Annual Meeting
Seattle Genetics and Takeda Announce Additional Analyses of ADCETRIS® (Brentuximab Vedotin) ECHELON-1 and ECHELON-2 Phase 3 Clinical Trials at the 2019 ASH Annual Meeting
Amgen Selects Location For R&D Facility In The South San Francisco Biotechnology Hub
Sanofi awarded $226 million by US government to expand pandemic influenza preparedness
Takeda Demonstrates Its Long-Standing Commitment to Advancing Treatments for Rare Bleeding Disorders with Studies Highlighting Real-World Evidence and Investigational Gene Therapy at ASH 2019
Sesen Bio Initiates Rolling Submission of BLA for Vicinium to FDA
First Clinical Data for REGN5458 (BCMAxCD3) Show Positive Preliminary Results in Multiple Myeloma
Johnson & Johnson Announces Commitment to Support Republic of Rwanda's Preparedness Against Ebola Outbreak
New Data Demonstrate the Continued Clinical Benefit of Fixed-duration, Chemotherapy-free Venclexta-based Treatments in Chronic Lymphocytic Leukemia
Lilly Presents Interim Clinical Data from LOXO-305 Dose Escalation Trial in B-Cell Leukemias and Lymphomas at the American Society Hematology Annual Meeting
Bristol-Myers Squibb Announces Studies Evaluating liso-cel in Multiple Additional Patient Populations, Site of Care and Disease Areas Presented at American Society of Hematology (ASH) Annual Meeting
Findings Released from Real-World Data Analysis of Eliquis (apixaban) for the Treatment of Venous Thromboembolism in Patients with Active Cancer
Bristol-Myers Squibb Announces Liso-Cel Met Primary and Secondary Endpoints in TRANSCEND NHL 001 Study
Mallinckrodt Presents Data on a Novel Predictive Model to Identify Infants at Risk for Infantile Spasms (IS) at the 2019 Annual Meeting of the American Epilepsy Society (NYSE:AES)
Janssen Presents Initial Results for BCMA CAR-T Therapy JNJ-4528 Showing Early, Deep and High Responses in the Treatment of Relapsed or Refractory Multiple Myeloma
Kite Announces Long-term Data From ZUMA-1 Showing Approximately Half of Refractory Large B-cell Lymphoma Patients Were Alive Three Years After Yescarta Treatment
Takeda to Present Results from the Phase 3 TOURMALINE-AL1 Trial of NINLARO in Patients with Amyloidosis
Seattle Genetics Announces Updated Data of ADCETRIS® (Brentuximab Vedotin) in Combination with OPDIVO® (Nivolumab) in Frontline and Relapsed or Refractory Hodgkin Lymphoma at ASH Annual Meeting
bluebird bio Presents New Data from Ongoing Phase 1/2 HGB-206 Study of LentiGlobin™ Gene Therapy for Sickle Cell Disease (NYSE:SCD) at 61st ASH Annual Meeting and Exposition
Genentech Announces New Data on Novel Cd20-cd3 Bispecific Cancer Immunotherapies in People With Difficult-to-Treat Lymphomas
Extended Follow-up Phase 3 Data Underscore Sustained Efficacy and Safety of IMBRUVICA® (ibrutinib) in the Treatment of Chronic Lymphocytic Leukemia (CLL)
More than Seven-Year Analysis of Early Treatment with IMBRUVICA® (ibrutinib) Monotherapy Showed Improved Progression-Free Survival in Patients with Mantle Cell Lymphoma (MCL) that Relapsed or Were Unresponsive to Prior Regimen
Bristol-Myers Squibb and Acceleron Pharma Provide Update on FDA Advisory Committee for Reblozyl® (luspatercept-aamt)
FDA Approves Amgen's AVSOLA™ (infliximab-axxq), For The Same Indications As Remicade® (infliximab)
Janssen Announces BCMA CAR-T Therapy JNJ-4528 Granted U.S. FDA Breakthrough Therapy Designation for the Treatment of Relapsed or Refractory Multiple Myeloma
Bristol-Myers Squibb and bluebird bio Announce Positive Top-line Results from the Pivotal Phase 2 KarMMa Study of Ide-cel in Relapsed and Refractory Multiple Myeloma
CALQUENCE Significantly Prolonged the Time Patients Lived Without Disease Progression or Death in Previously Untreated Chronic Lymphocytic Leukemia
IMBRUVICA® (ibrutinib) Plus VENCLEXTA®/VENCLYXTO® (venetoclax) Combination Data Show High Rates of Disease Clearance in Previously Untreated Patients with Chronic Lymphocytic Leukemia (CLL)
Biogen Inc. (NASDAQ:BIIB) Aducanumab Phase 3 Topline Results Conference (Transcript)
Respectfully submitted to Seeking Alpha on 12/15/19.
Dan Watson
seeking biotech alpha 12/15/2019 the heart of biotech™
seeking biotech alpha 12/15/2019 the heart of biotech™ 
As of 12/15/2019 I remain 100% invested in the following companies;
(PFE) (JNJ) (LLY) (MRK) (AMGN) (BMY) (AZN) (ABBV) (MDT) (CELG) (GILD), (NVS) (OTCQX:RHHBY) (AMRN) (SRPT) (SGEN) (ABMD) (ISRG) (BIIB) (BGNE) (REGN) (BLUE) 
Cody Carnes – Nothing Else (Live at Passion Conference)
https://www.youtube.com/watch?v=4BhTAJ49MQ0
Disclosure: I am/we are long ABBV, AZN, AMGN, BMY, PFE, MRK, LLY, CELG, AMRN, SGEN.