The DT 2000 is a trend following indicator that I came up with about a year ago. It uses linear regression and it's purpose is to determine the trend of the overall market. It uses linear regression slope readings on 4 different symbols and its defaults are qqq, xlv, xlf, tlt. The indicator tends to work well on the weekly time frame..which makes sense because the longer time frames smooth out the choppy price action of equities.
Here's a chart, the DT 2000 is at the bottom and it's coloring the bars on the chart as well: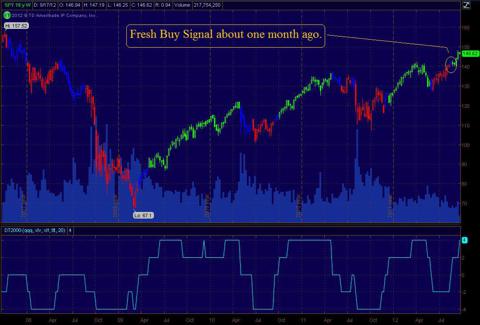 This indicator is just one more tool in my collection that I look at to help gauge risk and market bias. I don't necessarily trade this like a system in and of itself--such as buying the SPY or SSO on buy signals. What this buy signal does for me is it gives me the confidence to put on more long positions, whether the positions are stocks or covered calls or options spreads. As you can see from the chart, we've had 3 other buy signals in the last 4 years and the buy signals tend to last several months before petering out. We'll see if this signal has any legs to it.
Here's a link to the thinkscript code for you thinkorswimmers out there.
TLT