British Columbia Avalanche Kills Mining Contractor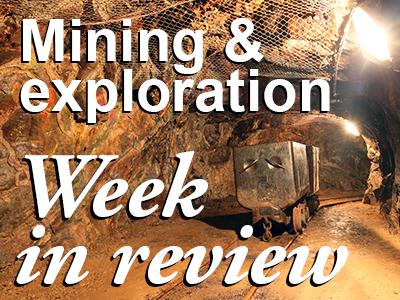 A surveyor working for Seabridge Gold (NYSEMKT:SA) lost his life in northwestern British Columbia on Tuesday. According to a company statement, "Two experienced surveyors were working on a slope near the camp located at Sulphurets Creek when the avalanche occurred. One was able to get to safety; the other was swept into a gully and did not survive. A trained emergency rescue team was at the site of the accident within minutes."
A mountainous, isolated but busy mining and exploration region east of the Alaska Panhandle, B.C.'s Golden Triangle is subject to heavy snow. Media reports, however, said the avalanche came unusually early in the season.
The B.C. Coroners Service identified the victim as 50-year-old Pat Lawrence Desmarais of Telkwa, B.C.
Cautious Optimism About South Africa
A somewhat reassuring tone accompanied news from South Africa this week. On Thursday Bloomberg reported that "gold producers represented by the Chamber of Mines signed an agreement with labour unions over changes to pay and job categories today. Members have 'overwhelmingly' accepted the offer which, when added to a [previous] two-year deal, will see wages increase by as much as 20.8%." Media accounts imply that as gold miners return to work, other miners will follow.
Also on Thursday, Reuters said the strikes caused Finance Minister Pravin Gordhan to cut his 2012 GDP forecast from 2.7% to 2.5%. He emphasized more time is needed to determine the strikes' full impact but "we will take that knock, recover from it and move on because life doesn't end now or next week. Life moves on."
On Friday Kitco.com provided another weekly summary of how major companies are faring in South Africa.
Dehua Debacle Drags On
Mandarin is no longer a requirement for Canadian miners who want to work for Canadian Dehua International's Canadian projects. But it's "definitely an asset."
The company ignited controversy earlier this month over its plan to import thousands of Chinese to work in four proposed coal mines in northeastern B.C. The federal and provincial governments support the plan, partly because the company said recruitment efforts within Canada failed. The United Steelworkers union then revealed that the company, along with HD Mining International (40% held by Canadian Dehua and 55% by Huiyong Holdings), had made Mandarin-language skills essential for at least 70 positions advertised in Canada.
Now the company has downgraded that requirement to "definitely an asset." On Wednesday the Vancouver Province reported eight such ads on the Mining Association of British Columbia's Web site. By Friday four were still in place, for a civil engineer, electrical engineer, mechanical engineer and mining engineer.
A Wednesday Vancouver Sun story reported that Canada's New Democratic Party (NYSE:NDP) urged the federal government to suspend the Chinese miners' work permits "until an investigation determines whether Canadians were given an adequate chance to show they can fill the jobs."
The outrage is hardly limited to Canada. On Friday Taiwanese animators Next Media Animation presented their take in a video. With admirable consideration for Canadians, they even provided an English-language version.
Read more about Canadian Dehua's personnel policy here.
Central Banks Move In Mysterious Ways
Gold resumed its unsteady rise above $1,700 after dropping to Wednesday's $1,698.70, the lowest price since September 7, Bloomberg reported. "More and more central banks are getting involved in the gold market," the news agency quoted David Meger of Vision Financial Markets in Chicago. In an article re-posted by MarketWatch on Saturday, 24/7 Wall St. compared central bank gold reserves with their corresponding countries' GDP and other economic highlights. There were some surprises.
The Netherlands ranks 63rd in the world for population and 17th for GDP, but ninth for gold reserves (612.5 tonnes). Like some other European countries, the Netherlands hasn't yet sold all the gold required under the Central Bank Gold Agreement, 24/7 Wall St. stated. "It may need that gold to protect itself if the euro comes unravelled."
Switzerland, ranking 95th for population and 19th for GDP, placed sixth for gold reserves (1,040.1 tonnes), an amazing feat even if it is the world's private banker, the article said.
Although Switzerland was selling the stuff from 2003 to 2008, "China added some 454 tonnes of gold between 2003 and 2009." It now ranks number 5, just slightly above the alpine repository with 1,054.1 tonnes. Although China has the world's largest population and second-largest GDP, "whenever the yuan truly floats, China will have to have more hard assets and more transparent economic readings to support it."
Second-place Germany (3,395.5 tonnes) has the world's 16th-largest population but fourth-largest GDP. The country "is supposed to be a gold seller under the Central Bank Gold Agreement," 24/7 Wall St. explained, "but it is likely to hold what it can as a buffer in case the euro breaks up or in case it needs to raise quick bailout cash for the PIIGS."
First place goes to the U.S., with a $15-trillion GDP and reserves of 8,133.5 tonnes.
As for India, it "became an aggressive buyer in 2009, when it spent almost $7 billion to buy 200 tonnes of gold, which the IMF sold to raise capital." With 557.7 tonnes the country holds 10th place, corresponding with its 10th-place, $1.82-trillion GDP.
Oddly enough, Brazil didn't nearly make the list despite its sixth-place GDP of $2.5 trillion. With just 33.6 tonnes, it "ranks a surprising 52nd in the world among gold holders," reported 24/7 Wall St. Friday's Bloomberg dispatch, however, noted that Brazil is now adding to its reserves for the first time since December 2008.
But do central banks and the International Monetary Fund really have the gold they claim to have? In a Thursday GoldSeek post Lars Schall quotes financial analyst and investment manager Marshall Auerback, who said they might "in a strict accounting sense." But he believes they're leasing the gold. "From a flow standpoint, it's irrelevant whether the gold is sold or lent, as it still appears as supply in the market."
He added, "Gold that has been lent out and melted down to become, say, part of some Indian bride's dowry will not be coming back into the market. Ultimately, I think, the central banks will ratify this in an accounting sense by reclassifying the leased gold as sold, so from a stock standpoint, that will validate [the Gold Anti-Trust Action Committee's] argument that there is far less gold being held by the central banks than is commonly believed."
Schall tried posing some GATA questions to key institutions. As his correspondence shows, answers weren't forthcoming.
No More Hana Banana in Botswana
Under a definitive agreement announced Wednesday evening, Cupric Canyon Capital LP will acquire 100% of Hana Mining Ltd. (hnmff.pk) in an all-cash deal worth $0.82 a share or approximately $67 million. Cupric already holds an 18.6% interest in the company. After closing Wednesday at $0.455, Hana shares shot up to a Thursday high of $0.82, then settled at $0.79 until Friday's close.
Subject to shareholder and regulatory approval, mining writers will lose a significant source of repetitive rhyming. Hana's Ghanzi Copper-Silver Project in northwestern Botswana has provided a steady stream of news, much of it from the Banana Zone.
Disclosure: I have no positions in any stocks mentioned, and no plans to initiate any positions within the next 72 hours.