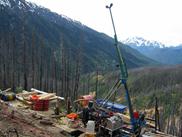 Equity financing plunged 41%. Market caps plummeted 43%. Those were the dismal numbers released November 5 by PricewaterhouseCoopers LLP for the top 100 TSX Venture mining juniors for the year ending June 30. Of course, the Junior Mine 2012 report surprised no one. Instead-and despite its cautiously optimistic outlook for 2013-PwC merely confirmed the word on the street and the mood in the boardrooms.
But not for all companies. The same day an announcement by Brixton Metals (OTC:BXTMF) sent its stock from a November 5 open of $0.15 to a close of $0.20. The next day the price hit $0.26 before settling back at $0.20. Brixton's news came from its Thorn Property, a 28,000-hectare silver-gold-polymetallic project in northwestern British Columbia.
"What we're showing is evidence of a system that has significant scale potential from what most people previously thought was a small, narrow, high-grade system," says chairman/CEO Gary Thompson. "I think it's clear now that we're dealing with about a 150-metre zone, about 100 metres of true width, which is quite substantial."
Assays from hole THN 12-83 show:
165.3 grams per tonne silver, 1.37 g/t gold, 0.11% copper, 0.92% lead and 1.25% zinc for a gold-equivalent of 5.67 g/t or a silver-equivalent of 314.59 g/t over 150.5 metres
(including 284.15 g/t silver, 1.49 g/t gold, 0.12% copper, 1.31% lead and 1.78% zinc for a gold-equivalent of 8.41 g/t or a silver-equivalent of 466.28 g/t over 73.7 metres)
(including 725.55 g/t silver, 2.01 g/t gold, 0.13% copper, 3.33% lead and 3.68% zinc for a gold-equivalent of 18.89 g/t or a silver-equivalent of 1,047.54 g/t over 13 metres)
The intercept starts at 24 metres and ends at 174.5 metres, with true width estimated at approximately 100 metres. Grades are uncut.
Hole 12-80 showed these results:
162.94 g/t silver, 0.34 g/t gold, 1.24% copper, 0.07% lead and 0.14% zinc for a gold-equivalent of 5.89 g/t or a silver-equivalent of 326.71 g/t over 7 metres
(including 500 g/t silver, 0.69 g/t gold, 4.03% copper, 0.11% lead and 0.22% zinc for a gold-equivalent of 18.01 g/t or a silver-equivalent of 998.58 g/t over 2 metres)
This intercept runs from 104.5 metres to 111.5 metres, with true width yet to be determined. Still pending are results for six additional holes, as well as 362 soil samples that might indicate the original location of a rock that graded 265 g/t gold and 631 g/t silver.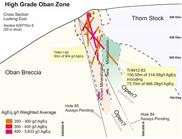 The company states that the project's Oban zone remains open in several directions, with recent drilling expanding high-grade mineralization at depth to the south-southeast by 70 metres.
As a geologist, Thompson finds hole THN 12-83 especially remarkable. "I think the interesting point is that the mineralization is actually hosted within the Thorn porphyry stock unit, which is a little unusual because most of the mineralization that we've seen is hosted within the Oban breccia zone. So my gut's telling me there's some structural control to the system that's probably propagating structures into the Thorn stock, allowing for the associated mineralizing fluids to drive into the stock. I think this zone is under-explored and we're learning new things each time we work on the system."
Overall he describes the project as "a silver-rich, polymetallic system. We're looking at around 50% of the value coming from silver, maybe 30% from gold and about 20% combined base metals."
It's early days, though, with Phase II drilling just wrapped up. An approximately six-month season resumes in May. "We were tempted to do a winter program, but it's challenging from a cost perspective," Thompson says. Consequently he expects an initial resource in 2014. "I like to be as aggressive as the capital will allow, but we're also looking after our shareholders and our share structure."
Management, which holds 21% of shares, considers costs carefully. A fixed-wing airstrip has cut transport expenses, allowing for a one-hour flight from Whitehorse followed by a five or six-klick helicopter hop from camp to site. "We're now under $400 a metre on an all-in cost basis. For this part of the world that's pretty good. We continue to drive down our operating costs to put more money into the ground."
That money has put Brixton well ahead of schedule in its option agreement with Kiska Metals (OTC:KSKTF), he says. "We have until the end of 2014 to spend $5 million, and we think we're over the $4-million mark now. So we're less than $1 million from our 51% earn-in. Kiska may elect to JV at that 49/51 stage. If they elect not to, we can go to 65% by spending an additional $10 million. Then they have the option again to JV at the 35/65 stage or take project dilution."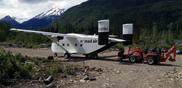 Thorn's location obviously makes infrastructure challenging. But not insurmountable. The project's about 130 kilometres from the town of Atlin and lies between the past-producing Golden Bear gold mine to the southeast and Chieftain Metals' (OTC:CFTMF) Tulsequah gold-silver-polymetallic project to the north. Tulsequah, which itself includes two past-producers, began construction under a previous owner when the 2008 crisis intervened. Since taking over in 2010, Chieftain has completed all permitting and expects to reach feasibility by year-end. The company plans to build a 128-kilometre road to Atlin, connecting with highways to the deep-water port of Skagway on the Alaska Panhandle. Although Tulsequah might rely on diesel-generated electricity, Chieftain's June 2011 PEA considered the possibility of powering the mine with its own run-of-river hydro project.
Even with the favourable market response to Brixton's latest news, Thompson maintains, "At these price levels Brixton is a unique story, showing a very robust, potentially large-scale high-grade silver-rich polymetallic deposit in a safe jurisdiction. We think it provides the opportunity to participate in what we believe to be a potential world-class asset at a relatively early stage."
Disclosure: I have no positions in any stocks mentioned, and no plans to initiate any positions within the next 72 hours.