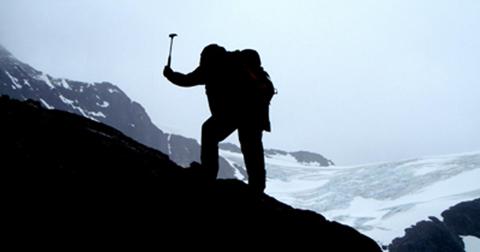 When Gavin Dirom talks about drawing on the past to address future challenges, he might be speaking from personal experience. The president/CEO of the Association for Mineral Exploration British Columbia is actually Gavin Dirom III, named after his father and grandfather. They both held senior positions with the organization. "My grandfather was the association's president in the '60s, my father was a director in the late '80s and early '90s," he explains. Now, with AME BC celebrating its 100th anniversary, Dirom might hold an ideal position to appreciate the group's past and help guide its future.
"All this grew from somebody's idea in 1912, just a few people to start. Then it became an organization that's still going strong a hundred years later," he says.
"It's a big part of our history. It's province-building history that prospecting, mineral exploration and mining has contributed to in a major way. Most of the province was opened up through the efforts of those early pioneers."
It's a colourful story too. Douglas Fetherling's book The Gold Crusades: A Social History of Gold Rushes 1849 to 1929 relates how mining transformed what was a land of native settlements, Hudson Bay Company posts and, on Vancouver Island, a few colonial officials. By 1852, as the California gold rush played out, over 500 prospectors wandered north. A major strike was found on the Fraser River in 1856. The following year, hundreds more would-be miners, mostly American, showed up en masse, transforming the isolated outpost of Victoria and threatening British sovereignty. Then in 1858 Governor James Douglas, who by no means wanted more Americans cluttering up his colony, made the mistake of shipping 800 gold ounces to the San Francisco Mint for refining. Word spread quickly and about 30,000 additional adventurers arrived that year. The Fraser River Gold Rush was on. But by 1862 even that was superseded by Billy Barker's spectacular find, sparking the Cariboo Gold Rush of Barkerville fame. And that was just another stepping stone towards the granddaddy of all gold rushes at the mother of all motherlodes, the Klondike of Dawson City fame in 1898.
Prospectors fanned out to other regions too. Margaret Ormsby's definitive work British Columbia: A History lists some of the deposits found by the 1880s in southeastern B.C. "Silver-lead and zinc had been discovered in Slocan, coal in East Kootenay, copper near Phoenix and lode gold at Camp McKinney, Fairview and Hedley." Rising silver prices in 1895 sparked a regional boom in 1896. Ormsby quotes an historic source describing the town of Nelson as "short of frills, boiled shirts, parsons, lawyers and prohibition orators" but not "mule skinners, packers, trail blazers, remittance men and producers, with a slight trace of tenderfeet."
The region, Ormsby writes, had something of the character of the rushes to the placer mines of Cariboo [in central B.C.], Omineca [north-central B.C.] and Cassiar [far-northern B.C.]. In its first years, Rossland had as colourful a floating population of Americans, "Cousin Jacks" (Cornishmen), Irish, Croats and Scandinavians as ever graced the camps of Idaho and Colorado. For these flamboyant and roistering prospectors, claim-jumpers and stock-manipulators, Sourdough Alley provided every kind of entertainment: prize fights in theatres, keno tables in gaming-houses; boa-feathered dance-hall girls; bars; and orchestras and bands which played round the clock.
Yes, exploration and mining brought civilization-in a manner of speaking. It also helped bring about settlement, law, infrastructure and economic diversification. Overall it played a profound role in shaping Canada's most westerly province.
Meanwhile, that small group in 1912 has grown to 4,800 AME BC members categorized as junior and major companies, geoscientists, prospectors, engineers, entrepreneurs, suppliers, mineral producers and associations. They also hold expertise in law, accounting and public policy, all mutually beneficial vocations that support the sector. They work in about 100 countries, with Vancouver boasting the world's highest concentration of exploration and mining professionals. "That's what the evolution of exploration and mining in B.C. has led to," says Dirom. "We're fortunate to be the centre of mineral exploration excellence in the world."
According to AME BC stats, the province's mineral exploration and mining sector employs 28,000 people and also provides several thousand spinoff jobs. Last year $463 million was spent on exploration, up from $322 million in 2010 and $154 million in 2009.
"Last year's $463 million was a record," says Dirom. "We may not hit that mark this year but we'll be fairly close. Maybe $400 million isn't out of the question, so that would be a near record. If you can keep that kind of investment in the province, it bodes very well for the future."
While the legendary Vancouver Stock Exchange has often been associated with Howe Street chicanery, Dirom points out that many stock promoters supported enterprise while profiting investors. "Look at Murray Pezim. He was able to deliver. Hemlo, one of the greatest gold finds ever, was attributable to his tenacity to raise money in the market and continue to explore, drill and define a resource."
As for the future, it does present challenges. AME BC has identified its top seven issues as aboriginal relations and consultation, taxation and economic incentives, geoscience, human resources, infrastructure, land access and use, and permitting.
"I have the utmost confidence that we'll be able to work through these various issues because we're the type of people who solve problems," Dirom says. "We draw on the strength of where we're coming from. Success doesn't come overnight. Explorers, prospectors and miners have a number of common traits. They're very optimistic people but they're also very patient."
But politically, aren't these bad times for the industry? Last October B.C.'s supposedly pro-mining party denied an environmental assessment certificate for Pacific Booker's (NYSEMKT:PBM) proposed Morrison copper-gold-molybdenum mine, giving reasons that hardly seemed environmental. At the federal level two years ago, the Canadian Environmental Assessment Authority found largely non-environmental reasons to reject Taseko Mines' (NYSEMKT:TGB) Prosperity gold-copper proposal.
"There's always challenges, politically speaking," Dirom concedes. "There's always project-specific challenges. Overall I haven't met any politician who's fundamentally opposed to prospecting, exploration and mining in B.C. That hasn't always been the case. But I can tell you these days there's strong support for the sector."
But the sector has to broaden its exploration base, Dirom says. "New discoveries call for grassroots exploration as much if not more than the brownfield sites."
One top-seven challenge Dirom emphasizes is "the demographic shift." A generation with expertise is nearing retirement while a new generation is entering the industry. There are relatively few people in between. "It's starting to happen now and over the next 10 years it'll be more prominent," he says. But again, the sector draws on its past. "There's a lot of mentoring now, with those who've been in the industry giving back."
Dirom's looking forward to meeting old-timers and newcomers alike at AME BC's hundredth-birthday bash, a gala (and sold-out) event at Vancouver's Hyatt Regency on November 27. "We're really excited about it. We're expecting over 500 folks and it'll be quite a diverse group, which is representative of the organization today."
The event's theme will be "recognizing and honouring the past, and learning from the past as well. There were some very innovative things done by some very bold people, so we need to honour and respect that. We need to recognize that these people contributed to a sector that's fundamental to our way of life," he says.
"So it's about the spirit of these individuals and their unrelenting, passionate ways. Then we have to ask how we move forward. We've got a great foundation-how do we turn that into a fantastic next hundred years?"
Disclosure: I have no positions in any stocks mentioned, and no plans to initiate any positions within the next 72 hours.