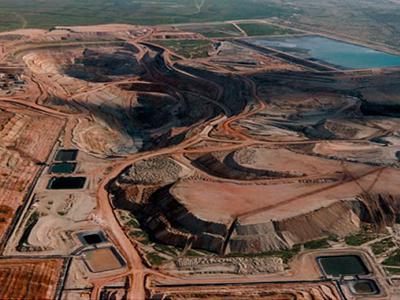 Nevada has given up 200 million ounces of gold so far. Once known as America's "Silver State," it now produces about 73% of U.S. gold and hosts the world's second-largest concentration of the yellow metal. Favourable policies and extensive infrastructure complement the generous geology and correspondingly busy activity. On January 7, Liberty Silver (OTC:LBSV), Renaissance Gold (OTC:RNSGF), Midway Gold (NYSEMKT:MDW) and Paramount Gold and Silver (NYSEMKT:PZG) all released news from the bountiful jurisdiction.
New claims and lower cutoff grades helped joint venture partners Liberty Silver and Renaissance Gold more than double their Trinity resource in Nevada's Pershing County. The new estimate gives separate, imperial numbers for the oxide and sulphide deposits, both contained within the same potential open pit.
Using a cutoff of 0.5 silver ounces per ton, Trinity's oxide deposit shows an inferred category of:
6.43 million tons averaging 1.134 ounces per ton silver for 7.29 million silver ounces.
The sulphide deposit uses a cutoff of 0.8 silver-equivalent ounces, showing an inferred category of:
19.79 million tons averaging 1.07 ounces per ton silver, 0.217% lead and 0.354% zinc (or 1.46 silver-equivalent ounces per ton) for 21.16 million silver ounces, 85.96 million lead pounds and 140.25 million zinc pounds (or 28.84 million silver-equivalent ounces).
An historic photo shows where mining ended in 1996
at the Sleeper project, now held by Paramount Gold and Silver.
The silver-equivalent total for both deposits comes to 36.1 million ounces inferred. Since the previous resource released in December 2011, Trinity's oxide silver estimate increased 131%, while the sulphide silver-equivalent estimate increased 132%. The 2011 estimate used cutoff grades of 1.37 ounces per ton silver for the oxide deposit and 1.69 ounces per ton silver for sulphides. The updated resource takes higher silver prices into consideration.
But the JV partners also attribute the resource increase to historic drilling on the adjoining Hi Ho Silver property, which they picked up in October. The 40-hectare acquisition raised Trinity's land package to about 4,250 hectares.
The Trinity open pit was mined during 1988 and 1989, when it produced five million silver ounces. Both step-out and confirmation drilling began last year to expand and upgrade the resource. Liberty acts as project operator.
Liberty's stock closed January 4 at $0.60, opened January 7 at the same price, then closed on the day's high of $0.73. Renaissance opened January 7 at $0.55, two cents above its previous close, then sustained a daily high of $0.57 to the closing bell.
Step-out and confirmation drilling have also taken place at Midway Gold's Gold Rock project in Nevada's White Pine County, with new results released January 7. Estimates for true widths were provided for some intervals. Highlights include:
3.26 grams per tonne gold over 9.1 metres (including 9.12 g/t over 3 metres)
0.89 g/t over 27.4 metres true width (including 3.53 g/t over 1.2 metres) (including 5.1 g/t over 1.5 metres)
1.23 g/t over 18.3 metres true width (including 4.9 g/t over 1.5 metres) (including 7.44 g/t over 1.5 metres) (including 3.77 g/t over 3 metres)
0.58 g/t over 36.6 metres true width
0.93 g/t over 18.3 metres true width (including 4.46 g/t over 1.5 metres).
The top-most intercept began at three metres from surface while the lowest stopped at a vertical depth of 310 metres. Assays are pending for six more holes.
Gold Rock has a February 2012 resource estimate using a 0.27 g/t gold cutoff to show:
an indicated category of 12.97 million tonnes averaging 0.74 g/t gold for 310,000 gold ounces
an inferred category of 17.89 million tonnes averaging 0.58 g/t for 331,000 ounces.
In a statement accompanying the assays, Midway president/CEO Ken Brunk said the drilling confirms historic results while step-outs can potentially expand the resource. "The company anticipates that Gold Rock will be the next project in our portfolio to go into production, following the construction and start-up of the Pan project," he added. Gold Rock is just eight kilometres from Pan.
Midway shares opened January 7 at $1.40, two cents above their previous close, with the chart staying flat throughout the day.
In other January 7 Nevada news, Paramount Gold and Silver announced results from its Sleeper gold-silver project in Humboldt County, which includes a former open pit mine. Intervals are approximate true widths.
Highlights from the Pad Zone include:
0.453 grams per tonne gold and 0.5 g/t silver over 48.77 metres
0.65 g/t gold and 0.9 g/t silver over 16.76 metres
0.817 g/t gold and 7.8 g/t silver over 9.14 metres.
Pad zone intervals began at 21 metres from surface, with the deepest ending at 317 metres vertical depth.
South Sleeper zone highlights include:
0.223 g/t gold and 2.1 g/t silver over 47.24 metres
0.23 g/t gold and 3.3 g/t silver over 44.2 metres
0.232 g/t gold and 3.9 g/t silver over 12.19 metres.
South Sleeper zone intervals began at 100 metres from surface. The deepest ended at 412 metres vertical depth.
The project's September 2012 PEA forecasts a US$695-million pre-tax NPV using a 5% discount rate, a 26.8% IRR and a 17-year lifespan averaging 172,000 gold ounces a year. The figures are based on a gold price of $1,384.
Sleeper's measured and indicated resource estimate shows:
326.96 million tonnes averaging 0.33 g/t gold and 3.86 g/t silver for 3.48 million gold ounces and 40.6 million silver ounces.
The inferred category shows:
223.62 million tonnes averaging 0.27 g/t gold and 2.84 g/t silver for 1.97 million gold ounces and 20.45 million silver ounces.
The January 7 assays come from drilling outside the resource. Paramount is also working on a PEA for its San Miguel gold-silver project in northern Mexico.
Paramount closed January 4 at $2.26, opened January 7 a penny higher and nudged a daily high of $2.28 before closing on the day's low of $2.24.
Disclosure: I have no positions in any stocks mentioned, and no plans to initiate any positions within the next 72 hours.