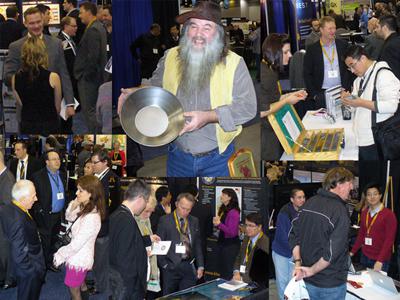 A marketplace of ideas about the market itself-that partly describes the 2013 Vancouver Resource Investment Conference. This year the Cambridge House event brings several hundred companies together with prospective investors. But the conference also features about 50 speakers with maybe 50 divergent (although often overlapping) perspectives on the state of the juniors.
Among those on hand January 20 were Michael Berry speaking on Obamanomics, Rick Rule on his love for bear markets and Chris Berry on specific critical and strategic commodities for 2013.
Canadian-born Michael Berry, co-founder of Discovery Investing, fell just short of doom and gloom in his cautionary tale about the transformation of United States economics, culture and governance. More than ever before, he said, taxation, deficit spending and redistribution of wealth are firmly entrenched as government polices. The purpose, he stated, was to remake America. The program has disturbing implications for Canada and the rest of the world, he added.
"We have now turned the corner with the second administration of Barack Obama. Politics, not economics, is now the driving force-period, end of story."
When it comes to boosting its power, U.S. government methods are myriad: Executive orders, challenges to the constitution, the appointment of czars who aren't checked by the constitution, redistribution of wealth, repression of investment and market manipulation of gold, silver and currency. Outright confiscation, Berry warned, has happened historically and could happen again.
Helping rationalize government policies is a government belief that "anyone in government is smarter than anyone else." Society, meanwhile, becomes ever more polarized. "It's not violent yet but it could be violent at some point in the future," he warned. "It's happened before."
But just from an economic viewpoint, the future looks bleak indeed. "Sometime around 2030, which is not all that far in the future, we will have amassed 200% federal debt relative to GDP…. That's exactly what the Obama administration wants to do…. When that happens, the current structure will not be sustainable and the government will have to step in and reorganize the economy."
Massive, growing government debt "is the tool the government is using to socialize the economy," Berry stated. "It's not a legacy we want to leave to our children. But it is a legacy with great implications for gold and silver."
To protect themselves, Berry suggested investors "must eschew the dollar and every fiat currency you can think of," own precious metals and consider other investments including water and infrastructure.
"I think you need to be looking at risk, thinking about risk, and those ten-baggers that will help you tread water as the U.S. moves towards an ultimate socialist state," he concluded.
Following with good-natured overstatement was Rick Rule, chairman of Sprott Global Resource Investments. "There's basically nothing I could say that would depress you more," he quipped. But ever the contrarian, Rule added, "It defines me well that when everyone else seems to be depressed, I'm on my way to being elated."
He predicted the junior bear market-the "nice, ugly bear market," as he called it-has another 18 to 24 months to go. And for anyone who wants to make money, "it's an extremely good thing." It's time to do some bargain-hunting, he maintained.
Furthermore, bear markets beget bull markets, which beget bears and so on. Referring to the 1987-to-1990 bear, he said, "Remember that kicked off a ferocious bull market, the '92-to-'96 bull market … a tenfold bull market. The market of course went off the cliff in 1997, so there was the '97-to-2002 bear market, a truly dismal bear market-when my net worth skyrocketed."
That was followed by "a scorching hot bull market, the 2003-to-2006 bull market. As recently as 2008, the precipitous or psychotic break we had in 2008, was followed by a scorching-hot 2009-to-2010 bull market. Anybody see a pattern here?"
To those who think the bull will never return, Rule has two words: "supply" and "demand."
Supply of resources was constrained by underinvestment following a 1982-to-2002 bear market, financing difficulties and "government theft." Natural resource projects are "very efficient to steal," he said, because they're physically trapped in situ.
On the demand side, Rule anticipated one of Chris Berry's points. "People are becoming slowly more free and, as a consequence, rapidly more rich…. They're making more money, they can afford to compete with you for the resources that sustain your lifestyle."
Chris Berry, Michael's son, founder of House Mountain Partners and collaborator with his father in Discovery Investing, emphasized that the world's growing middle class needs cheap, reliable energy, a fact that inspires his interest in "energy minerals" used to generate or store electricity. China, its fellow BRIC countries (Brazil, Russia and India), and others including Turkey, Indonesia, Columbia and Vietnam, all have Berry "reasonably optimistic about strategic minerals in 2013."
Among specific investment strategies, he suggested investors watch for undervalued companies that might attract M&A suitors. He likes companies that have cash flow or will start production within two years, and those with off-take agreements. He recommended investors study a company's balance sheet, share structure, burn rate and other financials. And he emphasized that "bigger is not better." He'd rather see a smaller deposit with a commodity that the market actually wants.
As for specific commodities, uranium has "the brightest future," he said. The Russia-U.S. megatons-to-megawatts program supplies America with 24 million pounds of uranium a year, half of its consumption. The program ends this year. Japan's new government plans to re-open 50 reactors, calling for another 15 to 18 million pounds.
Major suppliers have halted exploration and expansion while waiting for a significantly higher price. The last two weeks have seen two significant takeovers, the Russian state company ARMZ getting Uranium One (OTC:SXRZF) and Denison Mines (NYSEMKT:DNN) nabbing Fission Energy (FSSIF.PK).
As for lithium, it's "definitely one to watch in 2013," he said. And he's "still a huge believer in graphite."
He also likes tungsten and select rare earth elements. "When I say 'select,' I talk about the big five: dysprosium, neodymium, europium, terbium, scandium. These are the elements I want to look for and find in economic quantities in safe geopolitical jurisdictions."
Other commodities he's watching this year include water, lumber and "I really, really like silver."
He disputes those who claim the commodities supercycle is dead. "When you've got four billion people who've got one-tenth of the quality of life that we do, and know how we live, I don't see how that force can be stopped," he said.
Disclosure: I have no positions in any stocks mentioned, and no plans to initiate any positions within the next 72 hours.