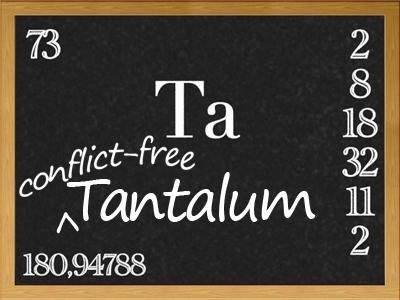 Tantalum is not well-known. Rarely mentioned in financial news, the metal is often traded in opaque transactions between processors and end-users. Its worldwide production is a fraction of the output for more common metals like aluminum and copper.
Tantalum demand has been estimated between six and seven million pounds per year, a tiny market indeed. But do not assume that tantalum is unimportant, as it plays a significant role in nearly all high-end electronics. The metal is irreplaceable. It cannot be substituted with other, more commonly available elements or alloys without losing qualities in the finished components.
Tantalum production can't keep pace even with current demand. Meanwhile new products require additional supply. End-users are acutely aware of this shortfall. Since Australia's Wodgina mine closed in 2012, a major source of tantalum production was lost and spot prices have risen steadily. Wodgina accounted for about 1.4 million pounds per year. Now Australia produces just a few thousand pounds a year.
Brazil remains a dominant tantalum source, with several operating mines. About a quarter of historic world supply originated from the country. The Mibra mine, operated by Companhia Industrial Fluminense, is the country's largest tantalum producer. But even this mine was limited to processing tailings during recent months while expansion plans were underway to increase open pit production. Mibra is expected to produce about 400,000 pounds tantalum per year, still a relatively small amount of the world's total projected demand.
Ethiopia was once a significant producer. The Kenticha mine is considered to have one of the world's largest tantalum resources. But production has been suspended due to contamination from uranium, which caused problems with radioactivity during transport. In 2012 Ethiopian exports were halted and the country is considering new processing capacity to deal with the problem. However Elinito, a significant mine developer with other African assets, recently offered to invest in a processing plant to restart Kenticha's production. The plant would use a hydrometallurgical circuit to remove uranium, yielding a high-purity tantalum-niobium concentrate. For the immediate future, however, this is still on the drawing board, pending government approval and development of the processing plant.
Mozambique has also been a significant tantalum exporter. Here too, production shortfalls have limited output in recent years. The Marropino mine is the country's largest producer, operated by the Noventa Group. The company has reported a string of operational problems including severe weather, processing plant shutdowns and unreliable electrical supply, all of which cut production sharply. Mine output has fallen from more than 5,300 pounds to just 1,600 pounds in 2012 and early 2013. While the company states that it aspires to increase future tantalum production, the situation in Mozambique is not unique. It illustrates tantalum's tenuous supply outlook.
With few legitimate sources for tantalum production, much of the world supply comes from conflict minerals. They are delivered by small-scale artisanal output that is smuggled across borders to be sold from neutral countries. For example, in the Democratic Republic of the Congo, rebel groups control large parts of the country. They have imposed dictatorial rule on local communities and generated small-scale mine production under conditions so harsh that they actually approach slavery. High-value minerals and diamonds, including tantalum concentrate, are smuggled into neighbouring countries like Rwanda and sold to finance the rebels' activities. Since there are no producing tantalum mines in Rwanda, it is likely that much of the country's output comes from DRC conflict sources. One could make the same assumption for several other nearby countries.
The human and environmental toll of mining and smuggling conflict minerals presents a crisis. However, in an age when money is often the only consideration, this human rights abuse is often ignored. The proportion of this shadow tantalum inventory in total world supply is difficult to estimate.
Maybe only half a dozen companies in the world are able to process tantalum concentrate and refine it into high-grade tantalum products for industrial uses. It can be very difficult to trace their sources, as well as the prices paid to acquire the raw concentrates.
The United Nations has been reporting these problems for at least 10 years. Within the DRC there has been some effort to restrict conflict tantalum and encourage legitimate mines. But so far this amounts to a very small scale of operations. Therefore the onus has been placed on tantalum processors and consumers to certify their sources.
The American Dodd-Frank legislation that took effect in 2010 requires all public companies listed in the United States to document that they do not participate in the consumption or trade of conflict minerals. This also applies to doing business with offshore suppliers and processors. Not yet known is how these regulations have affected the tantalum market. But one would assume future supply sources will face greater scrutiny.
Given limited supply, industrial consumers have adapted by building stockpiles. This has helped offset the production decline of recent years. Stockpiles are shrinking, however, making shortages more likely to occur.
That suggests price increases, which have already taken place. Further increases are foreseeable. But even with higher prices, there are few immediate prospects for increased mine production. And many current producers have already committed their future production to third-party buyers. Even efforts to expand production could take a year or more. Additionally, those efforts could inhibit output in the short term while building additional future capacity.
The fact that tantalum is irreplaceable in many of its uses suggests that higher prices will do little to curb consumption. For example, tantalum is required for the fabrication of capacitors, a critical component in most electrical circuits and high-tech products. Only capacitor-grade tantalum has the properties that allow these components to hold such a volume of electrical charge. Yet tantalum comprises a fraction of the product's cost. Demand therefore remains relatively inelastic even in the face of higher prices.
Additionally, new technologies have created further demand. For example, replacing the tungsten filament in light bulbs with a tantalum alloy greatly increases reliability. Tantalum alloys have long been known for advantages of hardness and durability. In component designs where metal fatigue cannot be tolerated, a tantalum alloy is irreplaceable. That applies to a wide range of applications, from gun barrels to jet turbine blades. Even some medical devices are now coated in tantalum for enhanced strength and resistance to corrosion.
The implications are clear. If tantalum demand remains firm or is in fact rising, and if mine production cannot meet market demand, prices will continue to rise. But even a significant price increase is unlikely to put this market in balance, due to the slow process of increasing supply and the lack of substitutes.
The logical long-term remedy is new, advanced-stage projects. There are several undeveloped tantalum deposits with potentially positive economics. As tantalum prices continue to rise, these projects could suddenly find development capital to put them on the fast track.
Many mining projects have stalled lately due to uncertain market conditions and funding difficulties. But the world's largest electronics manufacturers, for example, have annual sales worth billions. Their products rely on tantalum. Alliances or strategic partnerships with miners could help put new projects into production. That, in turn, could help manufacturers secure legitimate, conflict-free supply even as prices continue to rise.