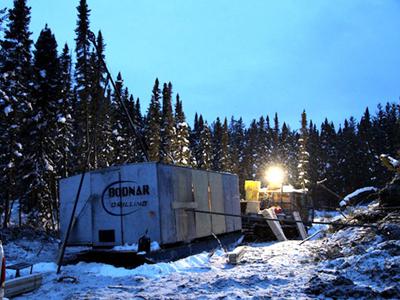 Great Northern Gold Exploration's Wekusko property hasn't always delivered the grade. But four holes reported April 29 have ended a 2,133-metre Phase I program on a high-grade note, extending the McCafferty zone at depth and offering encouragement to the project in northern Manitoba's Flin Flon greenstone belt. The results show:
14.6 grams per tonne gold over 1.5 metres, starting at 49 metres in vertical depth
1.52 g/t over 1.25 metres, starting at 92 metres
9.19 g/t over 1.15 metres, starting at 56 metres
5.98 g/t over 1.2 metres, starting at 90.5 metres.
True widths were estimated around 80%. The company labelled the second result a poor sample recovery due to broken and ground-up core.
Another five exploration holes, however, failed to find expansion potential. Of 11 previous holes reported March 13 from the same one-kilometre by three-kilometre grid, 10 didn't show significant gold but one hole produced intervals of:
131.1 g/t gold over 0.3 metres, starting at 85.5 metres
3.73 g/t over 0.5 metres, starting at 85 metres.
True widths weren't available.
A non-43-101 in-house estimate by a previous operator suggested McCafferty holds 16,761 tonnes averaging 13.89 g/t for 7,483 gold ounces. An historic, non-43-101 estimate for Wekusko's Gold Dust zone suggested 58,356 tonnes averaging 14.06 g/t for 26,361 gold ounces. Another non-43-101 estimate for the project's past-producing Ferro Mine suggested 73,760 tonnes averaging 15.31 g/t for 36,111 gold ounces.
While the estimate "is modest in size," concedes Great Northern's May 2012 technical report, "the grade is relatively high and, in aggregate, the tonnage and contained ounces exceed [what] was mined successfully from the adjacent Rex-Laguna past-producer. It should also be noted that the erratic distribution of gold in these zones as indicated in drill intercepts makes ore resource estimation difficult."
Summer exploration will venture beyond the McCafferty grid to include soil sampling, mapping and prospecting on other parts of the property.
The company holds an option to earn 100% of the 8,880-hectare Wekusko as well as a separate 100% option on the nearby 60-hectare Ferro Mine. The package lies 23 kilometres southeast of Snow Lake, home to HudBay Minerals' (NYSE:HBM) Lalor mine and QMX Gold's (OTCPK:QMXGF) Snow Lake mine, a past-producer that QMX plans to re-open.
Great Northern opened April 29 at $0.06, half a cent over its previous close, then ended the day at $0.065. The stock's 52-week high and low were $0.18 and $0.05. With 20.22 million shares outstanding, the company's market cap came to $1.31 million.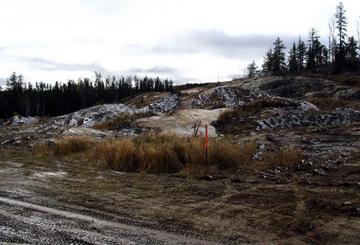 In other April 29 gold news, an option adjacent to its 100%-held Juby property allowed Temex Resources (OTCPK:TMXRF) to substantially increase its resource estimate.
Located in northeastern Ontario's Timmins-Kirkland Lake camp, the project saw a 140% jump for indicated ounces and an 11% increase for inferred. Using a 0.4 g/t cutoff, the deposit's four zones total:
an indicated category of 25,300 tonnes averaging 1.28 g/t for 1.04 million gold ounces
an inferred category of 74,200 tonnes averaging 0.91 g/t for 2.17 million ounces.
Grades were capped at 30 g/t. The resource hasn't been pit-constrained but it remains open at depth and along strike, Temex stated.
The deposit extends from the company's 100%-held Juby property into the Golden Lake property, on which Temex may earn 100%. Golden Lake drilling added more than a kilometre of strike to the deposit. The Juby project includes both properties and totals 5,837 hectares.
The company also announced new assays from the resource's western extension. Some highlights show:
0.72 g/t gold over 58.2 metres, starting at a down-hole depth of 198.7 metres (including 1.68 g/t over 5.55 metres)
1.52 g/t over 45.15 metres, starting at 73.85 metres (including 2.3 g/t over 22.25 metres)
1.11 g/t over 16.71 metres, starting at 252.59 metres (including 2.47 g/t over 2.12 metres)
0.78 g/t over 20.64 metres, starting at 116 metres.
True widths were estimated between 65% and 75%. The assays show mineralization is "continuous and consistent with previously reported results and remains open to the northwest," Temex stated.
The company's other focal point is the Whitney project in Timmins, which features a September 2012 resource using a 0.3 g/t cutoff:
a measured category of 2.9 million tonnes averaging 2.44 g/t for 232,100 gold ounces
an indicated category of 8.66 million tonnes averaging 1.95 g/t for 544,000 ounces
an inferred category of 4.02 million tonnes averaging 1.79 g/t for 231,900 ounces.
Temex holds a 60% interest in the joint venture and acts as project operator, with Goldcorp (NYSE:GG) holding the remaining 40%.
Temex opened April 29 at its previous close of $0.17, then reached a high of $0.20 before sliding to $0.18. The 52-week high and low were $0.36 and $0.095. The company's 160.41 million shares equalled a $28.87-million market cap.