Uranium News From Saskatchewan & Beyond (June 29- July 5, 2013)
Please Note: Blog posts are not selected, edited or screened by Seeking Alpha editors.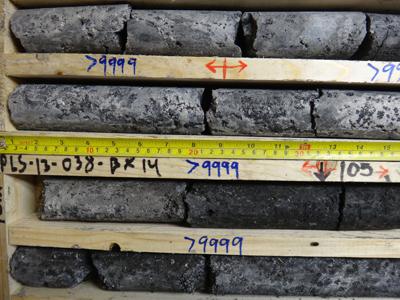 Conductive trend links Forum's Clearwater with Patterson Lake South
A conductive trend hosting the Patterson Lake South discovery extends into Forum Uranium's (OTCQB:FDCFF) adjacent Clearwater property, the company announced July 3. Preliminary results from an electromagnetic and magnetic survey link the trend with the high-grade, near-surface uranium found by Alpha Minerals (ESOFD.PK) and Fission Uranium (FSSIF) over the last several months.
Along with three other companies, Forum took part in a jointly funded VTEM-plus time domain survey to fly contiguous PLS-area properties held by Forum, Aldrin Resource (AOUFF.PK), Skyharbour Resources (OTCQX:SYHBF) and Athabasca Nuclear. A radiometric survey will follow later this summer to search for radioactive boulder trains.
Clearwater sits adjacent to the southwest of Patterson Lake South and also borders properties that would form part of the Western Athabasca Syndicate. Under a memorandum of understanding announced June 24, Skyharbour and Athabasca Nuclear plan to combine their Athabasca Basin properties into a single 287,130-hectare package. The two companies, plus Lucky Strike Resources (LKYSF.PK) and Noka Resources, would then fund $6 million of exploration over two years. Except for the 11,769-hectare Wheeler project on the Basin's east side, the entire package lies within the PLS area.
As a result of its find, Forum increased the resolution of its airborne survey. The company plans to follow up with radon surveys, ground geophysics and detailed prospecting.
Fission, Alpha unveil $6.95-million Patterson Lake South plan
With barges and drills onsite and permits in hand, the Alpha/Fission joint venture released details about their imminent $6.95-million, 44-hole, 11,000-metre PLS program on July 2. The 50/50 partners plan 40 holes focusing on three zones along an 850-metre trend, while an additional four holes will test additional targets along strike. Equipment will include a reverse circulation drill for overburden, two diamond drills for bedrock and three barges to keep them afloat. Two of the three zones are underwater with lake depths of about four to six metres.
All holes will get a radiometric probe. Ground geophysics and environmental baseline studies will also take place.
So far over 90% of drill targets have found mineralization, the companies stated. The 31,000-hectare project's three zones are separated by gaps of 300 metres and 360 metres that have yet to be drilled. All three zones remain open in all directions, the partners added.
Fission serves as project operator until April 2014, when it swaps roles with Alpha.
Japanese utilities to apply for nuclear reactor permits
Japan's Nuclear Regulation Authority will begin receiving applications on July 8 for reactor re-starts, Bloomberg reported. The news agency's July 3 dispatch said 48 reactors, providing over a quarter of the country's electricity, had been shut down following the 2011 earthquakes and Fukushima accident. Since then Japanese utilities have been "bleeding cash from importing extra oil and gas for backup generation."
Speaking to ResourceClips.com on July 5, Dundee Capital Markets senior analyst David Talbot said he's heard three agencies will be reviewing the applications in a process that might take as long as six months. "It's not whether their reactors are coming back online because I think everybody realizes they are," he said. "It's how many reactors are going to come online and how quickly…. How many of these reactors get up and running by the end of the year is probably one of the biggest questions. Once they start coming back online, I think that's going to give a psychological push to the entire sector." As a result the price of uranium, now below $40 a pound, could get the boost needed to spur mine development, Talbot explained.
Japan, Uzbekistan to co-operate on uranium exploration
Meanwhile, Japan expects to sign a uranium exploration agreement with Uzbekistan, the Kyodo news service reported on July 6. Two state-owned companies, the Japan Oil, Gas and Metals National Corp and Uzbekistan's Navoi Mining and Metallurgical Combinat, will meet July 8 to ink a five-year plan to assess uranium deposits in Uzbekistan. Japan depends completely on imported uranium.
Ur-Energy announces future supply agreement
With a Wyoming mine set to open this year, Ur-Energy (URG) has secured a sales agreement to begin in 2017. The company will supply an unnamed American utility with 200,000 to 300,000 pounds of uranium concentrate annually, according to a July 3 announcement. The length of the agreement wasn't provided. Nor was the price, except that it's "consistent with the current published long-term U3O8 price indicators."
Ur-Energy CEO Wayne Heili added, "The value of holding supply agreements with fixed pricing structures has been clearly recognized during this ongoing period of softness in the uranium spot market."
On June 24 the company announced it had closed a US$20-million loan, most of which will be used to continue construction of its Lost Creek in-situ recovery mine.
Cameco announces union contract, Q2 conference call
Cameco Corp (CCJ) announced July 5 that employees at its conversion facility in Port Hope, Ontario, accepted new collective agreements granting a 6% raise over three years.
Port Hope is the only plant in Canada that converts U3O8 concentrate into uranium hexafluoride (UF6), the gas used to create enriched uranium. It's also Canada's only commercial supplier of natural uranium dioxide (UO2) conversion services to produce fuel for Candu nuclear reactors.
On July 2 Cameco announced it will release Q2 results on August 1, followed by a 1:00 p.m. ET conference call.
Paladin says Namibian mine undisturbed by protests
Paladin Energy (OTCQX:PALAF) said production continues at its Langer Heinrich mine in Namibia, despite protests by about 300 workers. African media stated workers expressed concern over pay, performance bonuses and possible radiation hazards to pregnant women. A company spokesperson declined to respond to media inquiries, the West Australian reported on July 5.
On June 26 the company reported a delay in its plan to sell a minority interest in the mine, which produced 1.23 million pounds U3O8 for the quarter ending March 31.
Strathmore sells royalty for $3 million
Strathmore Minerals (OTC:STHJF) announced July 2 the sale of its Pine Tree-Reno Creek 5% gross revenue production royalty to a privately held company for US$3 million. Energy Fuels (EFRFF.PK) had originally agreed to buy the royalty to provide Strathmore with interim funding prior to Energy Fuels' planned acquisition of the company, expected to close in August or September.
Uranium Participation reports $594-million NAV, $20-million quarterly loss
Uranium Participation Corp's (OTCPK:URPTF) June 30 estimated net asset value came to $594 million or $5.59 a share, the company reported on July 4. That compares with $595.9 million or $5.60 a share on May 31.
On July 3 the company reported a $20-million net loss for the three months ending May 31, resulting from declining U3O8 and UF6 prices offset by an increase in foreign exchange rates. Managed by a subsidiary of Denison Mines (DNN), Uranium Participation provides an "alternative for investors interested in holding uranium."
Pele Mountain raises $95,500
A second tranche from Pele Mountain Resources (GOLDF.OB) brought in $95,500, the company reported on July 4. The money came from 507,143 flow-through units at $0.07 and 1.2 million units at $0.05. Each flow-through unit consists of one share and one-half warrant, with each whole flow-through warrant exercisable for a share at $0.15 for one year. Each unit consists of one share and one warrant, with each warrant exercisable for a share at $0.10 for 18 months.
The first tranche, announced June 24, pulled in $485,407. Also last month, the company updated the uranium-rare earths resource for its Eco Ridge project in Ontario.
Lakeland hires IR firm, grants options
Lakeland Resources (OTCQX:LRESF) announced July 3 it has engaged Network IR for marketing and investor communication services. Lakeland also reported granting directors, employees and consultants options for a total of 650,000 shares exercisable at $0.10 each until July 2, 2018. The company holds nine Athabasca Basin properties totalling over 100,000 hectares. Airborne geophysics are planned for July, to be followed by fieldwork, ground geophysics and drilling.
Nuinsco, Ditem report AGM results
Nuinsco Resources (OTCPK:NWIFF) and Ditem Explorations (OTC:DTEMF) each announced annual and special meeting results on July 2 and 3 respectively, including election of directors and adoption of an advance notice bylaw. Nuinsco projects include the Diabase Peninsula uranium property on the Athabasca Basin's south-central edge. Ditem focuses on gold projects but also holds uranium prospects in the Athabasca Basin and Quebec's Otish Basin.
Star announces appointment
Star Uranium (SUVRF.PK) appointed Jim Engdahl president/CEO, the company announced July 2. Star's properties include Stony Rapids and Wollaston Lake-Collins Bay, both in the Athabasca Basin.
Crosshair lists on OTCQB
Crosshair Energy began trading on the OTCQB under the symbol CRHRF on July 1 after delisting from the NYSE. The company has uranium projects in Wyoming and Labrador.
Disclosure: I have no positions in any stocks mentioned, and no plans to initiate any positions within the next 72 hours.
Additional disclosure: Disclaimer: Skyharbour Resources is a client of OnPage Media Corp, the publisher of ResourceClips.com. Neither OnPage Media nor its owner hold a stock position or options in Skyharbour Resources.
Seeking Alpha's Disclosure: Past performance is no guarantee of future results. No recommendation or advice is being given as to whether any investment is suitable for a particular investor. Any views or opinions expressed above may not reflect those of Seeking Alpha as a whole. Seeking Alpha is not a licensed securities dealer, broker or US investment adviser or investment bank. Our analysts are third party authors that include both professional investors and individual investors who may not be licensed or certified by any institute or regulatory body.