Is Ontario Compounding The Challenges Faced By Explorers And Miners?
Please Note: Blog posts are not selected, edited or screened by Seeking Alpha editors.
Seeking Alpha Analyst Since 2012
ResourceClips provides original and independent market news on mineral exploration and mining. For more information on ResourceClips visit http://www.resourceclips.com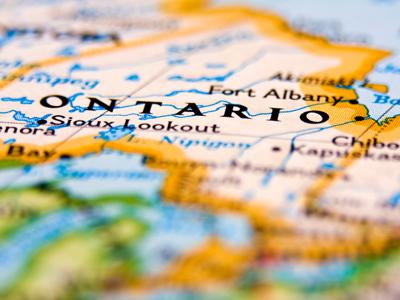 Working in Ontario has become a competitive disadvantage, according to at least one CEO. Explorers have already expressed widespread disenchantment with new mining regulations that took full effect last April. Then Cliffs Natural Resources (CLF) partly blamed government intransigence for the company's decision to suspend its Ring of Fire chromite project. Now Northern Graphite (OTCQB:NGPHF) CEO Gregory Bowes has slammed the province's Ministry of Northern Development and Mines for what he says are unaccountable delays.
In a July 8 news release, Bowes said his company submitted a mine closure plan for its Bissett Creek project to the ministry on October 31, 2012. "This '45-day approval process' has been ongoing for over seven months despite Bissett Creek being a relatively benign operation with no major environmental issues. It has strong community support and first nation consultations have been positive and constructive," the news release stated.
According to the company, the ministry completed its review but must issue a mining lease before it can approve the project. The company applied for the lease in October 2011. The following July, the company stated, it was ordered to "redo" a government survey. "The survey was submitted to the surveyor general's office in November 2012 for a 30-day approval process but a mining lease has still not been issued. The company believes approval is imminent but cannot provide further guidance and suggests any interested parties contact the MNDM directly."
When ResourceClips.com asked Bowes what's going on, he responded, "Nothing's going on. That's the problem. I guess the simplest way to explain it is that the ministry just can't deal with permitting in a timely fashion. They advertise a 45-day process and they advertise that it's a one-window approach, in other words we just deal with the Ministry of Northern Development and Mines, and they're responsible for dealing with all the other ministries and co-ordinating things. And neither is true."
He adds, "We're pretty much on our own to deal with other ministries and no one can stick to timelines, they don't deal with issues, they don't return phone calls."
Anyone who took up Bowes' suggestion to contact the MNDM directly might have got the same wordy but vague-to-meaningless e-mail that a ministry spokesperson sent ResourceClips.com. In response to a second phone call and a written list of questions, the ministry sent a second e-mail containing more feel-good fluff, but this time directed inquiries about the survey to Ontario's Ministry of Natural Resources.
A spokesperson for Minister of Natural Resources David Orazietti told ResourceClips.com a request for the mining lease was received by the Crown land registry on July 9, 2013, and processing will likely take about a month. By press time she was unable to track information about the survey document Northern said was submitted in November.
Northern's news release stated it is "competing with companies in Quebec, Europe, Africa and Australia to build the first new Western graphite mine in over 20 years. Being first to market is very important but the company is at a competitive disadvantage due to the regulatory process in Ontario which continues to damage the province's reputation as a place to invest and is potentially depriving it of investment, jobs and tax revenues."
As Bowes explains to ResourceClips.com, "Industrial minerals are smaller, more specialty markets. It's not like gold where we can use two, three or four more mines and the market will absorb it. In this market there might only be room for one new mine and there might only be room for a couple of new mines over the next few years…. So timing is very important."
Focus Graphite (OTCQB:FCSMF) and Flinders Resources (FLNXF.PK) each say they're targeting 2014 large flake graphite production from their respective projects in Quebec and Sweden. The privately held Ontario Graphite says it plans Q4 2013 production from its Kearney mine, 300 kilometres north of Toronto.
Northern's large flake graphite project, 15 kilometres from the Trans-Canada highway in southeastern Ontario, achieved feasibility in July 2012 for an open pit mine and 2,300-tonne-per-day processing plant with an estimated lifespan of 23 years.
Although Northern calls itself "the only graphite company to have completed a bankable feasibility study," the study's currently being revised "to incorporate a new resource model and mine plan, a number of modifications to the original capital and operating cost assumptions, and lower graphite prices."
Bowes tells ResourceClips.com the revised feasibility will have no effect on the regulatory process.
Bowes' criticism of Ontario bureaucracy followed the June 12 announcement that Cliffs Natural Resources had suspended the largest project in northern Ontario's Ring of Fire, thereby also stalling a government-backed proposal to build what would have been the region's first all-weather road to the south. The company blamed "delays related to the environment assessment process, land surface rights and negotiations with the province of Ontario."
Under controversial regulations that took full effect in April, even early-stage exploration can be delayed by a lengthy consultation and approval process. EarthExplorer.com reported a May 28 standing-room-only meeting of the Toronto Geological Discussion Group, where the audience was asked whether the new regs would encourage them to explore outside the province. In response, the geos' website stated, "the single Ontario loyalist in the crowd was drowned out by the 'yes' camp."
Nevertheless work, including graphite work, continues. Just what Ontario Graphite has in store for the market, however, isn't widely known. In a Metals Report interview published May 28, Industrial Minerals writer and graphite authority Simon Moores said Ontario Graphite "is hard for us to analyse because it is a private company that does not put out much information. We look less at the tonnages in the ground and more at the flake distribution of the deposit. Ultimately, these companies will need to sell material. Flake fines, or smaller-flake graphite, is the hardest to sell, while large flake the easiest."
Nor is Ontario graphite activity limited to advance-stage projects. On July 9 Brookemont Capital (OTCPK:BKTPF) announced acquisition of 416 hectares on the eastern border of Zenyatta Ventures' (ZENYF.PK) Albany project in central Ontario. The next day Cavan Ventures said it was picking up another 768 hectares, also adjacently east of Albany. Described by Zenyatta as "a very rare hydrothermal or vein-type graphite deposit… it is the largest and only known graphite deposit of this type under development in the world." Albany's slated for a resource estimate in September, with work on a preliminary economic assessment to begin in Q4.
Other July 10 graphite news shows Ontario's MNDM hasn't been completely idle. Galaxy Graphite announced the mines ministry awarded a permit to drill the Laurier project, 300 kilometres north of Toronto, in the Central Gneiss belt of the Grenville geological province that hosts Kearney and Bissett Creek.
Disclosure: I have no positions in any stocks mentioned, and no plans to initiate any positions within the next 72 hours.
Seeking Alpha's Disclosure: Past performance is no guarantee of future results. No recommendation or advice is being given as to whether any investment is suitable for a particular investor. Any views or opinions expressed above may not reflect those of Seeking Alpha as a whole. Seeking Alpha is not a licensed securities dealer, broker or US investment adviser or investment bank. Our analysts are third party authors that include both professional investors and individual investors who may not be licensed or certified by any institute or regulatory body.