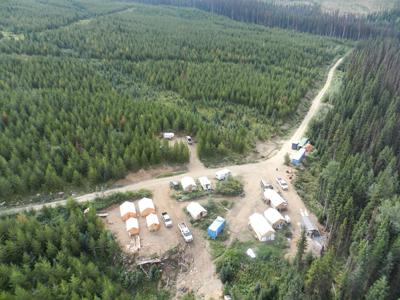 "It's not often that a junior delivers the best drill result in the Western world, at least in recent memory." That bold statement comes from David Blann, president/CEO of Happy Creek Minerals (OTC:HPYCF). He's referring to just one of the assays that show near-surface, high-grade tungsten at his company's Fox project in central British Columbia. But for all tungsten's importance as a critical mineral, "no one I know of in Australia, South America, North America or Europe has found anything new," Blann tells ResourceClips.com. "This is a brand new, from-scratch discovery."
As pointed out by Core Consultants managing director Lara Smith, both the European Union and the U.S. Department of Defense rate tungsten in their top three list of critical minerals. Speaking at Vancouver's World Resource Investment Conference in May, House Mountain Partners founder and Morning Notes co-editor Chris Berry called tungsten one of four critical metals on which he's now focusing.
Among its refractory metal qualities, tungsten combines special strength, hardness and density, along with the highest melting point of any metal (3,422 degrees C). That gives tungsten a range of vital uses from light filaments, ballpoint pens, electronics, blades, drills, saws and munitions to fishing lures and strings for musical instruments.
As for its critical mineral status, the tungsten story is a familiar one. Mining Weekly quoted Smith saying that China accounted for most of the world's supply as well as demand. "This has placed an unprecedented threat on the tungsten sector outside of China, which presents enormous opportunities for the development of tungsten ores, concentrates and intermediary products outside of China," she said.
Naturally that draws attention to tungsten in reliable jurisdictions and, Blann maintains, further emphasizes Fox's significance. Consisting of four zones along a three-kilometre north-south axis, as well as a fifth zone about four kilometres south, the 16,491-hectare Fox has been showing strong results since late 2011. The "best drill result in the Western world" that Blann speaks of was released in November 2012 from the BN zone, where hole F12-27 showed:
- 4.04% tungsten trioxide (WO3), 0.91% zinc, 4.51 grams per tonne indium and 4.1 g/t silver over 14.8 metres, starting at 83.2 metres in downhole depth.
(True width wasn't available.)
The same hole also showed:
- 1.78% WO3, 0.36% zinc and 1.56 g/t indium over 4.1 metres, starting at 1.9 metres
- 0.79% WO3 over 24 metres, starting at 136 metres
- (including 2.01% WO3, 0.84% zinc, 3.9 g/t indium and 9 g/t silver over 5.8 metres).
Tungsten highlights from the RC zone showed:
- 0.74% WO3 over 12.4 metres, starting at 8.3 metres
- 0.82% over 19.4 metres, starting at 14 metres
- 0.8% over 11 metres, starting at 15 metres
- 0.68% over 14 metres, starting at 27 metres.
Blann maintains Fox's grades stand up to those of North American Tungsten's (TSXV:NTC) Cantung mine, a diesel-operated, fly-in/fly-out underground producer in the Northwest Territories that's "probably considered the highest-grade tungsten mine in the Western world." Fox's location, however, makes infrastructure more accessible.
A power line to the former Boss Mountain molybdenum mine (under option to NMC Resource (TSXV:NRC) passes within 17 kilometres of Fox. A logging road links Nightcrawler, Fox's most southerly zone, to the community of Forest Grove, about 45 minutes away. From there it's another 20 minutes to highway and rail at the town of 100 Mile House. Helicopter-supported drilling now takes place about four kilometres north of Nightcrawler, at about 1,800 metres in altitude. That could eventually require Happy Creek to extend the road. "A logging company already has a plan and permit to build a road halfway there anyway," Blann says.
The area has already been heavily logged. "Right at the Nightcrawler zone there's probably a 2.5 kilometre by 1.5 kilometre cut block just put in there last year."
Community relations are good, he adds. "We have quite a number of shareholders in 100 Mile House and the first nations are onside. We've got a few working for us right now."
Currently that work consists of an approximately 1,200-metre, 12- to 15-hole step-out campaign scheduled to end in August. Again, they're looking for near-surface finds. "A lot of the drill holes are pretty short, so we can get a lot done for a few bucks," Blann points out. "We're drilling quite shallow."
Of course costs are crucial in times like these. With himself, one full-time geologist and a part-time CFO, Blann insists his company's frugal. "Our overhead is about as low as it gets for a junior." But he emphasizes the company gets valuable direction from its directors and advisory board.
Furthermore "we own all our projects 100%. So there's no gun to our heads for minimum commitments and obligations. We can sit tight if we have to and keep these assets until the right deal comes along."
Those assets, all in B.C., include the Rateria and West Valley properties totalling about 18,000 hectares adjacent to Canada's largest copper producer, Teck Resources' (TCK) Highland Valley mine. "I had a number of majors looking at the project, including neighbours," says Blann. "Currently it's a bit small for a major to come in and build a mine. But what they are starting to recognize is we've only tested a small portion of the property and we've got the right geology."
Among last year's assays was 0.35% copper over 152.5 metres, starting at 172.5 metres. That was found "six and a half kilometres by easy road access from one of Teck's pits. In fact what we've been drilling is better grade than one of their pits."
Blann says Happy Creek got the past-producing Silver Dollar property through a legal settlement "at virtually zero cost." Last year's grab and chip samples on the road-accessible project showed high silver-gold grades over "an amazing eight or nine-kilometre-long trend. It just hasn't had the drilling done."
Other properties include Silverboss, a copper-molybdenum-gold-silver prospect adjacent to Boss Mountain; Hen, a copper-lead prospect about 16 kilometres south; Art-DL, a gold prospect adjacent to Hen; and Hawk, a copper-gold prospect 24 klicks south of Boss.
"We've done our homework on all of them," Blann points out. "We've done our soil sampling, stream sampling, geology, mapping, trenching, geophysics. We're now at the stage where we've got a number of really good drill targets." But with Happy Creek focused on Fox, he's hoping other juniors will take notice of the company's additional projects.
Disclosure: I have no positions in any stocks mentioned, and no plans to initiate any positions within the next 72 hours.