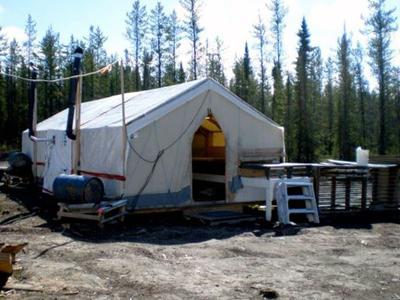 Denison reports best grade/interval result from high-grade Wheeler River
A radiometric probe has found the most impressive result so far from Denison Mines' Wheeler River project in the eastern Athabasca Basin. Of four holes reported July 24, one showed the project's highest grade-times-thickness calculation.
Three holes at the Phoenix A deposit showed:
43.2% uranium oxide-equivalent (eU3O8) over 10.3 metres, starting at 401.6 metres in vertical depth
16.4% over 1.7 metres, starting at 403.5 metres
13% over 3.1 metres, starting at 403.7 metres.
Roughly 2.1 kilometres from the Phoenix deposits, one hole at the 489 zone showed:
0.3% over 3.2 metres, starting at 411.1 metres.
Intercepts are approximate true widths. The company explained eU3O8 as "radiometric equivalent uranium oxide calculated from a total gamma downhole probe." Radiometric probes are not chemical assays.
The Phoenix A drill holes tested for possible extensions of the deposit's higher-grade domain, defined as approximately 20% U3O8. Using a 0.8% cutoff, the December 2012 resource estimate for Phoenix A showed:
an indicated category of 133,500 tonnes averaging 15.8% for 46.5 million pounds U3O8
an inferred category of 6,300 tonnes averaging 51.7% for 7.2 million pounds.
With the same 0.8% cutoff, the Phoenix B deposit showed:
an indicated category of 19,000 tonnes averaging 14.1% for 5.9 million pounds
an inferred category of 5,300 tonnes averaging 3.5% for 400,000 pounds.
Combined, Wheeler River's resource comes to 52.4 million pounds indicated and 7.6 million pounds inferred.
With 15 of 23 holes in three areas now complete, drilling continues. Wheeler is held 60% by project operator Denison, 30% by Cameco Corp and 10% by JCU (Japan-Canada Uranium) Exploration.
This summer will also see Denison busy at seven other Basin properties: Waterbury Lake (held 40% by the Korea Electric Power Corp), Packrat, South Dufferin, Johnston Lake and Moon Lake (held 45% by Uranium One, which is expected to be taken private by the Russian state-owned company ARMZ in Q3).
WASP extends VTEM-Plus, advances radiometrics on PLS-area's largest package
A four-company strategic alliance announced progress on its airborne surveys over the Patterson Lake South-area's largest land package. Jointly funded by Skyharbour Resources TSXV:SYH, Athabasca Nuclear, Lucky Strike Resources and Noka Resources, the Western Athabasca Syndicate Project totals 287,130 hectares, with 275,361 hectares in the vicinity of the near-surface, high-grade PLS discovery of Alpha Minerals and Fission Uranium.
A VTEM-Plus survey has flown 720 line-kilometres in addition to the original 4,120-line-kilometre survey. The additional coverage consisted of infill and extension of conductive anomalies and structural features identified in preliminary data, the syndicate reported on July 23. Meanwhile Goldak Airborne Surveys is wrapping up a 4,400-line-kilometre radiometric program at 200-metre line spacing to measure radioactivity in outcrops and boulder trains. Goldak compiles the data using a proprietary digital acquisition system.
"We should have complete interpretation done by [geophysicist] Phil Robertshaw in early or mid-August," Skyharbour president/CEO Jordan Trimble tells ResourceClips.com. "That will delineate the highest-priority targets for fieldwork but we've already had boots on the ground doing some preliminary surveying and prospecting. We plan to have a small team back there in early August and that will lead to the full-fledged field program that will commence probably in late August."
With the four companies earning 25% each, the alliance plans to spend $6 million over two years. "The syndicate is a real advantage to budget," Trimble points out. "Skyharbour's obligation is just one-sixth of that. The same with Athabasca Nuclear and then Lucky Strike and Noka pay just one-third each, so it's not onerous for any one company. It makes the project a lot more viable, especially in these tough markets. And we're really starting to see the synergies pay off here with the different geologists and their contact base. Their networks are open too."
VTEM-Plus, radiometric collaboration flies Aldrin's Triple M
The VTEM-Plus and radiometric surveys also cover PLS-area properties held by Aldrin Resource and Forum Uranium, a money-saving collaboration announced in May. On July 24 Aldrin also reported the program completed VTEM-Plus infill lines and began radiometrics using 100-metre line spacing over its Triple M property.
Scheduled for August is radon sampling as well as follow-up work on any anomalies found by the radiometrics. The company hopes to start drilling next January to test basement conductors reported in June.
NexGen expands PLS-adjacent Rook 1 drill campaign
NexGen Energy has doubled its drill plans for Rook 1, the company announced July 24. With two rigs scheduled to start in mid-August, the campaign now calls for approximately 20 holes totalling 3,000 metres, twice the amount announced in May. Land-based, shallow drilling will test targets identified by airborne VTEM and ground gravity and DC resistivity surveys in the property's southwestern section, immediately northeast of PLS. NexGen interprets a conductor to extend from the Fission/Alpha discovery into southwestern Rook 1.
In June NexGen began a 4,000-metre campaign on its Radio project, part of a 70% earn-in on the property adjacent to Rio Tinto's Roughrider deposit.
Fission, Azincourt announce summer program for Patterson Lake North
Immediately north of Patterson Lake South lies, of course, Patterson Lake North. On July 22 joint venture partners Fission and Azincourt Uranium announced a $530,000 summer program to start in early August.
Following up on "conductive areas of interest" found by a previous survey, an airborne VTEM max will fly 303 line-kilometres at 400-metre line spacing over the approximately 25,000-hectare property's northern half. That will be followed by a single-line 6.3-line-kilometre ground magnetotellurics survey. The property's southern portion will get a ground TDEM survey. The partners hope results will help identify targets for a drill campaign anticipated for next winter.
The companies say PLN sits within a large gravity low structural corridor that incorporates PLS, the former Cluff Lake mine and the Shea Creek deposits of UEX Corp and AREVA Resources Canada. Additionally PLN shows EM anomalies that might be interpreted as an extension of the Saskatoon Lake EM conductor associated with Shea Creek.
Azincourt may earn 50% of PLN by paying $4.75 million in cash or shares and spending $12 million by April 2017. Fission gets a 2% NSR and acts as project operator. Fission has already spent about $4.7 million exploring PLN. Earlier this month the company applied for a patent on its "System and Method for Aerial Surveying or Mapping of Radioactive Deposits."
Uranerz updates Wyoming mine development
Near-term producer Uranerz Energy released a July 25 update for its Nichols Ranch in-situ recovery mine in Wyoming's Powder River Basin. The first of two deep disposal wells, which will be used to remove non-hazardous byproduct solutions, has been drilled to 2,700 metres, with casing and cementing complete.
Finishing the first well, drilling the second well and building other infrastructure is expected to take about five more months.
The company continues working with Wyoming administrators to close a $20-million loan that's expected to be repayable over seven years at 5.75% interest.
ISR uses a leaching solution to extract uranium from sandstone-hosted deposits. Uranerz has production scheduled for this year or early 2014.
Shareholder KEPCO supports Energy Fuels' takeover of Strathmore
In another update about the proposed acquisition of Strathmore Minerals by Energy Fuels, the companies announced on July 25 that Korea Electric Power Corp has given the deal its blessing. The utility, which supplies 93% of South Korea's electricity, holds 8.5% of Energy Fuels and 11.7% of Strathmore, making KEPCO the largest shareholder of both companies. Should the deal go through, KEPCO would end up with about 9.1% of Energy Fuels.
Energy Fuels produces about 25% of uranium mined in the U.S. Based on fiscal 2013 projections, a KEPCO affiliate will be Energy Fuels' biggest customer. KEPCO also has a right to form a JV with Strathmore on the latter company's Gas Hills project in Wyoming. Energy Fuels and Strathmore shareholders vote on the deal in August.
Skyharbour announces $500,000 private placement
On July 26 Skyharbour announced a non-brokered private placement of up to 6.25 million flow-through units at $0.08 for proceeds up to $500,000. Each unit will consist of one flow-through share and one warrant. Each warrant will be exercisable for one non-flow-through share at $0.10 for two years.
Proceeds will go to Athabasca Basin uranium exploration.
Ashburton completes $247,500 private placement, acquires graphite prospect
On July 24 Ashburton Ventures reported it closed a $247,500 private placement at $0.05 per unit. Each unit consists of one share and one warrant, with each warrant exercisable for a share at $0.10 for five years. The financing goes to Ashburton's PLS-area Sienna North and Sienna West projects, where Phase I exploration has already begun.
No stranger to area plays, Ashburton also holds properties in the vicinity of Colorado Resources' North ROK porphyry copper-gold project in British Columbia. On July 26 Ashburton announced it picked up the 256-hectare Page claims adjoining Zenyatta Ventures' Albany graphite project in Ontario, another burgeoning area play.
Pele Mountain closes $35,000 final tranche
Pele Mountain Resources closed the final tranche of a private placement of 500,000 flow-through units of $0.07 for $35,000, the company announced July 26. Each unit consists of one share and one-half of a warrant, with each whole warrant exercisable for one share at $0.15 for one year.
Along with two previous tranches announced since June, the company has pulled in a total of $615,907. In June the company released a resource update for its Eco Ridge uranium-rare earth oxides project in Ontario.
Graham Thody to retire from UEX
UEX Corp announced Graham Thody will retire as president/CEO effective January 1. He'll remain as a director and will assist with transitional matters. Thody has been a UEX Corp director since the company's formation in 2002 and president/CEO since September 2009.
Chairman Mark Eaton credited him as "instrumental in assisting the company in advancing its properties, including our two major projects, Shea Creek and Hidden Bay." The board has begun searching for his replacement.
Alpha, Uranium Energy Corp report AGM results
All items of business received shareholder approval at Alpha's July 23 AGM, including nominations, appointments, the company's stock option plan and its advance notice policy.
Uranium Energy Corp's July 24 AGM elected directors, appointed accountants, approved a stock incentive plan and reappointed executives. The company is beginning production at its Palangana mine while constructing its Goliad project, both ISR projects in Texas.
Strateco appoints new director
Strateco Resources announced on July 22 the appointment of Sentient Group nominee Charles Riopel as a director. Riopel replaces Paul-Henri Couture, who moves from Sentient nominee to independent director. The nominations followed a 2010 private placement with Sentient. Riopel has 20 years of investment banking and project management experience in the mining sector.
Strateco suffered a setback with its flagship Matoush project after Quebec imposed a temporary moratorium on uranium activity and refused to issue the company an exploration permit.
Crosshair proposes reverse split and name change, faces TSX listing review
Crosshair Energy announced July 26 it will seek shareholder approval for a consolidation of shares and change of name. An August 29 vote will decide whether to allow the exchange of up to 10 pre-consolidation shares for one post-consolidation share. If approved, company directors would determine the consolidation ratio and the timing of the consolidation up to one year following the vote. Directors could also decide against consolidation. Shareholders will also vote on changing the company name to Jet Metal Corp.
The TSX has given Crosshair 120 days to regain compliance with its listing requirements. The company was delisted from the NYSE in June. Earlier this month it began trading on the OTCQB under the symbol CRHRF. The company has a uranium-vanadium project in Labrador and a uranium project in Wyoming.
With technology and fuel, Russia expands worldwide nuclear presence
The Soviet Union failed in its global ambitions despite a nuclear arsenal. But Russia evidently has global ambitions for its nuclear energy. According to a July 22 Reuters feature, Russia's building more reactors than any other country. Itself the world's second-largest consumer of nuclear energy, Russia is aggressively selling technology and fuel around the world. Since Fukushima its state-owned company Rosatom has increased foreign contracts by 60%, up to $66.5 billion. Still not satisfied, Rosatom wants to triple sales by 2030, the news agency stated.
Rosatom even has a marketing ploy for underdeveloped countries. It will build, own and operate reactors in jurisdictions that lack the funds to buy them.
There might be more to Russia's ambitions than money, Reuters suggested. Some sources expressed concern about relying on the former Soviet power for technology, expertise and fuel.
Rosatom is a vertically integrated company that builds and operates reactors, enriches fuel and, through its subsidiary ARMZ, mines uranium in Russia and abroad.
Disclosure: I have no positions in any stocks mentioned, and no plans to initiate any positions within the next 72 hours.