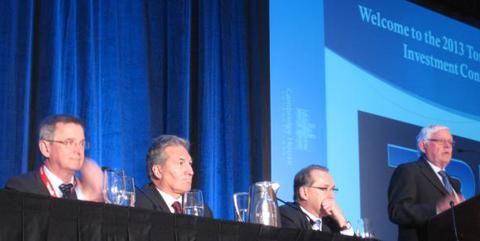 These are indeed bad times for the junior resource sector. But can anything be done? The newly formed Venture Capital Markets Association believes part of the problem can be solved and it's embarking on a plan of action.
There's little doubt that some combination of macroeconomic forces and regulatory inefficiency has caused one of the worst downturns in memory. Few question the view that bear markets have the nasty habit of following bull markets. To the extent that the bears inevitably give way to the bulls again-leaner and meaner bulls, moreover, culled of those who preferred romancing cows to pulling ploughs-this is generally considered good.
There's some dispute, however, regarding regulatory inefficiencies. One side believes that while the burden of regulation on venture capital companies can be onerous, it is necessary and manageable. But, the other side argues, what was manageable (if only just) at the height of the market is not so much slowing down a cyclical upturn as preventing one.
Speaking September 12 at Cambridge House International's Toronto Resource Investment Conference 2013, the event's founder and chairman Joe Martin says: "For over 100 years Canada has been a world leader in providing venture capital for speculative investing and mineral exploration, mining, technology, life sciences and energy. Today, zealous over-regulation by a multitude of governing organizations is rapidly bringing venture funding to a halt. We're not talking here about the regulation of trade, we're talking about the regulation of money. Hundreds of thousands of jobs across Canada and around the world are going to be lost."
Two panels at the conference discussed problems specifically facing TSX Venture resource companies. While high-frequency algorithmic trading was touched upon-a particular concern of Kaiser Research Online editor John Kaiser-the priority issues were access to capital and regulatory overkill.
Ned Goodman, president/CEO of Dundee Corp, explains, "In raising money you're always frustrated, but if you're talking about the Venture exchange it's more than frustration. I think the Venture exchange has forgotten why stock exchanges were put into existence. They were put into existence to allow people to invest money in ventures that can be built and grown and more money has to be raised. Instead it's been nothing more than a feeding source for the legal community-and you end up spending legal fees in excess of the amount of money you can raise before you have to start all over again."
Goodman continues, "You need two hands to lift [the TSXV's] book of regulations and policies. It's absolutely mind-boggling all the things you're required to do to raise a half-million dollars-which means that half of that half-million will go to lawyers. The Vancouver exchange was one where you could raise money and it created an awful lot of nice companies. But the rules and regs [for the TSXV] are unbelievable and they're not designed for junior companies. In most instances you're so blocked you can't even do your financing. Then, once you are on the exchange, the costs of staying there and doing business-you can't buy something or sell something without having to deal with a bureaucrat [who has] no knowledge of the industry at all."
With the TSXV languishing at less than half its early-2011 value, John Kaiser points out that of the roughly 1,400 TSXV companies he covers, more than half have only enough working capital "to subsist for another year." While TSXV president John McCoach counters that "no regulatory burden has been added for the last two or three cycles," the concern of those who generate the sector's wealth seems to be less about the mere possibility of recovery than it is about the chances of a healthy and lasting one.
Even if venture capital companies were to delist from the TSXV in favour of the CNSX (or Aequitas Innovations' proposed new exchange), regulation by the various provincial and territorial securities commissions in addition to the Investment Industry Regulatory Organization of Canada (IIROC) would remain. That alone, many fear, is enough to drive cash-strapped Canadian companies to foreign exchanges.
The costs of such an eventuality, Joe Martin believes, would be devastating for Canadian jobs. It's for that reason that Martin and B&D Capital founder Don Mosher launched the VCMA on August 28. The association, in the words of its press release, "comes about from a growing concern that the rules governing access to venture capital, and ever-rising compliance costs, are harming venture cap companies and their significant contribution to jobs and growth in Canada."
Ron MacDonald, executive chairman of American Vanadium and a former MP, describes what the association will do. "I'm working with the VCMA to put together a very reasonable and responsible lobby. I don't want to talk just to regulators. I want to talk to the guys in Parliament, where I spent 17 years. I want to talk to the Senate Committee on Banking, Trade and Commerce. I want them to recognize the value that this sector has given to Canada for generations. It's made this little country a big leader in the mining sector," he says.
"I want meaningful consultation," MacDonald emphasizes. "Meaningful consultation isn't: 'Here's what we're thinking of doing to you, give me your comment and we'll do it anyway.' Meaningful consultation means that the regulator has got to take the comment and if they reject it, they've got to explain why they've rejected it."
However, MacDonald declares, there is a more basic problem that the VCMA will address.
As he says, "We don't even know our own story in this sector! We don't have that little document that says how many billions of dollars in wealth have been created, not just in Ontario or Quebec or British Columbia or in Canada, but around the globe! So we have to, first of all, understand what it is that we do. We have to be proud of who we are and we have to stand up and ask for recognition. So we need to lobby. We need to find out what are those two or three or four or 10 technical things that we could recommend be increased that still look after the public interest, because we always want the public interest looked after. But we don't want to be forever feeding a bureaucracy that is disconnected from the wealth we're trying to create."
Sounding an optimistic note, MacDonald adds, "This is a bad situation. But out of bad situations, good things come."
Disclosure: I have no positions in any stocks mentioned, and no plans to initiate any positions within the next 72 hours.