That trend will only gain speed with Oil projected to go to $150 per barrel according to Billionaire Boone Pickens. (NASDAQ:CLNE) shares hit 52 wk high of $23 but are currently  at only $13.78 but with oil soaring it should not take much longer before (CLNE) shares start making new 52 wk highs, as more & more companies start looking for alternative vehicles for their fleet or else face massive profit losses due to gasoline prices eating profits all up.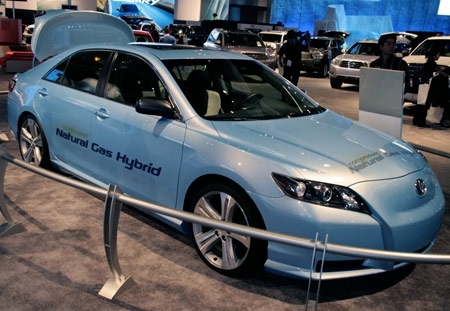 The Toyota Natural Gas/Electric Hybrid - A Superior Car Architecture

Another Gas/Electric Hybrid is the Civic GX :

Q:
The Civic GX is a dedicated natural-gas vehicle. What does that mean?
A:
A dedicated natural-gas vehicle, like the GX, runs exclusively on clean-burning natural gas. This guarantees 100% alternative-fuel use. Some other natural-gas vehicles use a "bi-fuel" system that doesn't offer the same economic and low-emissions benefits that a dedicated system offers. 
Q:
How clean are the emissions of the engine in the Civic GX?
A:
The Civic GX engine produces almost no emissions. The amount of smog-forming emissions is near zero. In fact, the GX is the cleanest internal-combustion vehicle in the world[1]. 
Q:
How much does the 2011 Civic GX NGV cost?
A:
The GX has a manufacturer's suggested retail price (MSRP) of $25,490, but may cost you less. That's because the Civic GX likely qualifies for incentives based on the fact that it is environmentally responsible and lessens the nation's dependence on foreign oil. The Civic GX may qualify for a tax credit for eligible buyers (please consult your tax advisor for details) and may also qualify for state and local financial incentives that help reduce its $6,935 incremental cost (the additional cost of a natural-gas equipped Civic GX over a gasoline Civic LX).
The Civic GX
UPS Contracts with Clean Energy to Fuel New UPS LNG Regional Truck Fleet in Las Vegas


UPS Natural Gas Vehicle
February 22, 2011 9:08 AM EST
— Clean Energy Will Build and Operate New Fueling Station as Key Link in Southwest LNG Truck Fueling Corridor —
SEAL BEACH, Calif.--(BUSINESS WIRE)-- UPS, the world's largest package delivery company, has contracted with Clean Energy Fuels Corp. (Nasdaq: CLNE) to fuel its new fleet of 48 liquefied natural gas (NYSEMKT:LNG) package transportation trucks at a new truck fueling station near UPS facilities in Las Vegas, Nevada. The agreement has a seven-year initial term with three one-year renewal options. Clean Energy will design, build, own and operate the station, which is set for opening in the first half of 2011.
"Investment in a fuel-efficient technology that helps reduce our carbon footprint and reduce our dependence on petroleum remains a key component of UPS's transport strategy," said Mike Britt, Director of Vehicle Engineering at UPS. "For our heavy-duty vehicles, LNG has proved successful in reducing emissions, keeping our maintenance and operating costs low, and significantly reducing our dependence on petroleum for these shipping lanes."
The public access LNG fueling station will support the deployment of a new regional UPS fleet of 48 LNG delivery trucks used to transport packages between UPS facilities in Las Vegas and Ontario, Calif., as well as to other regional destinations. LNG fuel requirements are expected to exceed 1.2 million gallons annually for the UPS 48-truck fleet, which will be deployed during the first half of 2011. The station will also become a key link in the Southwest LNG truck fueling corridor being developed by Clean Energy.
James Harger, Chief Marketing Officer, Clean Energy, said, "We are delighted to have this opportunity to extend our relationship with UPS to support its efforts to curb harmful air pollution and global warming emissions. The new Las Vegas LNG truck fleet is part of continuing efforts by UPS to reduce its emissions from the use of fuels like gasoline and diesel, and to lower its carbon footprint."
Harger added, "This UPS station project is a major step toward realizing our goal to create a Southwest LNG truck fueling corridor that will extend along major truck transport routes from San Diego to Salt Lake City." The development of the Clean Energy LNG station infrastructure is in direct response to the increasing demand for natural gas fuel as major trucking companies secure and deploy LNG-powered trucks throughout the region.
To supply its Southwest regional LNG fuel customers, Clean Energy operates the largest LNG production plant in the Southwest, located in Boron, Calif. The facility includes a 1.8-million-gallon LNG storage tank as an important supply resource.
About Clean Energy Fuels — Clean Energy (Nasdaq: CLNE) is the largest provider of natural gas fuel for transportation in North America and a global leader in the expanding natural gas vehicle market. It has operations in CNG and LNG vehicle fueling, construction and operation of CNG and LNG fueling stations, biomethane production, vehicle conversion and compressor technology.
Clean Energy fuels over 19,900 vehicles at 211 strategic locations across the United States and Canada with a broad customer base in the refuse, transit, trucking, shuttle, taxi, airport and municipal fleet markets. It owns (70%) and operates a landfill gas facility in Dallas, Texas, that produces renewable methane gas, or biomethane, for delivery in the nation's gas pipeline network. It owns and operates LNG production plants in Willis, Texas and Boron, Calif. with combined capacity of 260,000 LNG gallons per day and that are designed to expand to 340,000 LNG gallons per day as demand increases. Northstar, a wholly owned subsidiary, is the recognized leader in LNG/LCNG (liquefied to compressed natural gas) fueling system technologies and station construction and operations. BAF Technologies, Inc., a wholly owned subsidiary, is a leading provider of natural gas vehicle systems and conversions for taxis, limousines, vans, pick-up trucks and shuttle buses. IMW Industries, Ltd., a wholly owned subsidiary based in Canada, is a leading supplier of compressed natural gas equipment for vehicle fueling and industrial applications with more than 1,000 installations in 24 countries. www.cleanenergyfuels.com