"If China's growth rate were to continue at 8%, then its demand for all metals, current at 53-56% of all metals produced in the world, could shortly rise to a level where the existing productive capacity of the world's metals economy cannot increase any further, due to capital, equipment  and skilled personnel limitations of availability. When this point is reached, the first result will be an intense commodity price inflation the likes of which the world has never seen. This would of course in the long run be demand-destructive, and prices would ultimately crash in a world-commodities, price-led recession, but the economic and political danger of such a series of events is sobering and a little frightening,
China recognizes this possibility much better than Western economies do, still mired in recession due to the credit bubble. China fears most of all a commodity price inflation, and a renminbi appreciation, either or both of which could damage its economy or slow or even stop its growth."

http://www.resourceinvestor.com/News/2010/9/Pages/Chinese-Institutional-Investors-Look-at-Rare-Metals-Overseas.aspx

After Reading what Mr. Lifton said about the pending Boom and Bubble of commodities  the likes that the World has never seen then it makes sense that Silver will be among the leaders of the metals which will rally.

James Turk - silver going up
posted on Jul 18, 10
09:15PM

Waiting for Silver's Upside Breakout
July 18, 2010 – Two months ago I stated that silver is inching closer to an upside breakout. It turns out that "inching" was the right word because since then silver has been moving at a snail's pace. Nevertheless, the huge accumulation pattern that silver has been building over the past three years remains intact, as can be seen on the following chart.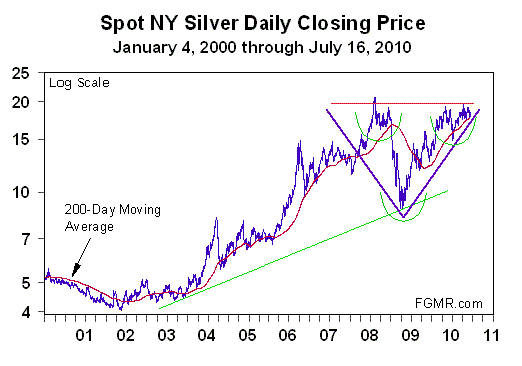 The accumulation pattern on the above chart is nearly complete. All silver needs now is one last push above the neckline around $20. As I noted back on April 1st, silver looks ready to soar once that key level is hurdled.
In presenting my outlook for 2010 I said: "We need to start thinking about silver hurdling above $50." Noting that this event was only a 20% probability in my view for 2010, I went on to add that "this important event – which is unimaginable to many – will I expect happen in 2011."
That forecast remains on track, but two events are necessary. The obvious one is that silver must first hurdle above $20, but secondly, silver needs to approach $30 this year. This $30 price target is needed to keep silver on track for challenging $50 next year.
Given that we are now in mid-July, the limited time constraint means that $20 needs to be hurdled soon if silver is going to reach $30 before the end of this year. As a consequence, the next few weeks will be critically important for silver.