Thanks to John Bogle, a common low-cost vehicle for retirement is the S&P 500 index fund. Over $4 Trillion is indexed to the US markets. Despite its high market cap and popularity, Tesla misses out on S&P 500 tracking funds. Included in funds tracking the S&P are popular names like VOO, IVV, SPY, and SWPPX. Respectively, these funds have assets of $553B, $194B, $274.45B, and $42B. Indexing drives significant demand for stocks in the S&P 500 index. Admittance into the S&P 500 gilds stocks in passively invested dollars.
There are some stipulations to join the S&P 500:
The company must be in the United States
An unadjusted market cap of at least 8.2 Billion is required
50% of the stock must be public
The company's stock price must be at least $1 per share
Four consecutive quarters of positive earnings
Tesla is looking to meet the last of the requirements with its upcoming earnings report on the 23rd. This looks to be a galvanizing moment for Tesla and Elon Musk. Tesla is the worlds largest car maker – if they don't report a profit, the stock price will be challenged and valuations may shrink to something more comparable, like Toyota which is valued at over $80 Billion less.
Upon joining the market, Tesla is going to be larger than AT&T, Coca-Cola, and Bank of America. When reviewing the list of top shareholders for an S&P 500 company, the implications of joining the S&P 500 are clear – S&P 500 index funds buy a lot of shares. The list below shows AT&T's top mutual fund holders, many of these are index funds.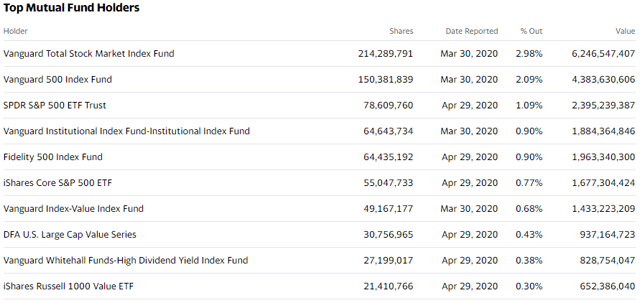 Data from Yahoo Finance
Conservatively, 5% of Tesla will be acquired by S&P 500 index funds. Of the 185M shares outstanding, index funds are going to be compelled to gather at least 9.25 million shares. This is over half the average volume in a trading day which registers approximately 14 Million shares per day.
As the company turns to report earnings, investors are going to see a bull case for Tesla if the automaker reports profits for the quarter. Earlier in the year CEO Elon Musk tweeted "Tesla is restarting production against Alameda County rules. I will be on the line with everyone else. If anyone is arrested, I ask that it only be me." The President of The United States then tweeted in defense of Elon Musk that "California should let Tesla & @elonmusk open the plant, now. It can be done Fast & Safely!" In hindsight, the decision to buy is going to be obvious if the stock is accepted into the S&P 500. If the President of The United States sides with the CEO of a private company, the CEO is above the law, and at least 5% of the company is going to be acquired by institutional investors – buy the stock.