Harley-Davidson Inc. HOG has experienced an up trend for at least the past 180 trading days. Long term trends are key to understanding the starting point to the path of least resistance of a stock's price trend. The expected future trend bias is always strongest with the current trend. The short term trend of Harley-Davidson Inc is currently down.
Harley-Davidson, Inc. manufactures cruiser and touring motorcycles. The company operates in two segments, Motorcycles & Related Products and Financial Services. The Motorcycles & Related Products segment designs, manufactures, and sells at wholesale street-legal Harley-Davidson motorcycles, as well as a line of motorcycle parts, accessories, general merchandise, and related services. This segment manufactures six platforms of motorcycles: Touring, Dyna, Softail, Sportster, V-Rod, and Street.
The current signal for Harley-Davidson Inc. is hold, indicating that the stock could be Pausing in its trend. The current price trend is not extreme. Stocks having extreme levels of price trend should be allowed to move out of the extreme range before a buy or sell decision should be made.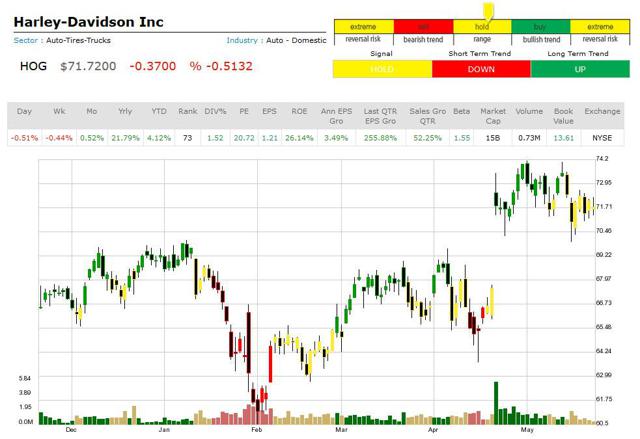 (Source markettrendsignal.com)
Earnings growth and management efficiency are key components to a foundation to a sustainable uptrend. We will focus on fundamental indications that can build a case for reasons why the stock should continue its current trend.
Market Trend Signal provides strength rank which is the rank of the stock vs. its peers. For example a Rank of 98 means the stock is out performing 98% of its peers over a 12 month period. A rank of 2 means the stock is outperforming 2% of its peers, in other words, 98% of its peers are out performing it. 98 is good, 2 is not so good. The current quarter is 40% of the weighting, so current performance is more significant to the rank.
The current rank for Harley-Davidson Inc. is 73, this means that HOG is out performing 73% of its peers. Stocks that have a rank of 80 or better, with support of all other analyses shown here, tend to advance the trend.

The Current ROE for Harley-Davidson Inc. is 26.14%, indicating HOG is currently functioning with High financial efficiency.

The current Annual EPS Growth for Harley-Davidson Inc. is 3.49% which is less than the 30% average found is strong trending, fundamentally sound companies.

The current Quarterly EPS Growth for Harley-Davidson Inc. is 255.88% which is greater than the 25% average found is strong trending stocks even during or before huge price moves. - Outstanding earnings growth in the most recent quarters can be the single most important trait that identifies winners before they start their major price advances.

The current Quarterly Sales Growth for Harley-Davidson Inc. is 52.25% which is greater than the 25% average found is strong trending stocks.

The current Dividend Yield for Harley-Davidson Inc. is 1.52%.
Stocks Historical Trading Characteristics.
Trade Stats for HOG

Back-testing a stock can provide investors with critical statistical data. These results give you an informed perspective on how a stock trades within your chosen buying and selling method of analysis. The definition of trade expectancy is defined as: trade expectancy = (probability of win * average win) - (probability of loss * average loss). If the calculation returns a positive number, a trader should make money over time.
The average percentage gained on positive, money making trades was 4.7%. While the average percent loss on money losing trades was 0.66%.
Trade expectancy includes both winners and losers. Trade expectancy is displayed as a percentage. This backtest displays the dollar value, percentage, annual trade expectancy, and annual percent. Annual expectancy is the trade expectancy percentage multiplied by the number of trades per year.
The Trade expectancy % for HOG over the past year is 3.63%. The number of trades generated per year was 4 giving an Annual Trade Expectancy of 14.5%
The average days in a trade is 68 and the average days between trades is 27.
Conclusion
Obviously HOG has had a great run but there are a number of reasons to believe that the stock has more room to run. HOG is in a strong up trend with price currently consolidating which can provide an opportunity to enter that uptrend. Significant increase in sales and quarterly eps are providing a fundamental foundation for the basis of the price trend. Historical trading characteristics show a high probability of success when buying into this uptrend.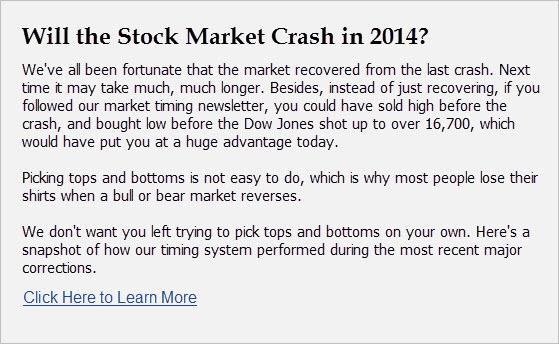 Disclosure: I have no positions in any stocks mentioned, and no plans to initiate any positions within the next 72 hours.