A friend of mine once said, no matter how poor the drill results are for an oil and gas E&P, the service companies will get paid. All that needs to happen is an increase in activity, theoretically, for oilfield services companies to profit. Which companies might stand to profit from increase natural gas prices and potential increases in oil due to supply shocks? I have identified an industry mainstay and a speculative pick that may be of interest.
On May 12th , short interest in Superior Energy Services (NYSE:SPN) decreased by 57.6%. What could be behind this? Seeking Alpha author Stephen Simpson noted that Superior is "uncommonly diversified for a smaller energy services company". Indeed, the company boasts in its 2013 annual report of its "unique position as the only mid-cap diversified oilfield services company."
Simpson pointed out that the company had missed its revenue targets in Q1 2014 (the fifth straight quarter that analysts had overshot), but margins had improved, both gross and operating. This has typically been a good sign for companies that endured lean years during the recession (or for other reasons), and came out stronger and better able to profit. Sell-side analysts have seen SPN as a peer company to other energy services companies that have outpaced it in share growth. In fact, despite the misses, Citigroup reaffirmed its positive outlook for SPN and raised its target price from 34 to 38. Citigroup also expected share repurchases to boost value, in addition to the aforementioned cost-cutting measures. The stock currently trades at an EV/EBITDA of 6.27, which is below the 8.63 average industry multiple.
The following is a breakdown of the company's revenue segments by operation:

Source: Company Filing
The drilling products/services increase was attributed by the company to rentals of bottom-hole assemblies, drill pipe and specialty tubulars in the international and Gulf of Mexico market areas, although this specific sub-segment decreased in the U.S. land market. Subsea and technical solutions increased because of U.S. demand for environmental services and Gulf of Mexico demand for technical services such as well control work. The two declining segments were both caused by a general decline in U.S. land market conditions, an area in which the company is highly levered due to its acquisitions of Complete in February 2012. It is for this reason that an improvement in the domestic oil and gas sector should be of particular benefit to SPN and help it achieve potential made possible by more prudent fiscal management. 62% of the company's revenue in 2013 came from U.S. land operations, and while growth in international markets such as West Africa could bring dividends down the line, it is the core US land market that will drive revenue in the near future.
On the speculative side, an interesting pick is Hii Technologies (HIIT), a Houston-based firm that operates in three related segments: water management, safety and power. Strategically located in Houston, the company's operating footprint include most of the major formations in the region, including Eagle Ford Shale, Mississippi, Woodford, Permian and others. The company's growth has been truly impressive. With just five customers in June of 2012, the company now boasts almost 50. While the company still operates at a loss as of year-end 2013, revenues increased from 0.3 million in Q3 2012 to 3.9 million in Q3 2013. HII's gross margin also improved from 20% in Q1 2013 to 29% in Q3 2013, with increases across all divisions. This has coincided with a significant appreciation in stock price: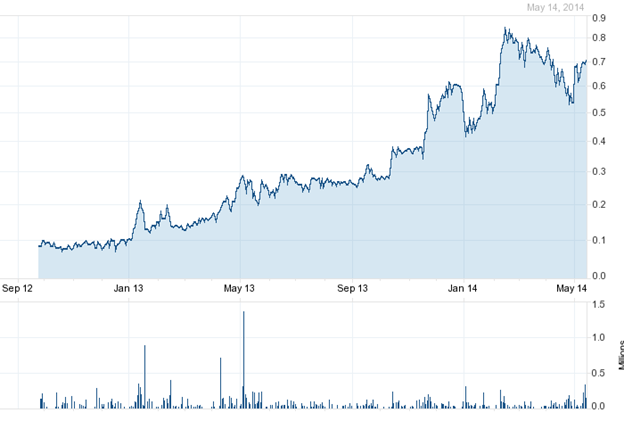 Source: Yahoo Finance
HIIT operates as a diversified holding company. In September 2012, the company acquired all outstanding membership interests of Apache Energy Services, LLC, a water transfer services company for $290,000 in cash and $40,000 in notes payable. In December 2012, the company launched its mobile oilfield power soultions, conducted through the wholly owned subsidiary KMHVC, Inc., dba "South Texas Power", or STP. In November of 2013, the company acquired Aqua Handling of Texas, aka "AquaTex" for $300,000 cash and $500,000 in 5% subordinated notes. The company's strategy has been to profit from the increase in unconventional hydrocarbon resources, projected by the Energy Information Administration in 2014 to peak in 2021 at 4.8 mboe, which would represent 51% of total US crude output. In addition, oil and gas companies' spending to address healthy, safety and environment were projected to increase form $35 billion in 2011 to $56 billion in 2030 by Lux Research, as heavily publicized environmental disasters have increased scrutiny from government, media and local communities. Finally, oil and gas has become the second largest user of temporary power after utilities.
The company's customers are mostly major domestic E&P firms although there are independent operators as well. During FY 2013, two of the company's customers accounted for more than half of total gross revenues, prompting concern from management. The company's most recent 10-k filing noted that customer concentration risks will "continue for the foreseeable future".
So who else is in these businesses? The water division faces bigger-scale private companies such as select Energy services, Rockwater Energy Solutions and Stallion Oilfield Services. While safety services is a relatively new niche market of E&P companies, and outsourcing the process is largely underway, management anticipated that Total Safety and other local contractors would be competing for the business. The power division faces competition from more established and diversified companies such as Light Tower Rentals and NOV Portable Power. In part as a response, the company licensed a high volume frac water recycling system, which cleans up to 20,000 barrels per day of flow back water to acceptable re-use standards. Smaller firms with technological advances often employ a licensing model to help avoid heavy capex, though terms of the deal were not disclosed.
Indeed, "innovative green technology" is cited as one of the company's key strengths. In addition to aforementioned recycling technologies, the company has onsite high volume recycling, which is generally cheaper than the traditional alternative of trucking and disposal. HIIT also features evaporation services during wind-down, where large volume of open pits' water can be evaporated rather than transport and disposal of waste water, leading to substantial cost savings.
The company has invested significantly in the business, with $1.69 million in PP&E purchases in 2013 as well as the aforementioned expenses. The company has generated positive cash flow through financing arrangements an, with 2.1 million net proceeds from lines of credit, and 850,000 from notes payable (which is roughly equivalent to the current cash position). Cash flow deficit from operating activities decreased, with -354,376 in 2012 being reduced to -89,152 in 2013. This involved a high degree of non-cash expenses, such as amortization and depreciation, as well as stock-based compensation, but also reflected a significant change in accounts receivable and payable. It should be noted that the company booked 2.8 million in Goodwill, although this may be reasonable due to natural synergies between the operating segments, which is a significant part of the company's strategy to maintain cost competitiveness against larger operators. HIIT, despite a significant jump in revenue from 1.7 million in 2012 to 14.5 million in 2013, saw a considerable increase in SG&A expenses, reducing a previously positive operating margin. A modest increase in interest expense (from 63,615 to 405,951) was the only other notable cost consideration in the company's income.
Operationally, their sectors certainly are growth industries. Lux Research has estimated that frac water clean-up will grow to $9 billion by 2020, while Chesapeake Energy (NYSE:CHK), estimated that 5 million gallons are needed to bust open a typical deep shale well. The company began by on-site water transfer, expanded to flow-back services, including sand, water and gas separation. On-site water recycling is the next step, according to management statements. The company today has approximately 38 miles of pipe and flat hose available for rental.
As for safety, revenue comes from on-site training, procedure monitoring and development of programs to comply with federal regulations. With more scrutiny being directed towards fracking and increasingly unconventional and difficult plays emerge, safety will be a key priority. In addition, the growth of smaller E&P operators to capitalize on the shale boom, as well as the increase in activity likely to be driven by the resurgence in natural gas prices, bode well for the outsourcing of safety personnel and services. In addition, the expansion of shale exploration into ever more remote areas will drive the need for mobile on-demand power.
Real Assets Research's DCF implied an equity value of 87 cents/share, not factoring in pre-market earnings announcements on May 15th. The company does have a long term debt to equity ratio of 197%, and as mentioned, still operates at a loss. However, this is normal for early-stage companies, and is tolerable for a company with quarterly revenue growth of 190.5% in the most recent period. Furthermore, the company's positive five year operating margin shows that the company will be in good stead once it is able to generate more revenue and can secure better terms for financing.
Disclosure: I have no positions in any stocks mentioned, and no plans to initiate any positions within the next 72 hours.